We have a new Premium tutorial for you today, during which we'll be building an adaptive portfolio page to show off your work. We'll harness the power of the jQuery Isotope plugin in order to make the portfolio items filterable - plenty to get stuck into!

Become a Tuts+ Premium member to gain access to the whole tutorial, as well as hundreds of other advanced videos, tutorials, and courses.
You'll Learn How to:
Use CSS properties to convert a PSD into a working layout in the browser
Handle adaptive media queries
Use isotope.js to filter elements on the fly
..and a whole load more besides..
---
Tuts+ Premium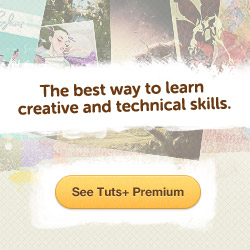 The recently re-launched Tuts+ Premium is a service that provides top-tier training in a variety of creative fields. Whether you prefer books, visual training, or in depth tutorials, we have you covered. While we unfortunately can't afford to provide the service for free, it's only $19 a month - less than you'd spend on dinner.
We hope you'll consider checking it out! In addition to learning a huge variety of new skills, it's also a fantastic way to say thank you to Webdesigntuts+.