There's a lot that goes into creating a web site these days. We're now building websites using HTML5, CSS preprocessors, APIs, custom typography and more. Our design challenges include responsive architecture, resolution independence and multi-device interaction support. In this Premium tutorial, we'll build a single page portfolio that covers aspects of all these techniques.
Become a Tuts+ Premium member to gain access to the whole tutorial, as well as hundreds of other advanced videos, tutorials, and courses.
This is a customizable, responsive, single-page website that incorporates modern web development techniques including:
Responsive design
HTML5 markup
CSS using SASS and the Compass preprocessor
Typography using Google's web fonts service
jQuery fetching data from Dribbble's API
Cross-browser, responsive, horizontal-scrolling carousel supporting touch interaction (without using javascript)
Icon font using the free iconmoon.io font-generator
The overflowing layout of our Dribbble shots
How the layout appears on a mobile device
Customizing our icon collection from
IcoMoon
---
Tuts+ Premium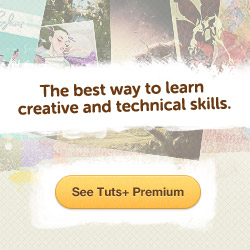 The recently re-launched Tuts+ Premium is a service that provides top-tier training in a variety of creative fields. Whether you prefer books, visual training, or in depth tutorials, we have you covered. While we unfortunately can't afford to provide the service for free, it's only $19 a month - less than you'd spend on dinner.
We hope you'll consider checking it out! In addition to learning a huge variety of new skills, it's also a fantastic way to say thank you to Webdesigntuts+.