Tutorial Details
Topic: Responsive Web Design
Difficulty: Intermediate
Estimated completion time: 2 hours
We have a new Premium tutorial for you! Today we're going to be diving head first into the newest RWD pattern on the block, off-canvas layouts — a very clever approach from the team at Zurb.

Become a Tuts+ Premium member to gain access to the whole tutorial, as well as hundreds of other advanced videos, tutorials, and courses.
In this tutorial, we're going to be creating a simple homepage that has some very special features when viewed on a smaller viewports. While we're going to be working step by step to create the page, we will be getting Zurb Foundation and the Off-Canvas Layouts to do all the heavy lifting for us.
---
You'll Learn How to:
Work with the Zurb Foundation framework
Use various workflow improvement tools (such as CSS unminifier)
Deal with Off-Canvas layouts
..and a whole load more besides..
---
Tuts+ Premium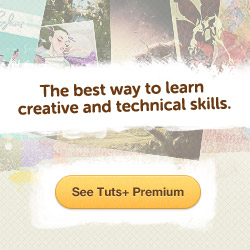 The recently re-launched Tuts+ Premium is a service that provides top-tier training in a variety of creative fields. Whether you prefer books, visual training, or in depth tutorials, we have you covered. While we unfortunately can't afford to provide the service for free, it's only $19 a month – less than you'd spend on dinner.
We hope you'll consider checking it out! In addition to learning a huge variety of new skills, it's also a fantastic way to say thank you to Webdesigntuts+.
Note:
Want to add some source code? Type <pre><code> before it and </code></pre> after it.
Find out more