Continuing with our VideoBlogger Premium series, today we'll complete coding up the homepage layout.

Become a Tuts+ Premium member to gain access to the whole tutorial, as well as hundreds of other advanced videos, tutorials, and courses.
---
You'll Learn How to:
Layout various common web page elements.
Implement spritesheets.
Tackle flexible video embeds.
..and a whole load more besides..
---
Tuts+ Premium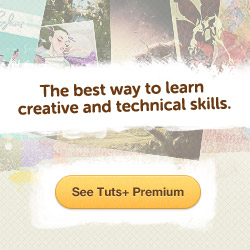 The recently re-launched Tuts+ Premium is a service that provides top-tier training in a variety of creative fields. Whether you prefer books, visual training, or in depth tutorials, we have you covered. While we unfortunately can't afford to provide the service for free, it's only $19 a month - less than you'd spend on dinner.
We hope you'll consider checking it out! In addition to learning a huge variety of new skills, it's also a fantastic way to say thank you to Webdesigntuts+.