In today's Premium tutorial, we're going to be taking some of the theory covered in our Data URI introductory article, building upon some of the examples used to develop a fully realized user interface. Just to keep things interesting, we'll also be making our design responsive and we'll be using the Dribbble API and jQuery to pull in some images from the Envato Dribbble feed.

Become a Tuts+ Premium member to gain access to the whole tutorial, as well as hundreds of other advanced videos, tutorials, and courses.
---
Quick Preview
Check out the demo - what's the most noteworthy thing about it? That's right, it's lightening fast. Follow this Premium tutorial and learn how to incorporate a whole host of performance enhancing techniques in your own web design!
---
Tuts+ Premium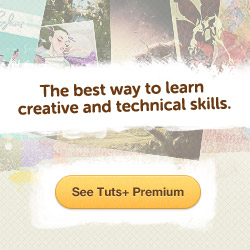 The recently re-launched Tuts+ Premium is a service that provides top-tier training in a variety of creative fields. Whether you prefer books, visual training, or in depth tutorials, we have you covered. While we unfortunately can't afford to provide the service for free, it's only $19 a month - less than you'd spend on dinner.
We hope you'll consider checking it out! In addition to learning a huge variety of new skills, it's also a fantastic way to say thank you to Webdesigntuts+.