In today's Premium tutorial, I'm going to set you up with Stacey; a CMS where there's no database involved, no admin interface, just a small collection of php files. Throw the application folder onto a php server and you're good to go.

Become a Tuts+ Premium member to gain access to the whole tutorial, as well as hundreds of other advanced videos, tutorials, and courses.
---
Quick Preview
Check out the demo. Yes, it's tomatoey, but it's also a fun little dynamic blog, without even a trace of a database.
---
What's Covered in This Tutorial?
Glad you asked.
HTML and CSS build.
CMS download and setup.
Working with YAML and Markdown.
Twig templating.
3rd party services (Disqus).
.htaccess, friendly urls and custom 404 pages.
Atom feeds.
Handling media.
At the end of this tutorial you'll have a fully functional, lightweight blog which you can edit and scale exactly how you please.
---
Tuts+ Premium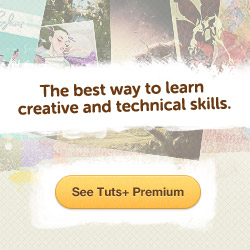 The recently re-launched Tuts+ Premium is a service that provides top-tier training in a variety of creative fields. Whether you prefer books, visual training, or in depth tutorials, we have you covered. While we unfortunately can't afford to provide the service for free, it's only $19 a month - less than you'd spend on dinner.
We hope you'll consider checking it out! In addition to learning a huge variety of new skills, it's also a fantastic way to say thank you to Webdesigntuts+.