Chris O'Sullivan
যেকোন ইন্টারফেইস ডিজাইনের জন্যে গ্রিড হলো ফাইন্ডেশন, মোবাইলের জন্যেও এটি ভিন্ন নয়। 
এই ছোট ভিডিও টিউটোরিয়ালটি আমার সম্প্রতি করা ভিডিও কোর্স মোবাইল ইউআই ডিজাইন নতুনদের জন্য, আমি তোমাদের দেখাব গ্রিড কি জন্যে ব্যাবহার করতে হয়, এবং আমরা আরো দেখবো মোবাইলে এদের বিশেষত্ব কি। 
টিউটোরিয়ালটি দেখো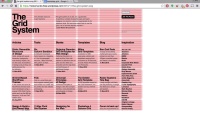 সম্পূর্ণ কোর্সটি দেখো
সম্পূর্ণ কোর্সটি, মোবাইল ইউআই ডিজাইন নতুনদের জন্যে, মবাইল ইন্টারফেইস ডিজাইনের একটি প্রাথমিক ধারণা দেবে। তুমি যদি ইউআই ডিজাইনে নতুন হও, অথবা তোমার প্রথম কোন এপ তৈরি করতে যাচ্ছো, এইটা তোমার শুরু করার জন্যে একটি অসাধারন জায়গা। আমাকে অনুসরন করো যেহেতু আমি একটি এপ ের ইন্টারফেইস ডিজাইন করতে যাচ্ছি, এবং এর নিয়ম কানুন এবং সাধারণ নীতির সঙ্গে পরিচিত হও মোবাইল এপ এর কাজ করার জন্যে। 

তুমি এনভাটো মার্কেট এর মোবাইল ইউজার ইন্টারফেইস ক্যাটাগরি দেখে ডিজাইনের অনুপ্রেরণা পেতে পারো।
Want a weekly email summary?
Subscribe below and we'll send you a weekly email summary of all new Web Design tutorials. Never miss out on learning about the next big thing.
Sign up
Product Designer. Stockholm, Sweden.
I'm an Irish designer now working for Spotify. Prior to that I worked for Ryanair and Soundwave in Dublin, along with other startup companies. I love using design to tackle problems; from research to prototypes and everything in between.
Looking for something to help kick start your next project?
Envato Market
has a range of items for sale to help get you started.