Adi Purdila
Ve videu vám ukáži, jak vytvořit tyto kroužky, které najdete na Apple Watch použitím Sketche. Je to perfektní příklad na kterém ukázat, jak moc Sketch miluje matematiku; budete překvapeni, co všechno pro vás Sketch spočítá. Pojďme začít!
Podívejte se na rychlý tip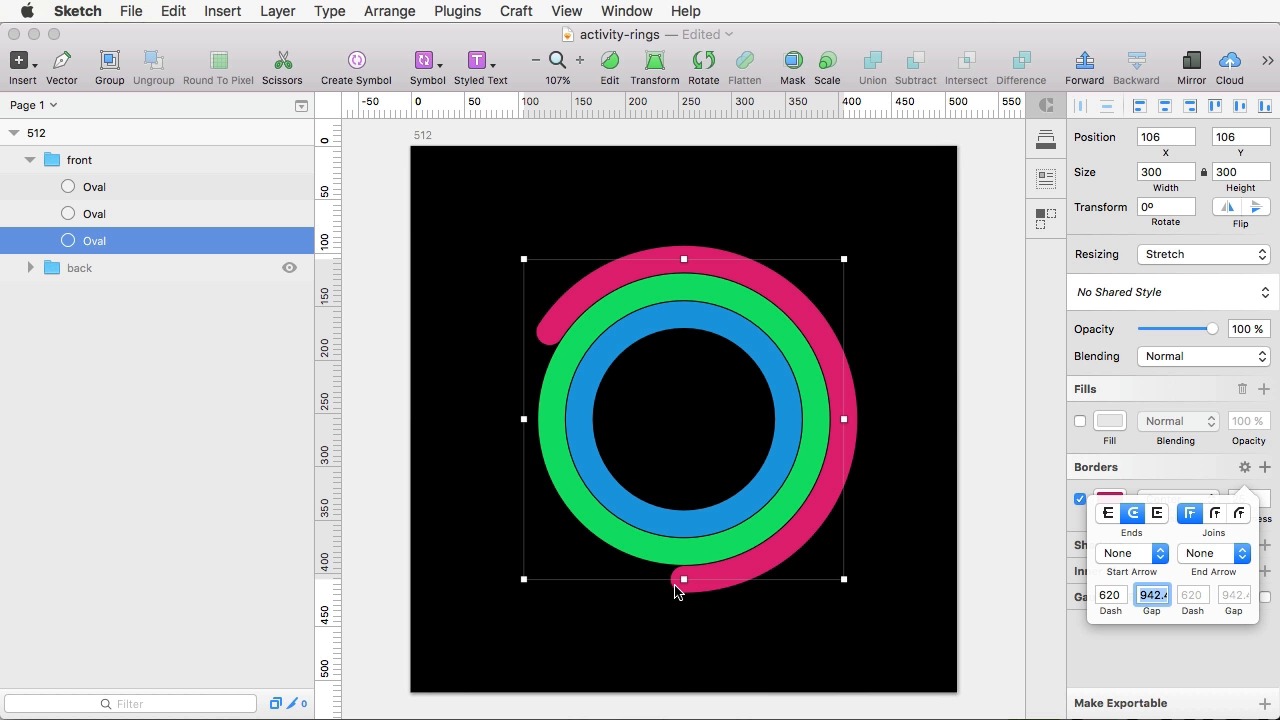 Kroužky zobrazující aktivity
Podívejme se, čeho chceme dosáhnout. Obrázek je převzat z www.apple.com a ukazuje kroužky v kontextu:
1. Kreslící plátno
Začněte se čtvercovým kreslícím plátnem o rozměru 512 pixelů, je tu již přednastavený profil.
Přidejte pozadí úplně černé barvy (#000000) a potom přidejte kruh na střed s průměrem 300 pixelů. Tenhle kruh nebude mít výplň, ale vytvoří nám pěkný barevný kruh šířky 25px.
2. kruh
Zduplikujte první kruh, a zmenšete ho odečtením 52px z jeho šířky. To můžete udělat snadno tak, že vložíte 300-52 do pole velikosti a Sketch již vše potřebné dopočítá za vás.
Zarovnejte ho na střed s prvním kruhem.
Přebarvěte ho a zopakujte proces i pro třetí kruh.
Z těchto tří kruhů vytvořte skupinu a pojmenujte ji jako "back". Zduplikujte celou skupinu a dejte jí název "front". Teď budeme pracovat se skupinou front, takže prozatím můžete tu druhou schovat.
3. Vytvoření efektu "pomlčky" na konci kruhů
Abychom dodali našim kruhům efekt "ukazatele průběhu", upravíme jejich konce. K tomu použijeme trik, necháme si spočítat přesný průměr kruhu vynásobením šířky pi π. Vložte výpočet 300*3.14159265359 do políčka Intervalu v části Okrajů a kruh nám efektivně zmizí. Děláme to proto, že rozdíl mezi jeho tahy pokrývá celý průměr kruhu. Přidáváním velikosti Pomlčky se náš kruh začne zas objevovat.
Až to budete mít hotové, opět v dialogovém okně Okraje, zaokrouhlete konce tahu:
Nakonec jděte do Vrstva > Transformovat > Vertikálně otočit abyste otočili kruh dokola takže začne na nula stupních.
4. Vraťte zpět skupinu back
Až budete hotovi s kruhy, udělejte skupinu "back" opět viditelnou a stiskněte 1 ke snížení průhlednosti na 10%.
5. Ikony
Jediné, co nám zbývá udělat, je přidání ikon na konce kruhů. Vytvořte nové plátno velikosti 16px a vytvořte jakékoliv ikony chcete. Já vytvořil jednoduché šipky, ale můžete také vzít nějaké ikony z GraphicRiver:
A jsme hotovi!
Toto jsme vytvořili:
Díky, že jste mě sledovali a věřím, že toto rychlé UI cvičení vás naučilo několik nových triků ve Sketchi.
Podobné tutoriály
Want a weekly email summary?
Subscribe below and we'll send you a weekly email summary of all new Web Design tutorials. Never miss out on learning about the next big thing.
Sign up
Adi Purdila is a web design instructor for Tuts+. With over 100 courses and 200 tutorials published to date, Adi's goal is to help students become better web designers and developers by creating content that's easy to follow and offers great value. Being self-taught himself, Adi strongly believes that constant learning (academic or otherwise) is the only way to move forward and achieve your goals. When not typing away at his keyboard, he loves woodworking and caring for his ever-growing family of rescue pets. You can stay up to date with what he's doing by following him on social media or visiting his website at adipurdila.com.
Looking for something to help kick start your next project?
Envato Market
has a range of items for sale to help get you started.