Adi Purdila
Wenn Sie jemals eine Gruppe von Objekten in Sketch ausgewählt und dann die Größe der gesamten Gruppe geändert haben, sind Sie daran gewöhnt, dass jedes Objekt darin proportional gestreckt und verschoben wird. Mit der Option Größe ändern von Sketch können wir jetzt festlegen, wie sich jedes Objekt verhalten soll. Lassen Sie uns in diesem zweiundsechzigsten Video herausfinden, wie!
Größenänderung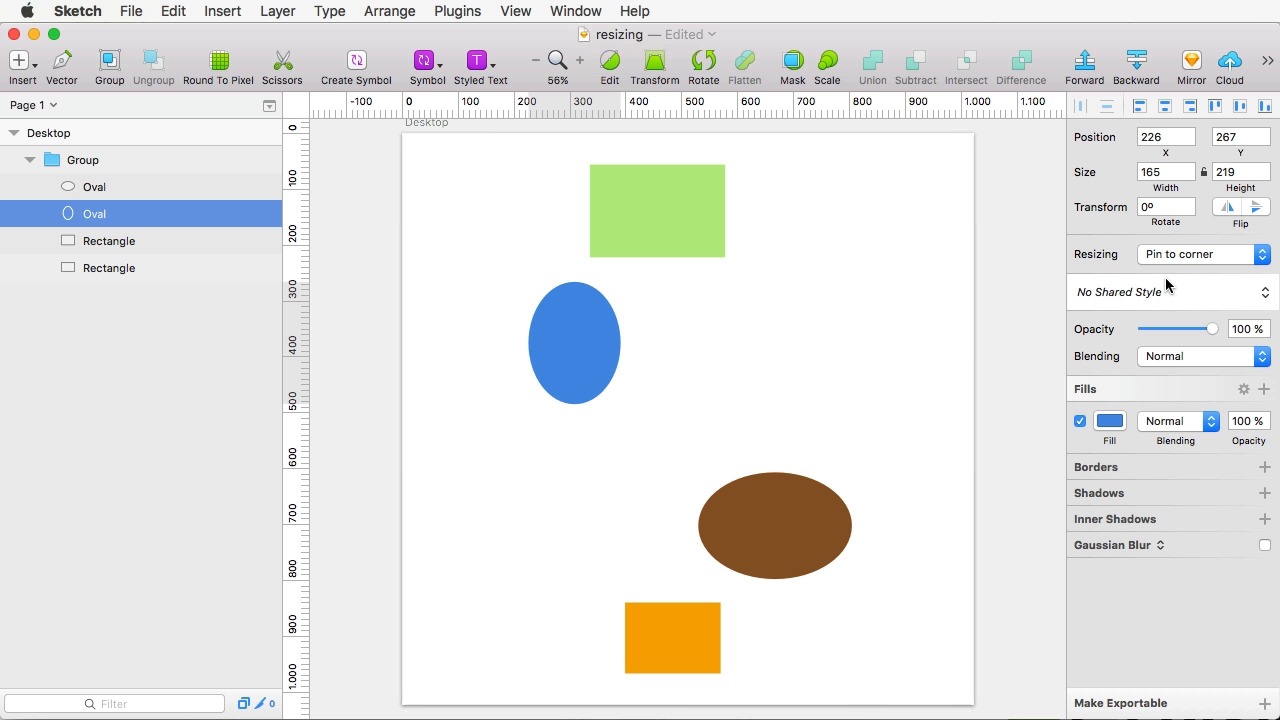 Schauen Sie sich zum Beispiel diese Gruppe von Objekten an. Hier wählen wir die Gruppe aus, die zum Dehnen bereit ist:
Wenn wir uns dann dehnen, verzerrt sich jede Schicht innerhalb der Gruppe gleichermaßen:
Indem Sie jedoch jedes Objekt innerhalb der Gruppe einzeln auswählen, können Sie in der Dropdown-Liste Größe ändern festlegen, wie sie sich verhalten, wenn die Größe der Gruppe geändert wird.
Vier Größenänderungsoptionen
Die Optionen sind wie folgt:
Dehnen: Dies ist der Standardwert. Wenn die Gruppe skaliert wird, ändert das Objekt seine Größe und Position proportional.
An Ecke anheften: Diese Option gibt an, welcher der vier Ecken der Gruppe das Objekt am nächsten liegt, und steckt sie dann an diese Ecke, während die Größe der Gruppe geändert wird. Die Größe des Objekts wird nicht geändert, es sei denn, die Gruppe wird kleiner als das Objekt selbst. In diesem Fall wird sie entsprechend verkleinert.
Objektgröße ändern: In dieser Situation ändert das Objekt die Größe, seine Position bleibt jedoch unverändert.
An Ort und Stelle schweben: Bei der letzten der vier Optionen wird die Position des Objekts proportional verschoben, die Skalierung bleibt jedoch unverändert.
Abschluss
Diese Optionen sind alle sehr nützlich, insbesondere wenn Sie reaktionsschnelle Versionen von UI-Designs erstellen. Lassen Sie uns wissen, wie Sie sie in den Kommentaren verwenden!
Want a weekly email summary?
Subscribe below and we'll send you a weekly email summary of all new Web Design tutorials. Never miss out on learning about the next big thing.
Sign up
Adi Purdila is a web design instructor for Tuts+. With over 100 courses and 200 tutorials published to date, Adi's goal is to help students become better web designers and developers by creating content that's easy to follow and offers great value. Being self-taught himself, Adi strongly believes that constant learning (academic or otherwise) is the only way to move forward and achieve your goals. When not typing away at his keyboard, he loves woodworking and caring for his ever-growing family of rescue pets. You can stay up to date with what he's doing by following him on social media or visiting his website at adipurdila.com.
Looking for something to help kick start your next project?
Envato Market
has a range of items for sale to help get you started.