Ας δημιουργήσουμε ένα Lo Fi πρωτότυπο, σε εξήντα δευτερόλεπτα, χρησιμοποιώντας το κιτ MadKit Sketch UI από Themeforest!
Παρακολουθήστε το Screencast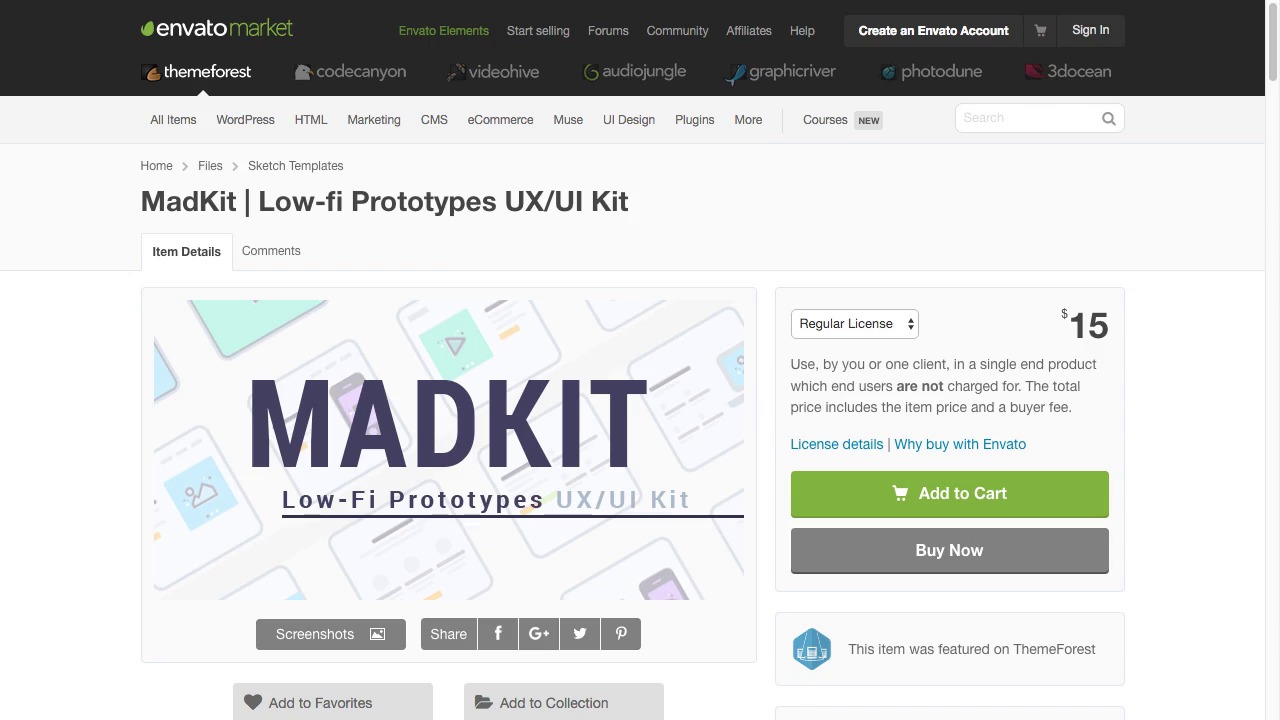 Πώς γίνεται
Σε ένα αντίγραφο του αρχείου MadKit Sketch (Lo-Fi UI) δημιουργήστε μια νέα σελίδα. Πηγαίνετε στο Insert > Symbols > Base > Shapes > Window  για να δημιουργήσετε ένα παράθυρο του προγράμματος περιήγησης για το mockup μας.
Επίσης κάτω από τα Shapes πάρτε ένα browser-header, και στη συνέχεια ονομάστε το πρωτότυπο σας.
Το περιεχόμενο είναι βασιλιάς
Τώρα θα συναρμολογήσουμε το περιεχόμενο του πρωτοτύπου μας χρησιμοποιώντας σύμβολα που μπορείτε να βρείτε κάτω από τις Categories (ξεκινήστε με ένα κάλυμμα για βίντεο φόντου). Στη συνέχεια θα προσθέσουμε μια λίστα προϊόντων, ένα slider με μαρτυρίες, έπειτα θα δείξουμε τα τελευταία άρθα του blog, θα προσθέσουμε κάποιες πληροφορίες σχετικά με τους ανθρώπους της εταιρείας, και θα κλείσουμε με κάποια στοιχεία επικοινωνίας.
Τέεεντωμα
Τραβήξτε το αντικείμενο του παραθύρου έτσι ώστε να χωράει το περιεχόμενο σας:
Τώρα επιλέξτε όλα τα έξι κομμάτια περιεχομένου, κάντε δεξί κλικ στο μενού layers και επιλέξτε Detach from Symbol. Στο αντικείμενο Video BG κρύψτε το Base/Shapes/window και ορίστε την ακτίνα του Video Background σε 0.
Τώρα θα κρύψουμε το σχήμα του παραθύρου για κάθε δεύτερο κομμάτι περιεχομένου, και ύστερα για τα υπόλοιπα κομμάτια θα κρύψουμε τα περιγράμματα και θα ορίσουμε την ακτίνα σε 0.
Τέλος, πιάστε το παράθυρο του προγράμματος περιήγησης και τα σύμβολα της κεφαλίδας και σύρετε τα στην κορυφή της στοίβας.
Είμαστε έτοιμοι
Έτσι μπορείτε να δημιουργήσετε ένα lo-fi πρωτότυπο UI σε εξήντα δευτερόλεπτα! Φροντίστε να δείτε τί υπάρχει διαθέσιμο για δημιουργία πρωτοτύπων σε Sketch στο Themeforest:
Want a weekly email summary?
Subscribe below and we'll send you a weekly email summary of all new Web Design tutorials. Never miss out on learning about the next big thing.
Sign up
Hi there. I'm a designer & coder who works in the areas of web design / development, game development and digital art. In the web space I'm a front end all rounder but I have a particular specialization in theme creation, no matter the platform. I also love finding the latest most efficient, user focused design and dev techniques of the day. In game development I'm addicted to playing with every different engine, toolset and framework I can find. In digital art I love everything from painting to vector work to pixel art to 3D modelling. In short, if it's creative and you can make it digitally, I love it.
Looking for something to help kick start your next project?
Envato Market
has a range of items for sale to help get you started.