Adi Purdila
Lo primero que verás cuando abras el back-end de WordPress, también conocido como "el panel de administración", es el escritorio. Este es el punto de partida para la mayoría de las tareas que realizarás en WordPress. En esta lección, aprenderás a utilizar el escritorio y también a personalizarlo para que se ajuste a tus preferencias y al flujo de trabajo.
¡Empecemos!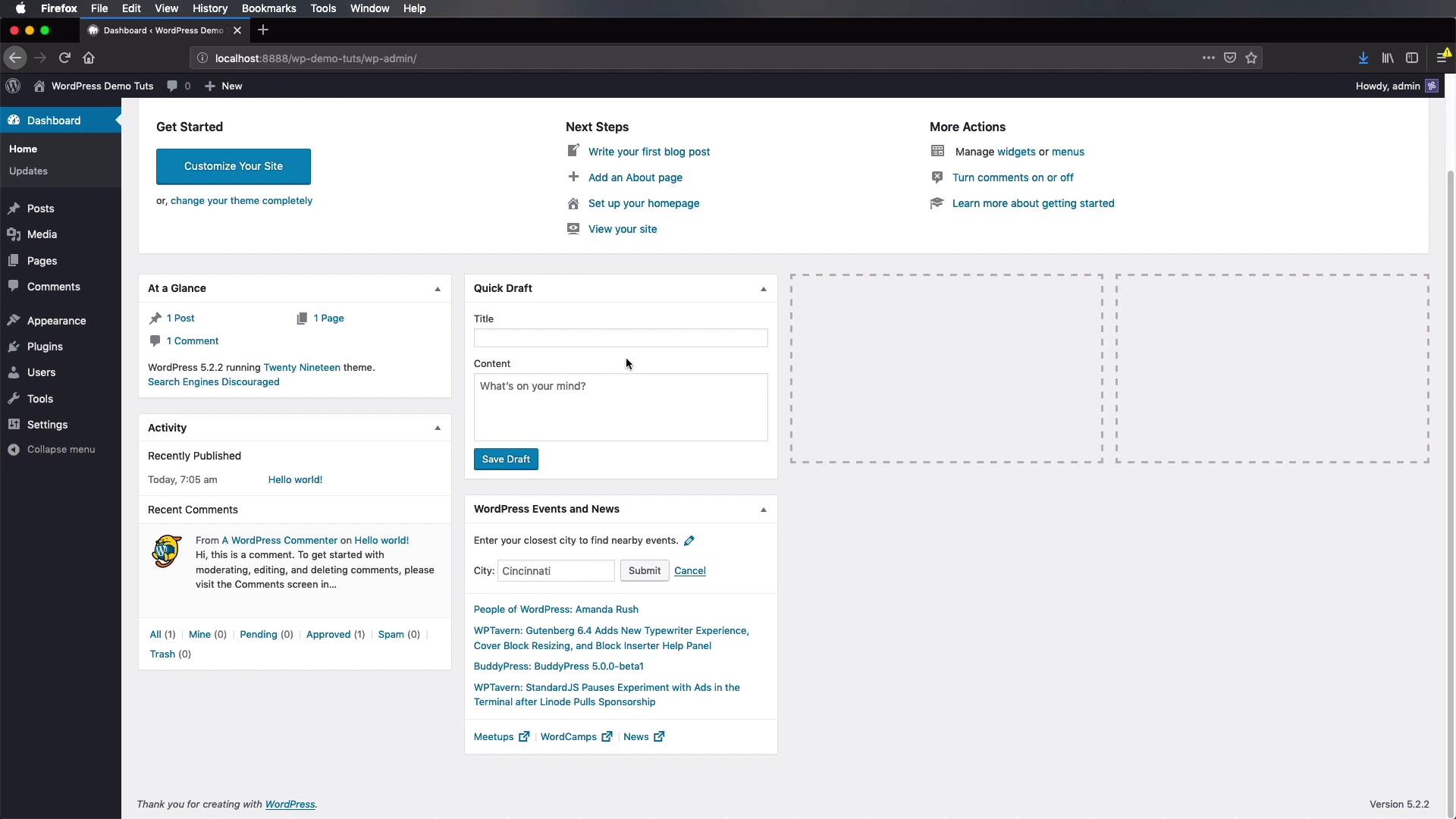 Este video es parte de mi curso A Beginner's Guide to WordPress (Una guía para principiantes de WordPress). Puedes ver el curso completo gratis aquí en Envato Tuts+.
Accediendo al Escritorio
En este ejemplo estoy trabajando en un servidor local. Para ver el sitio, abro un navegador web e introduzco el localizador uniforme de recursos (URL) apropiado, también conocido como dirección web, donde voy a wp-demo-tuts/.
Para ver el panel de administración de WordPress, añadiré wp-admin a la dirección web. Una vez conectado, verás el escritorio de administración de WordPress.
Conociendo el escritorio de WordPress
Lo primero que verás cuando abras el back-end de WordPress o el panel de administración es el escritorio. Este es el punto de partida para la mayoría de las tareas que realizarás en WordPress.
En este tutorial, te mostraré el escritorio y las formas de personalizarlo para que se ajuste a las preferencias y al flujo de trabajo,
El escritorio de WordPress
El escritorio de mandos está compuesto por unas cuantas tarjetas diferentes que te darán información, estadísticas y enlaces rápidos a las acciones más comunes. Por ejemplo, escribir una entrada en un blog, añadir una página, ver el sitio, personalizar el sitio, etc.
Los Paneles
Bienvenido a WordPress
El primer panel es Bienvenido a WordPress, estos son solo algunos enlaces para ayudarte a empezar.
A partir de aquí, puedes personalizar el sitio, cambiar el tema, gestionar los widgets, administrar los menús, activar los comentarios (o desactivarlos) y así sucesivamente.
El panel De un vistazo
De un vistazo te da estadísticas, el número de publicaciones realizadas, el número de páginas y el número de comentarios recibidos. También te dice la versión de WordPress y el tema que estás usando actualmente.
El panel de actividad
El panel de Actividad muestra qué publicaciones se han publicado recientemente y qué comentarios se han añadido recientemente.
A partir de aquí, también tienes opciones para desaprobar, responder o editar comentarios.
El Quick Draft Panel (panel de borrador rápido)
Quick Draft (borrador rápido) es una de las tarjetas más útiles. La forma en que funciona es darle un título y un poco de contenido y luego guardar un borrador.
Un borrador es una versión de un artículo o una página que aún no ha sido publicada, pero que aún está guardada en la base de datos.
Piensa en ello como un trabajo en progreso donde empiezas y trabajas en un borrador que puedes completar en una sola sesión o regresar en alguna ocasión para actualizarlo.
Cuando termines el borrador, lo publicarás. Con esta función, puedes crear nuevas páginas rápidamente.
Eventos y noticias de WordPress
El panel de Eventos y Noticias de WordPress contiene noticias sobre reuniones y eventos. Lo bueno del escritorio de WordPress es que puedes personalizarlo. Por ejemplo, puedes ocultar un panel y dejar los que quieras.
Si no te interesa un panel en particular, puedes colapsarlo o ir a Screen Options (Opciones de pantalla) donde puedes elegir qué paneles o qué cajas.
Por ejemplo, si deseas ocultar los eventos de WordPress, solo tiene que marcar eso. Si deseas volver a la pantalla de bienvenida, puedes hacerlo aquí, no hay problema.
También puedes moverlos para reorganizar los paneles. Hay un poco de personalización que puedes hacer.
Installing WordPress Updates (Instalación de actualizaciones de WordPress)
Otra parte del escritorio es la actualización. Lo encontrarás en el menú de la izquierda.
Esto te da un estado que indica si tienes o no la última versión de WordPress instalada y si los plugins y temas están todos actualizados.
Resumen
Ese es el escritorio, y eso cubre lo básico para trabajar con la página de administración de WordPress.
Ahora que estás un poco más familiarizado con el significado de WordPress, puedes navegar por nuestros tutoriales para aprender más.
Los mejores temas y plugins de WordPress en Envato Market
Explora miles de los mejores temas de WordPress creados en ThemeForest y los principales plugins de WordPress CodeCanyon. Adquirir estos temas y plugins de WordPress de alta calidad puede mejorar la experiencia de tu sitio web para ti y tus visitantes.
Aquí están algunos de los temas y plugins de WordPress más vendidos y con más futuro disponibles para el año 2020.
Want a weekly email summary?
Subscribe below and we'll send you a weekly email summary of all new Web Design tutorials. Never miss out on learning about the next big thing.
Sign up
Adi Purdila is a web design instructor for Tuts+. With over 100 courses and 200 tutorials published to date, Adi's goal is to help students become better web designers and developers by creating content that's easy to follow and offers great value. Being self-taught himself, Adi strongly believes that constant learning (academic or otherwise) is the only way to move forward and achieve your goals. When not typing away at his keyboard, he loves woodworking and caring for his ever-growing family of rescue pets. You can stay up to date with what he's doing by following him on social media or visiting his website at adipurdila.com.
Scroll to top
Looking for something to help kick start your next project?
Envato Market
has a range of items for sale to help get you started.