Adi Purdila
En el consejo rápido de hoy, te enseñaré cómo agregar microinteracciones a tu sitio web usando una biblioteca de JavaScript llamada micron.js. Con micron.js, puedes agregar animaciones sutiles a los elementos de tu página web sin tener que escribir los estilos tú mismo; todo se hace usando atributos de datos en tu marcado. ¡Echemos un vistazo!
Ve el screencast de micron.js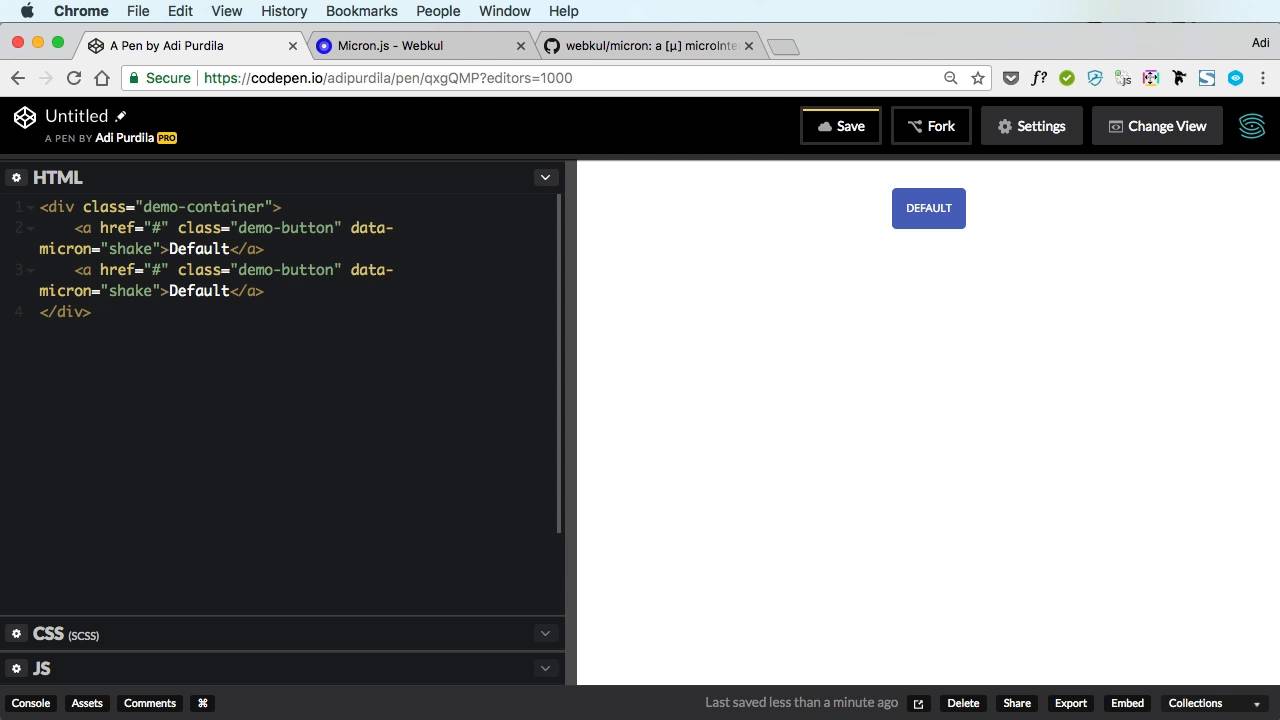 1.

Obtén micron.js

Visita la página principal de micron.js y encontrarás un enlace al repositorio, además de algunos ejemplos de demostración. Para comenzar, necesitarás el archivo CSS y el archivo JavaScript, cuyos enlaces CDN tiene este aspecto:
1

<link

 

href=

"https://unpkg.com/webkul-micron@1.1.4/dist/css/micron.min.css"

 

type=

"text/css"

 

rel=

"stylesheet"

>




2

<script 

src=

"https://unpkg.com/webkul-micron@1.1.4/dist/script/micron.min.js"

 

type=

"text/javascript"

></script>



Agrégalos a tu página tal como los ves, o si estás usando un pen de CodePen, agrega los enlaces a las pestañas CSS y JavaScript en la configuración del pen.
2.

Agrega una microinteracción

Usemos un elemento de anclaje como ejemplo. Toma lo siguiente:
1

<a

 

href=

"#"

 

class=

"demo-button"

>

Default

</a>



Al hacer clic en un elemento de anclaje como este no ocurrirá absolutamente nada. Sin embargo, al agregar un atributo de datos con el nombre data-micron, podemos añadir un poco de estilo a nuestro elemento de anclaje.
1

<a

 

href=

"#"

 

class=

"demo-button"

 

data-micron=

"shake"

>

Default

</a>



Aquí podrás ver que hemos añadido el valor shake a nuestro atributo. Este podría haber sido uno de entre un conjunto de valores, todos los cuales nos proporcionan una interacción diferente:
shake
fade
jelly
bounce
tada
groove
swing
squeeze
flicker
jerk
blink
pop
Ahora, al hacer clic en el elemento de anclaje, podrás observar una reacción visual en forma de nuestra microinteracción.
3.

Ajusta la duración de la animación

Agregar otro atributo de datos nos permitirá alterar la duración de la animación:
| | |
| --- | --- |
| 1 | data-micron-duration="1" |
El valor asignado está en segundos, por lo que el atributo anterior ralentizaría la animación predeterminada para que dure un segundo.
4.

Ajusta la función de aceleración

Ya te estás familiarizando con esto, ¿verdad? Agreguemos otro atributo para ajustar la función de aceleración de la animación.
| | |
| --- | --- |
| 1 | data-micron-timing="linear" |
De nuevo, aquí está permitido el uso de un conjunto de valores familiares:
linear
ease-in
ease-out
ease-in-out
5.

Crea un enlace a otro elemento

Podemos usar micron.js para trabajar con otros elementos que no sean los que están recibiendo el clic, en esta ocasión con dos atributos de datos:
| | |
| --- | --- |
| 1 | data-micron-bind="true" data-micron-id="target" |
En este caso decimos que el enlazado tiene el valor true, y que queremos que la animación surta efecto en un elemento con el id target.
Echa un vistazo a la demostración que aparece a continuación para ver una colección de todos estos ejemplos, incluyendo el enlazado (haz clic en el botón bound (enlazar) y observa la animación del div rojo):
Conclusión
Micron.js hace aún más cosas para las microinteracciones que lo que hemos ejemplificado en este tutorial, visita la página web, experimenta ¡y velo por ti mismo!
Aprende más
Want a weekly email summary?
Subscribe below and we'll send you a weekly email summary of all new Web Design tutorials. Never miss out on learning about the next big thing.
Sign up
Adi Purdila is a web design instructor for Tuts+. With over 100 courses and 200 tutorials published to date, Adi's goal is to help students become better web designers and developers by creating content that's easy to follow and offers great value. Being self-taught himself, Adi strongly believes that constant learning (academic or otherwise) is the only way to move forward and achieve your goals. When not typing away at his keyboard, he loves woodworking and caring for his ever-growing family of rescue pets. You can stay up to date with what he's doing by following him on social media or visiting his website at adipurdila.com.
Looking for something to help kick start your next project?
Envato Market
has a range of items for sale to help get you started.