Rachel McCollin
En esta publicación, te mostraré cómo instalar y configurar el complemento WP-Optimize y te explicaré cómo es que te ayudará a acelerar tu sitio web de WordPress.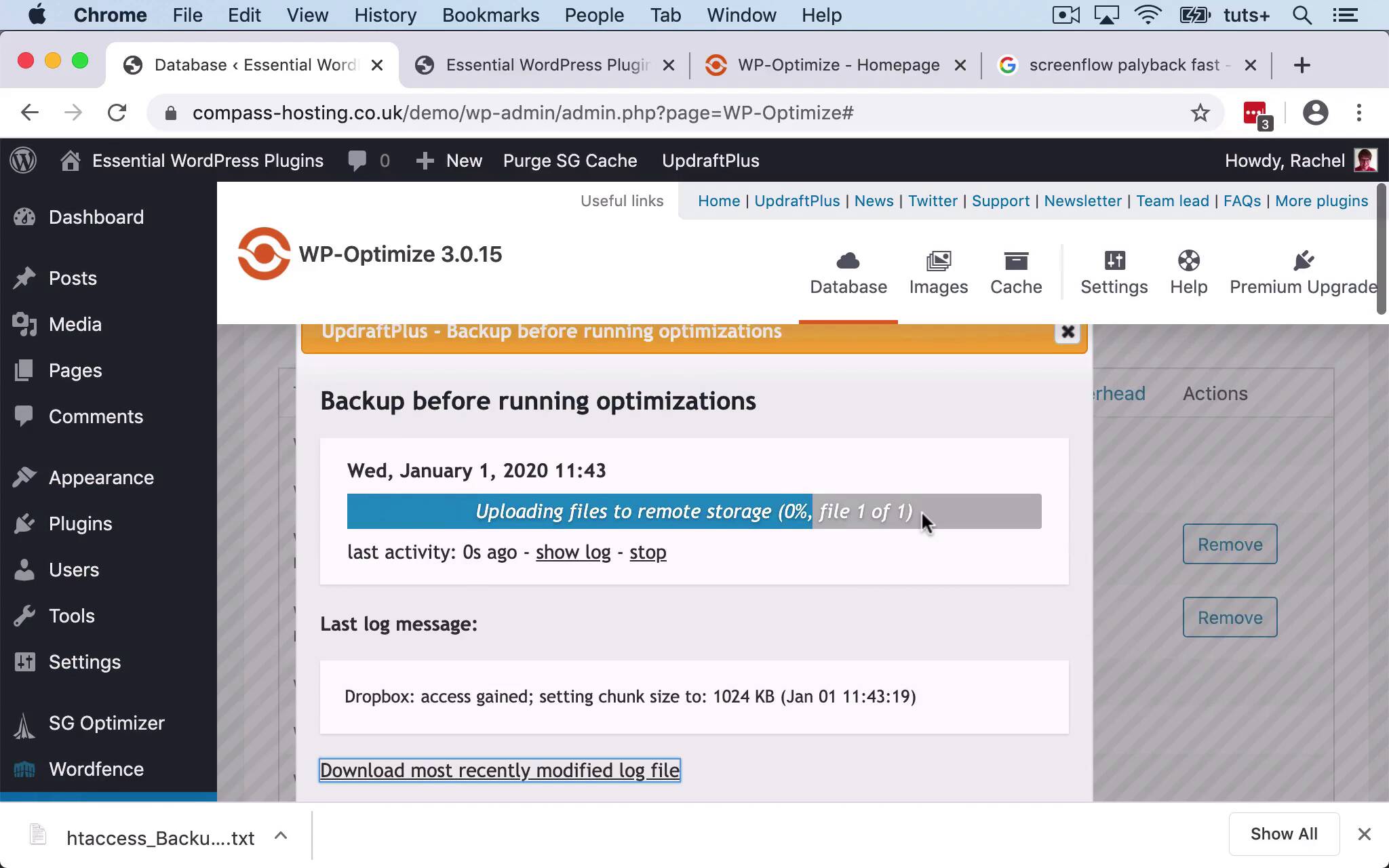 Este video es parte de mi curso "Complementos esenciales de WordPress". Puedes ver el curso completo de forma gratuita aquí en Envato Tuts+.
Cómo usar WP-Optimize para acelerar tu sitio
Primero necesitas instalar el complemento WP-Optimize. Comenzando en la sección de complementos del panel de administración de WordPress, busca la palabra rendimiento (o performance, en inglés) y desplázate hacia abajo para encontrar WP-Optimize. Después haz clic en Install (Instalar) para instalar el complemento, y luego haz clic en Activate (Activar).

Ahora el complemento está activado. Para acceder a las configuraciones, ve a WP-Optimize en el menú de navegación que se encuentra a lo largo del lado izquierdo.
Esto te lleva a un panel de administración de WP-Optimize, en donde es posible cambiar las configuraciones de acuerdo a los requisitos del usuario. Hay un enlace a la documentación, para obtener más información, y un enlace a una versión prémium que ofrece funciones adicionales. Comienza descartando el cuadro de información sobre WP-Optimize para acceder a las opciones.
Hay tres configuraciones principales en las que estamos interesados al ver el complemento WP-Optimize. Estas son:
Optimizar la base de datos
Compresión de imágenes
Almacenamiento de páginas en caché
Optimiza la base de datos para acelerar tu sitio
Optimizar la base de datos significa eliminar cualquier cosa que no sea necesaria, para ayudar a que la base de datos funcione de manera más eficiente.
Como ya estoy ejecutando UpdraftPlus, puedo marcar esta casilla para crear una copia de seguridad del sitio antes de realizar cualquier cambio. Es buena idea crear una copia de seguridad de un sitio de WordPress antes de optimizar la base de datos, ya que, si algo saliera mal, el sitio web dejaría de funcionar. Si algo de verdad sale mal, esto significa que la copia de seguridad se puede restaurar para recuperar la funcionalidad completa del sitio web.
Las configuraciones predeterminadas son:
Limpiar todas las revisiones de las entradas: cada revisión de una entrada crea otra entrada en la tabla wp-posts, pero puedes eliminar las revisiones antiguas para ahorrar espacio.
Limpiar todos los borradores de entradas automáticos: aquí es donde WordPress crea el borrador de una entrada automáticamente. A menudo estos se crean y nunca se usan, ¡pero aún así se almacenan en la base de datos!
Limpiar todas las entradas eliminadas: hace lo que su nombre indica, borra todas las entradas que han sido marcadas como eliminadas, lo que borra más información de la base de datos.
Eliminar mensajes basura y comentarios descartados: nuevamente, esto hace lo que su nombre indica, limpiando la base de datos de información inútil.
Eliminar comentarios no aprobados: esto para mantener la base de datos tan ligera como sea posible y evitar la necesidad de hacer esto manualmente en el administrador del back-end de WordPress.
Luego hay una serie de configuraciones para eliminar opciones transitorias caducadas, eliminar pingbacks, eliminar trackbacks, limpiar metadatos de entradas, limpiar metadatos de comentarios y para limpiar datos relacionales huérfanos.
En este ejemplo aún no hay datos para que el complemento pueda limpiarlos.
Si usas revisiones de entradas, tal vez puedas regresar a revisiones previas de una entrada, o si esa función en particular te parece útil, quizá sea conveniente desmarcar esta opción.
Esto es particularmente importante si más de una persona tiene acceso al contenido. Por ejemplo, tal vez el cliente tenga acceso, y si este arruina algo, entonces la función de revisión de entradas lo salvaría al poder volver fácilmente a una revisión anterior de esa entrada.
Cuando estés satisfecho con las selecciones realizadas, haz clic en Run Selected Optimizations (Ejecutar optimizaciones seleccionadas).
Si ahora revisas las opciones, verás que ya no hay elementos como revisiones de entradas o comentarios para optimizar.
Es posible ver todas las tablas de la base de datos haciendo clic en la pestaña Tables (Tablas) en la parte superior. Es posible eliminar aquellas tablas que pertenezcan a complementos que ya no se usan.
Idealmente, cuando se desinstala un complemento (no al desactivado solamente), la eliminación de cualquier tabla personalizada de la base de datos es una buena práctica, aunque esto no siempre sucede.
Aquí es en donde el complemento WP-Optimize resulta útil, al eliminar tablas que ya no son necesarias.
Compresión de imágenes para acelerar la carga de la página y de las imágenes
Al comprimir las imágenes al tamaño que verdaderamente se necesita en la página web, es posible ahorrar mucho espacio en el servidor y puedes acelerar los tiempos de carga de las páginas en tu sitio.
La compresión de imágenes realmente puede acelerar cualquier sitio web, no solo un sitio de WordPress. Por ejemplo, si cargas una imagen de 2,000 píxeles de ancho que solo es necesario mostrar con un ancho de 500 píxeles, entonces eso tardará más en cargar.
WP-Optimize permite que las imágenes cargadas sean comprimidas y optimizadas "automágicamente". Además, te permite ajustar el equilibrio entre la compresión y la calidad de la imagen. También permite la compresión de imágenes cargadas existentes.
Además, hay opciones para optimizar aún más las imágenes en la versión prémium del complemento, por ejemplo la carga diferida.
Acelera tu sitio almacenando las páginas en caché
Si tu proveedor de alojamiento ya proporciona almacenamiento en caché en el plan de alojamiento, entonces no debes habilitar esta configuración. De forma predeterminada está desactivada.
Si se habilita, el almacenamiento en caché garantiza que, cada vez que una página sea cargada, esta sea convertida en HTML puro. Cada vez subsecuente que esa página sea solicitada, se carga la página HTML, lo que es más rápido que servir páginas dinámicas desde WordPress.
Las opciones de esta sección permiten tener archivos separados para dispositivos móviles, permiten establecer cuánto tiempo se almacenan las páginas en caché y cuentan con una opción para limpiar toda la memoria caché si es necesario.
Precarga de páginas
El almacenamiento normal en caché significa que, si una página es visitada, se crea una página guardada en caché para visitas subsecuentes. La precarga significa que el complemento visita cada página del sitio, genera una versión HTML precargada y la almacena en caché.
Las configuraciones avanzadas permiten la exclusión de, por ejemplo, páginas con procesos dinámicos necesarios. La compresión GZip está habilitada por defecto y ayuda con las velocidades de carga de las páginas.
Otras configuraciones para la optimización
Esta sección te permite programar limpiezas, guardar archivos de registro y cambiar configuraciones con discusiones, con trackbacks y comentarios, que pueden ayudar a acelerar un poco el sitio, ya que las entradas particulares no van en busca de trackbacks.
Conclusión
WP-Optimize no solamente facilita la optimización de un sitio web de WordPress, sino que también permite la programación y automatización de una optimización continua para mantener al sitio funcionando sin problemas.
Los mejores temas y complementos de WordPress en Envato Market
Explora miles de los mejores temas de WordPress alguna vez creados en ThemeForest y los complementos de WordPress más destacados en CodeCanyon. Compra estos temas y complementos de WordPress de alta calidad y mejora la experiencia en tu sitio web para ti y para tus visitantes.
Estos son algunos de los temas y complementos de WordPress mejor vendidos y más prometedores disponibles para 2020.
Want a weekly email summary?
Subscribe below and we'll send you a weekly email summary of all new Web Design tutorials. Never miss out on learning about the next big thing.
Sign up
WordPress Developer and Writer, Birmingham UK
Rachel McCollin is a WordPress developer who writes books, articles and tutorials about web design and development, with a focus on WordPress and on responsive and mobile development. She runs a web design agency in Birmingham, UK and has published three books on WordPress, including WordPress: Pushing the Limits, an advanced resource for WordPress developers. She's currently writing her fourth book.
Looking for something to help kick start your next project?
Envato Market
has a range of items for sale to help get you started.