Adi Purdila
Ser "pixel perfecto" es algo que se vuelve menos importante para los diseñadores web una vez que se acepta que los sitios web se pueden ver diferente a través de distintos dispositivos y pantallas. Pero eso no significa que la atención a los detalles sea menos deseable. En este tutorial te voy a iniciar en una herramienta (extensión de Chrome) la cual te puede ayudar a lograr pixeles perfectos en tus diseños web.
Presentando Visual Inspector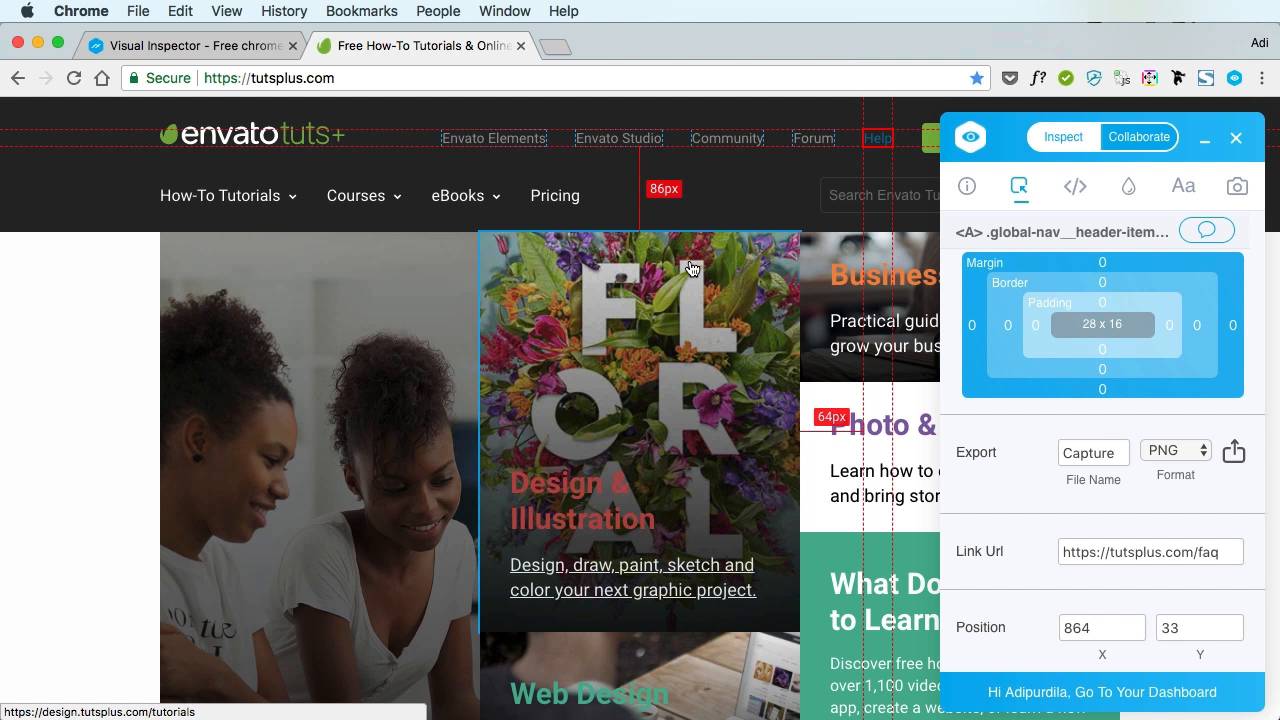 Utilizando Visual Inspector
Primero que nada, ve a www.canvasflip.com/visual-inspector y descarga la extensión de Chrome. Una vez instalada se te pedirá que te registres para una cuenta (gratuita, pero hay cuentas avanzadas disponibles en $5 mensuales, por usuario) ¡Estás en marcha!
El inspector te permite seleccionar cualquier elemento de la página y examinar sus propiedades. Por ejemplo aquí está lo que te muestra el inspector cuando seleccionamos el logotipo de la página de inicio de Tuts+.
Podemos ver el markup que se utiliza, y las distintas classes asignadas al elemento. También podemos ver el padding, border y otros estilos aplicados. En este caso podemos ver la fuente de la imagen, y además al desplazarnos podemos ver mucho más.
Exportar
En esta etapa podemos exportar algunos elementos que veamos. Lor archivos de imagen, aunque no en formato SVG, están disponibles para sujetar. Cada texto y otros estilos  pueden ser exportados a JPG o PNG y ser llevados a la aplicación de diseño de tu elección, lo cual es realmente útil.
Mediciones
Al mover tu mouse por el navegador y hacer clic en varios elementos te mostrará alineación y medidas, especificadas e implícitas, ayudándote a obtener una idea sólida de dónde está todo con relación a lo demás, y ayudándote a lograr pixeles perfectos.
Modificando y guardando las propiedades
Al igual que otros inspectores para el navegador, puedes alterar las propiedades y los estilos de cualquier elemento que desees. Sin embargo con Visual Inspector, mientras examinas, todos los estilos se pueden modificar con herramientas visuales (sliders, selectores de color y así).
Una vez cambiados, puedes presionar el botón CSS Output para mostrar los nuevos estilos que has creado.
Como alternativa, puedes presionar Sync Changes en la pestaña Info y tus ediciones serán guardadas en tu cuenta. Esto te permite revisar esos cambios en el futuro, algo que los inspectores de navegador ordinarios no admiten por defecto.
Conclusión
Visual Inspector es una gran herramienta para aquellos que disfrutan refinar en el navegador. Examina lo que ya existe, haz cualquier cambio que desees, luego exporta esos cambios o guárdalos para después. Y si obtienes una cuenta avanzada, también puedes colaborar con miembros del equipo. ¡Ve, revísalo y déjanos saber lo que piensas en los comentarios!
Aprende más sobre colaboración para diseñadores
Want a weekly email summary?
Subscribe below and we'll send you a weekly email summary of all new Web Design tutorials. Never miss out on learning about the next big thing.
Sign up
Adi Purdila is a web design instructor for Tuts+. With over 100 courses and 200 tutorials published to date, Adi's goal is to help students become better web designers and developers by creating content that's easy to follow and offers great value. Being self-taught himself, Adi strongly believes that constant learning (academic or otherwise) is the only way to move forward and achieve your goals. When not typing away at his keyboard, he loves woodworking and caring for his ever-growing family of rescue pets. You can stay up to date with what he's doing by following him on social media or visiting his website at adipurdila.com.
Looking for something to help kick start your next project?
Envato Market
has a range of items for sale to help get you started.