Adi Purdila
En este consejo breve, voy a explicarte cuando deberías y cuando no deberías utilizar la «versión delgada» de jQuery. Para este consejo asumiré que estás familiarizado con jQuery, o que al menos has oído hablar de él.

Mira el screencast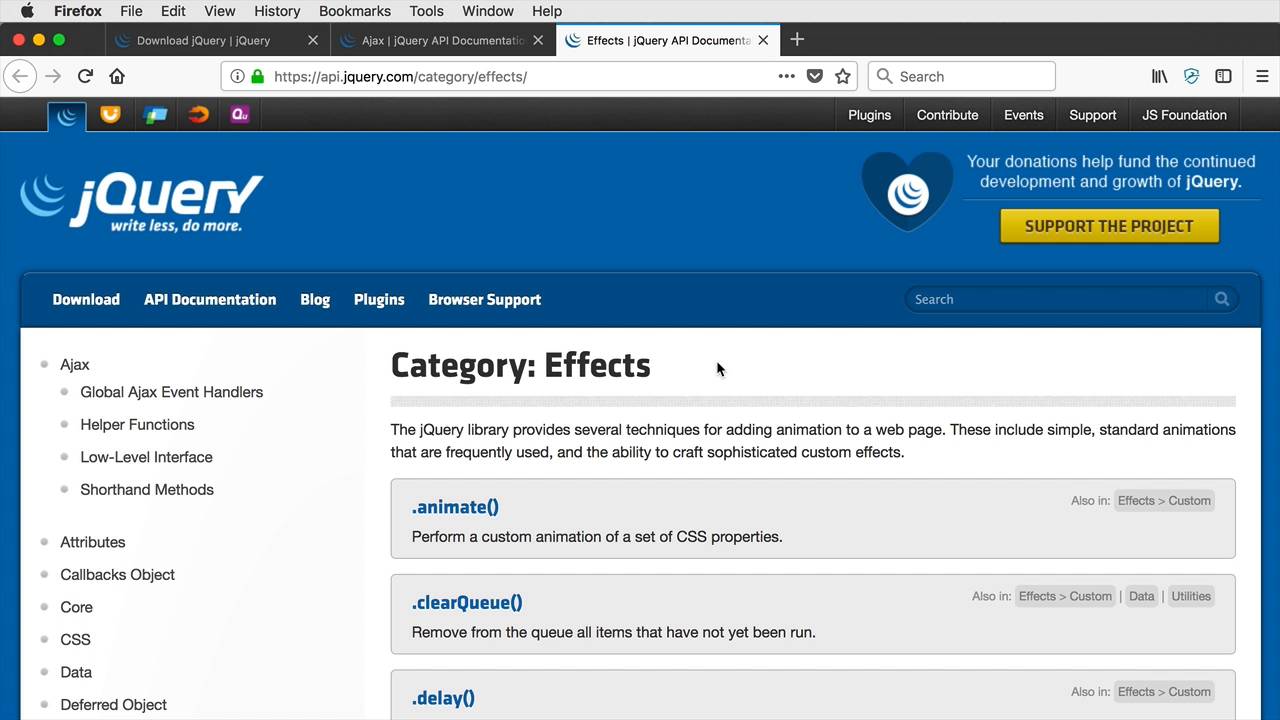 jQuery frente a jQuery Slim
Para utilizar jQuery por lo general irías a https://jquery.com/download/ y tomarías uno de los paquetes que se ofrecen. Actualmente la versión de producción comprimida de jQuery pesa 87Kb. Esto no es una cantidad enorme, pero puedes ahorrar 17Kb adicionales optando por la versión slim de producción comprimida.
Cuando trates de optimizar el rendimiento, es correcto ahorrar todo lo que puedas, pero aquí está el truco: la versión slim ahorra peso al excluir los módulos de ajax y de efectos.
El módulo ajax es probablemente el que menos se utilice de los dos. Contiene funciones y métodos que nos permiten cargar datos sin necesidad de refrescar la página. El módulo de efectos, no obstante, es más probable que figure en tus sitios web; contiene funciones y métodos para las animaciones de uso común, por ejemplo animate(), fadein() y fadeout(), hide(), show() y así sucesivamente. Si alguna vez has utilizado jQuery, lo más probable es que hayas usado uno de estos métodos.
Eso cubre el mensaje esencial aquí: si necesitas alguno de los métodos o funciones que se encuentran en los módulos de ajax o efectos de jQuery, utiliza la versión completa. Si no, obtendrás un pequeño ahorro usando la versión slim.
¡Usuarios de Bootstrap, tengan cuidado!
¡Para finalizar, veamos el principal motivo detrás de este breve consejo! Cabe señalar que Bootstrap 4 (la versión más reciente del framework) utiliza la versión slim de jQuery. Por lo tanto, si estás creando con Bootstrap y planeas añadir cualquier interactividad adicional que se base en ajax o en efectos, tendrás que cargar la biblioteca completa de jQuery.
¡Espero que eso te ahorre algunos dolores de cabeza!
Want a weekly email summary?
Subscribe below and we'll send you a weekly email summary of all new Web Design tutorials. Never miss out on learning about the next big thing.
Sign up
Adi Purdila is a web design instructor for Tuts+. With over 100 courses and 200 tutorials published to date, Adi's goal is to help students become better web designers and developers by creating content that's easy to follow and offers great value. Being self-taught himself, Adi strongly believes that constant learning (academic or otherwise) is the only way to move forward and achieve your goals. When not typing away at his keyboard, he loves woodworking and caring for his ever-growing family of rescue pets. You can stay up to date with what he's doing by following him on social media or visiting his website at adipurdila.com.
Looking for something to help kick start your next project?
Envato Market
has a range of items for sale to help get you started.