Adi Purdila
Cuando piensas en crear una presentación de diapositivas, probablemente pienses en PowerPoint, Keynote, o quizá Google Slides, pero en este tutorial te mostraré una manera de potenciar tus presentaciones con otra herramienta.
Ludus (una aplicación web) llevará las presentaciones estáticas a otro nivel, permitiéndote añadir movimiento y más dinamismo a lo que sea que estés presentando. Mira el screencast para conocer todos los detalles:
Cómo usar Ludus para mejores presentaciones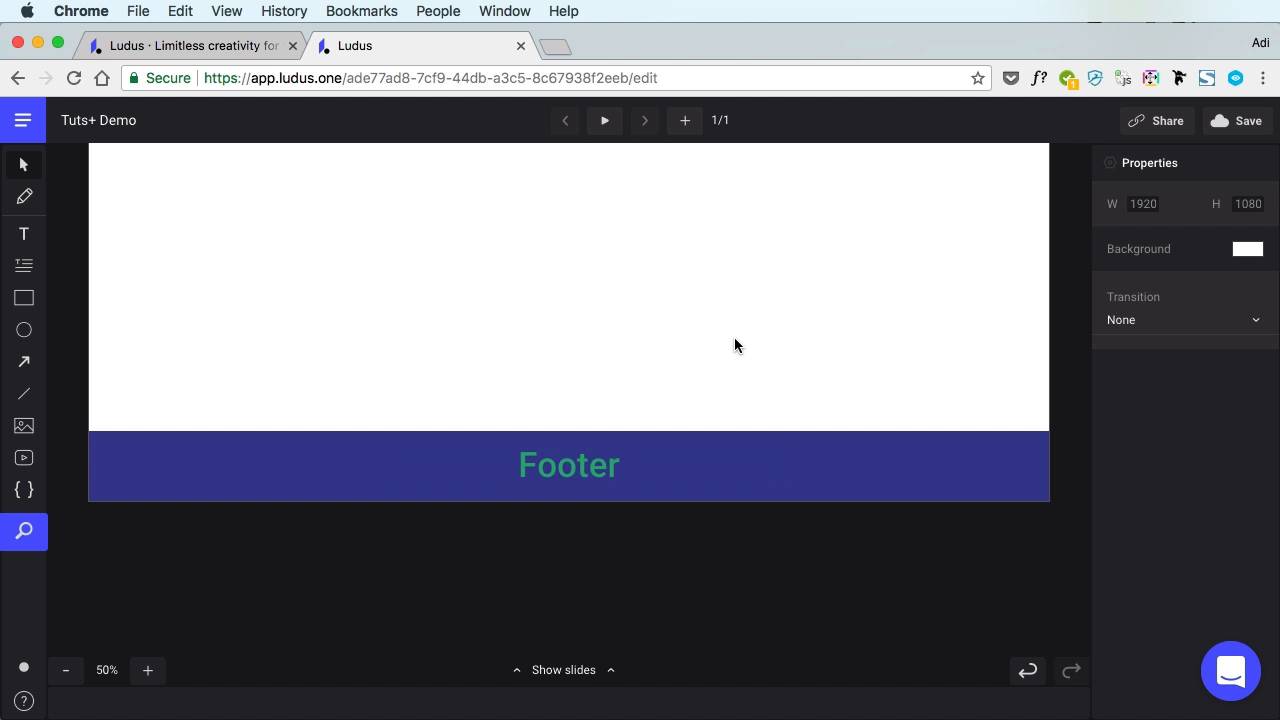 Empezando con Ludus
Visita ludus.one y presiona el botón Start para iniciar un proyecto.
Nota: Utilizaremos la versión gratuita, que nos limita a un solo usuario, 1Gb de almacenamiento y 20 presentaciones. Al actualizarla por 99 dólares al año nos dará muchas más opciones y más flexibilidad. También hay disponible un paquete para equipos.
A continuación, se te pedirá crear una cuenta (inicia sesión con Facebook si lo deseas) y luego podrás empezar a crear presentaciones.
Inicia una nueva presentación, o elige la guía de usuario como punto de partida, que es la manera perfecta para que Ludus demuestre lo que es posible y te familiarices.
Al hacer clic en New Presentation (Nueva presentación), aparecerá un diálogo donde puedes ingresar las dimensiones iniciales (elige entre los ajustes preestablecidos si lo prefieres) y el título del documento.
Accederás a una pantalla de documento, parecida en muchos aspectos a todas tus aplicaciones favoritas; con controles en la parte superior, una barra de herramientas a la izquierda y paneles a la derecha. En cualquier momento puedes acceder a todas las diapositivas disponibles alternando el panel de la parte inferior de la pantalla:
Herramientas de Ludus
La barra de herramientas te permite añadir elementos a las diapositivas, como los siguientes:
Modo de dibujo, para líneas de lápiz
Títulos (encabezados)
Párrafos
Formas básicas, como rectángulos y círculos
Flechas
Líneas
Imágenes
Videos
Bloques de código
Para controlar cada una de ellas, los ajustes están disponibles en los paneles del inspector a la derecha.
Los controles disponibles también son muy variados y versátiles; la posición y la escala son bastante estándar, pero los bloques de código tienen diferentes resaltadores de sintaxis para elegir, a las formas y a las imágenes se les pueden aplicar modos de mezcla, y además hay muchos más ejemplos.
Bloques inteligentes
En la parte inferior de los paneles de inspección, también verás un botón marcado como + Add Smart Block (Añadir bloque inteligente). Esto te permite agregar elementos que se comportan un poco como los símbolos en las aplicaciones gráficas.
Añadir un bloque inteligente (como un pie de página común o un gráfico) a varias diapositivas te permitirá realizar un cambio en un lugar y ver cómo esos cambios surten efecto en todo el documento.
Transiciones en las diapositivas
Una vez que tus diapositivas estén listas para ser presentadas al mundo, puedes definir las transiciones (además de las duraciones) que deseas entre cada una.
Al presionar el botón play (reproducir), en la parte superior de la pantalla, se te mostrará cómo se ve la transición ahora.
Muestra y comunica
Habiendo guardado tu presentación finalizada, ahora necesitas mostrarla al público. Presiona Share (Compartir) para obtener una URL, o toma el fragmento incrustado, o incluso descarga una versión en HTML o en PDF por si requieres una versión fuera de línea.
Nota: Ten en cuenta que algunos de los efectos y la interactividad no necesariamente funcionarán a la perfección en las versiones descargadas.
Conclusión
Hay mucho más que explorar en Ludus; échale un vistazo al screencast para más detalles y experimenta por ti mismo.

Más bondades para presentaciones.
La guía completa para hacer excelentes presentaciones, libro electrónico gratuito de Tuts+.
Want a weekly email summary?
Subscribe below and we'll send you a weekly email summary of all new Web Design tutorials. Never miss out on learning about the next big thing.
Sign up
Adi Purdila is a web design instructor for Tuts+. With over 100 courses and 200 tutorials published to date, Adi's goal is to help students become better web designers and developers by creating content that's easy to follow and offers great value. Being self-taught himself, Adi strongly believes that constant learning (academic or otherwise) is the only way to move forward and achieve your goals. When not typing away at his keyboard, he loves woodworking and caring for his ever-growing family of rescue pets. You can stay up to date with what he's doing by following him on social media or visiting his website at adipurdila.com.
Looking for something to help kick start your next project?
Envato Market
has a range of items for sale to help get you started.