Kezz Bracey
Hajde da izradimo Lo Fi Prototip, u šezdeset sekundi, koristeći Madkit Sketch UI kit koji je dio ponude na Themeforest-u!
Pogledajte 'Screencast'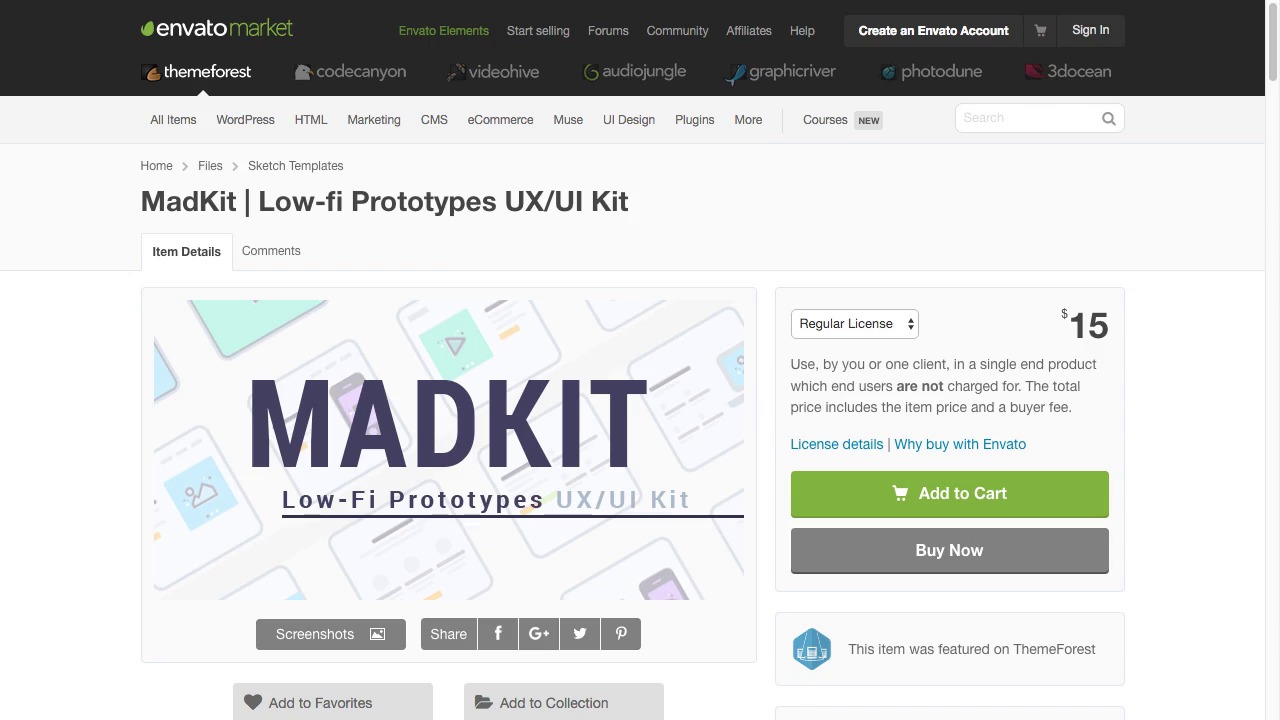 Izrada
Na duplikatu MadKit Sketch datoteke (Lo-Fi UI) napravite novu stranicu. Idite na Insert > Symbols > Base > Shapes > Window da za naš 'mockup' izradite prozor za pretraživanje.
Također u rubrici Shapes uzmite browser-header, i zatim prototipu dodijelite ime.
Najvažniji je Sadržaj
Sada ćemo sastaviti sadržaj našeg prototipa koristeći simbole koje ćete pronaći pod Categories (počnite sa 'coverom' video pozadine). Sada ćemo dodati listu proizvoda, testimonial slajder, nakon toga ćemo pokazati najnovije postove na blogu, dodati neke informacije o zaposlenicima tvrtke, i na kraju dovršiti sa kontakt podacima.
Raa-azvucite
Razvucite prozor kako bi pristajao vašem sadržaju.
Sada selektirajte svih šest dijelova sadržaja, kliknite desnim gumbom u izborniku slojeva i odaberite Detach from Symbol. U Video BG objektu sakrijte Base/Shapes/window i podesite Video Background radijus na 0.
Sada ćemo sakriti oblik prozora na svakom drugom dijelu sadržaja, zatim ćemo preostalim dijelovima sakriti rubove i podesiti radijus na 0.
I na kraju odaberite prozor za pretraživanje i simbole zaglavlja te ih povucite skroz na vrh skupine.
Završili smo
Ovako se radi lo-fi UI prototip u šezdeset sekundi! Svakako provjerite što se još nalazi u ponudi za izradu prototipa u Sketchu na Themeforest-u:
Want a weekly email summary?
Subscribe below and we'll send you a weekly email summary of all new Web Design tutorials. Never miss out on learning about the next big thing.
Sign up
Hi there. I'm a designer & coder who works in the areas of web design / development, game development and digital art. In the web space I'm a front end all rounder but I have a particular specialization in theme creation, no matter the platform. I also love finding the latest most efficient, user focused design and dev techniques of the day. In game development I'm addicted to playing with every different engine, toolset and framework I can find. In digital art I love everything from painting to vector work to pixel art to 3D modelling. In short, if it's creative and you can make it digitally, I love it.
Looking for something to help kick start your next project?
Envato Market
has a range of items for sale to help get you started.