Read Time:
3 mins
Languages:
Mreže (rešetke) su koristan alat svakog dizajnerskog softvera. U ovom videozapisu iz mog tečaja Affinity Designer Quick Start naučit ćete postaviti mreže u programu Affinity Designer. Pokazat ću vam kako koristiti ključne značajke standardne i izometričke mreže.
Kako postaviti mreže u programu Affinity Designer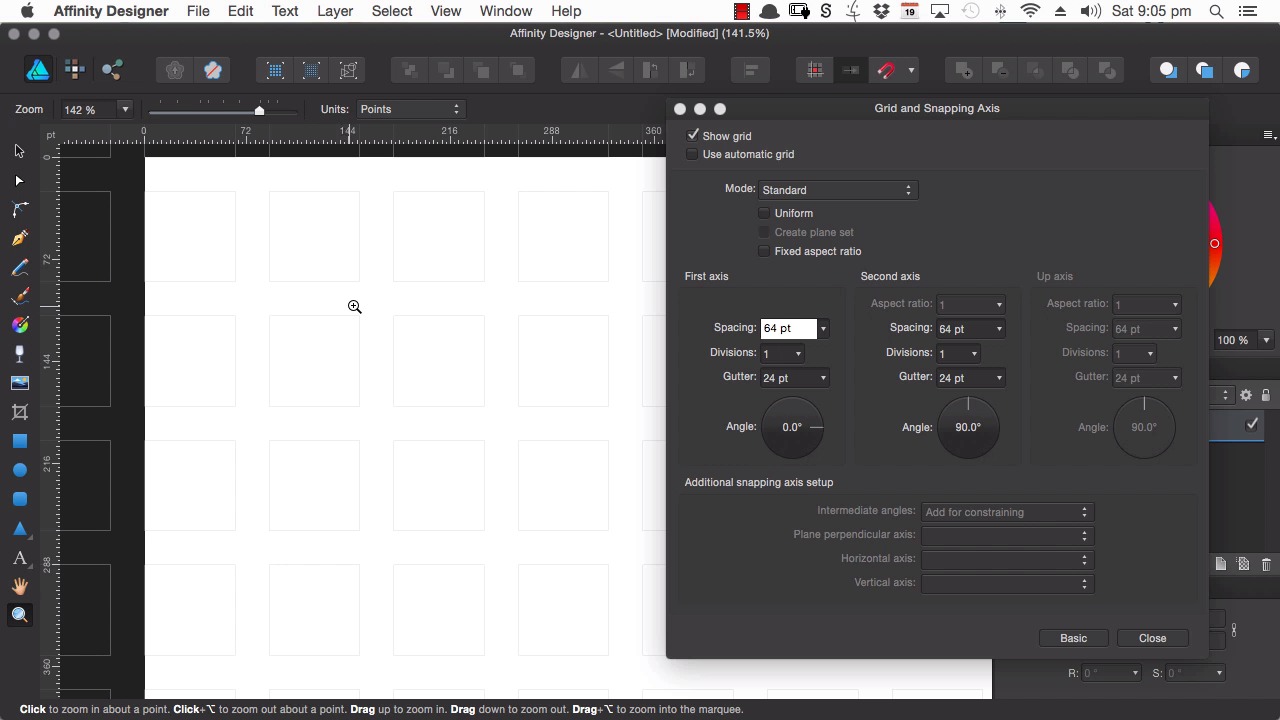 Osnovne postavke mreže
Affinity Designer ima razrađen sustav mreža s nekim doista dobrim alatima za kreiranje npr. ikona, ali isto tako i izometričke mreže za izradu grafike za kompjutorske igre.
Počet ćemo s prikazom mreže. Odaberite izbornik View, a zatim označite podizbornik Show Grid. Pojavit će se programom zadana mreža, tzv. 'default grid'.
Da biste promijenili način na koji je mreža postavljena vratite se u izbornik View i odaberite Grid and Axis Manager.
Po 'defaultu' uključena je opcija Use automatic grid. Da biste napravili promjenu morate ukloniti oznaku u kvadratiću do nje.
Kako postaviti mrežu za izradu ikona
Pogledajmo kako možete postaviti mrežu za izradu ikona.
Uglavnom uobičajena veličina ikona je 64 px x 64 px. Dakle, pod istom opcijom Grid and Axis Manager odaberite First Axis i postavite Spacing za razmak na 64 pt. Zatim pod Second Axis također možemo postaviti Spacing na 64 pt. Sada je svaki od naših kvadrata točno odgovarajuće veličine da u njega stane jedna ikona.
Možemo i povećati prostor između svake od ovih mrežnih ćelija. Dakle, povećajte Gutter na 24 pt za obje osi. Sada nam upravo jedna ikona može stati u svaki od ovih malih kvadrata.
Nadalje, da bismo lakše postavili raspored (layout), možemo povećati broj segmenata. Dakle, možemo napraviti manje mreže unutar naše mreže.
Postavimo recimo, Divisions na 32. Zumiramo li da povećamo, vidjet ćemo nekoliko dodatnih linija koje presijecaju svaku od naših ćelija. Dakle, ako želimo poravnati sva sjecišta i točke na našim ikonama, možemo ih privući do bilo koje od ovih linija. Isto možemo učiniti i vodoravno, pa ćemo tako dobiti zgodnu malenu samostojeću mrežu za svaku od ikona koju napravimo. 
Kako postaviti izometričku mrežu
Mrežni raspored ikona koristi standardan mod mreže, ali postoji još nekoliko unaprijed definiranih tipova mreže s kojima možete raditi. 
Na primjer, možete raditi s grafikama za izometričku videoigru. Trebate odabrati Mode i iz padajućeg izbornika Isometric.
Sada će vaša mreža biti prebačena u izometrički sloj. Vratimo onda razmak, Gutter na 0 da zadržimo svoje mrežne segmente.
Sada imamo stvarno funkcionalan okvir koji možemo koristiti za izradu izometričke grafike, bez straha da će kutovi i perspektiva koje pokušavamo postaviti biti na bilo koji način neusklađeni.
Pogledajte cijeli tečaj
U kompletnom tečaju Affinity Designer Quick Start dobit ćete još 34 videozapisa poput ovog i proći sve aspekte ovog razrađenog softvera za dizajniranje. Naučit ćete pojedinosti o primjeni različitih vektorskih alata, interakcijama među likovima/oblicima, korištenju tipografije i još puno toga.
Možete odmah upisati naš novi tečaj ako napravite prijavu preko subscription to Envato Elements. Za povoljnu jednokratnu mjesečnu uplatu dobit ćete pristup ne samo ovom tečaju već i našoj bogatoj knjižnici s preko 1000 video tečajeva i vodećih e-knjiga na stranicama Envato Tuts+.
Uz to, imate mogućnost neograničenog preuzimanja 300 000+ fotografija i 34 000+ dizajnerskih elemenata i predložaka preko knjižnice Envato Elements. Dizajnirajte s unikatnim fontovima, fotografijama, grafikom i predlošcima, i isporučite bolje projekte brže.
Looking for something to help kick start your next project?
Envato Market
has a range of items for sale to help get you started.