Adi Purdila
U ovom videu ću vam objasniti kako, koristeći Sketch, napraviti prstene za aktivnosti koje možete vidjeti na Apple Watch satu. Ovo je savršena vježba da vam demonstratiram koliko Sketch voli matematiku; iznenaditi ćete se koliko toga će Sketch za vas izrčunati. Pokrenimo se!
'Watch' Kratki Savjet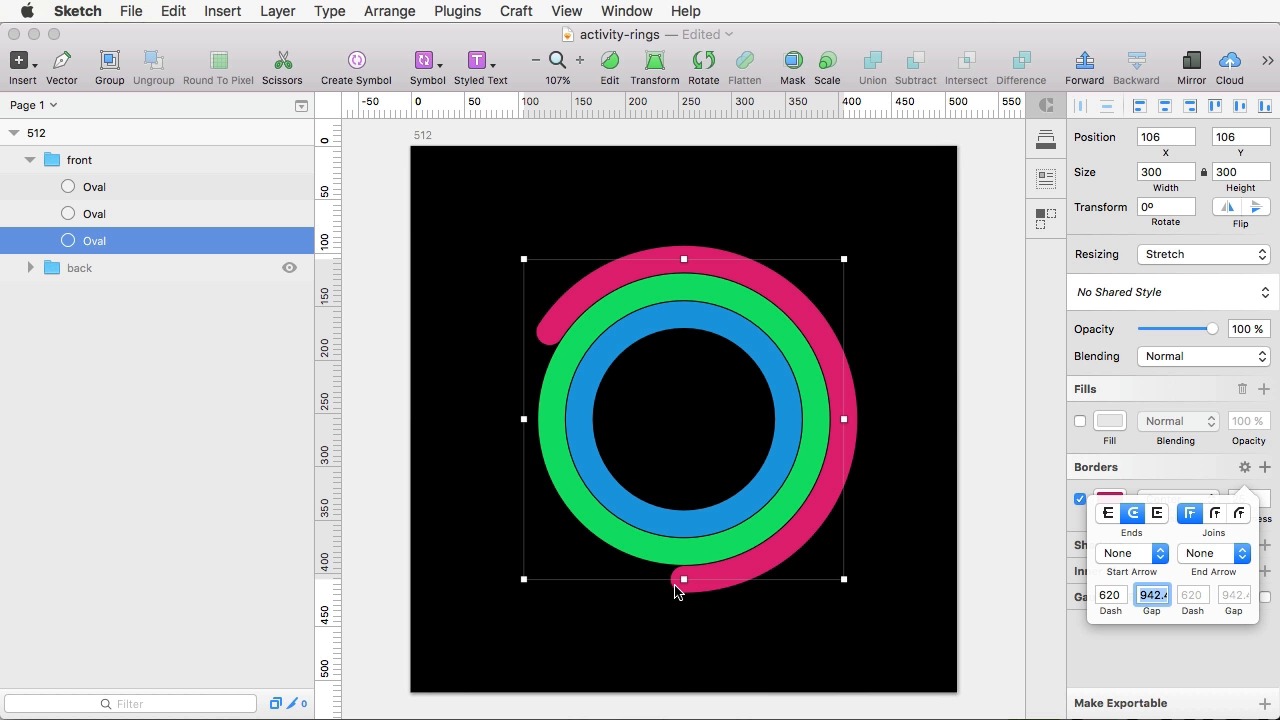 Prsteni za Aktivnosti
Pogledajmo prvo o čemu se ovdje radi. Ova slika preuzeta je s stranice www.apple.com i prikazuje prstene za aktivnosti:
1. Artboard (Radna Površina)
Počnite sa radnom površinom (artboard) od kvadrata veličine 512 px; za to postoji unaprijed zadana postavka (preset).
Za boju pozadine podesite crnu (#000000), zatim dodajte krug od 300 px u sredini. Ovaj krug neće imati ispunu, ali podesite mu lijepu obojenu liniju (stroke) debljine 25 px.
2. Prsteni
Duplicirajte prvi prsten, zatim mu promijenite veličinu oduzimajući 52 px od njegove širine. To možete učiniti tako da unesete 300-52 u polje za veličinu (size) i Sketch će za vas napraviti kalkulaciju.
Poravnajte centralno sa prvim prstenom.
Prebojite ga, zatim ponovite proces za treći prsten.
Grupirajte tri prstena i nazovite grupu nekim imenom poput "back". Duplicirajte grupu i nazovite je nekim imenom poput "front". Za sada ćemo raditi na prednjoj grupi, pa onu straga možete sakriti.
3. Dodajte Isprekidane Linije
Kako biste prstenima dodali "progress bar" efekt, upotrijebiti ćemo isprekidanu liniju. Sketch ima trik za ovo: tražiti ćemo ga da izračuna točan dijametar kruga tako da pomnoži širinu (300 px) sa pi-jem π. Unesite izračun 300*3.14159265359 u Gap unos u Borders dijaloškom okviru i krug će efektivno nestati. To je zato što praznina između njegovih isprekidanih linija prekriva cijeli dijametar kruga. Obilježavanjem Dash mjere ćemo vidjeti da se krug počinje iznova pojavljivati.
Nakon što smo to učinili, opet u Borders dijaloškom okviru zaokružite krajeve linije:
I na kraju, idite na Layer > Transform > Flip Vertical da preokrenete prsten tako da počinje na nula stupnjeva.
4. Vratite Nazad "Back" Grupu
Sa završenim krugovima, grupu "back" opet učinite vidljivom i unesite 1 da joj smanjite opacity na 10%.
5. Ikone
Sve što je još ostalo za učiniti, jest dodati ikone krajevima linija. Napravite novi "artboard" od 16 px i izradite kakve god ikone želite/trebate. Ja sam napravio jednostavne ikone strelica, a vi možete čak i preuzeti odgovarajuće ikone na GraphicRiver-u:
Završili ste!
Evo što smo izradili:
Hvala Vam što ste me pratili, nadam se da vas je ova UI vježba naučila nekoliko novih Sketch trikova.
Tutorijali Sličnog Sadržaja
Want a weekly email summary?
Subscribe below and we'll send you a weekly email summary of all new Web Design tutorials. Never miss out on learning about the next big thing.
Sign up
Adi Purdila is a web design instructor for Tuts+. With over 100 courses and 200 tutorials published to date, Adi's goal is to help students become better web designers and developers by creating content that's easy to follow and offers great value. Being self-taught himself, Adi strongly believes that constant learning (academic or otherwise) is the only way to move forward and achieve your goals. When not typing away at his keyboard, he loves woodworking and caring for his ever-growing family of rescue pets. You can stay up to date with what he's doing by following him on social media or visiting his website at adipurdila.com.
Looking for something to help kick start your next project?
Envato Market
has a range of items for sale to help get you started.