Read Time:
1 min
Languages:
Ako ste ikada selektirali grupu objekata u Sketch-u, zatim promijenili veličinu cijele grupe, navikli ste na činjenicu da je svaki objekt unutar nje razvučen i pomaknut proporcionalno. Sa Resizing opcijom u Sketch-u, možemo odrediti kako želimo da se svaki objekt ponaša. Otkrijmo kako u ovom šezdesetminutnom videu!
Resizing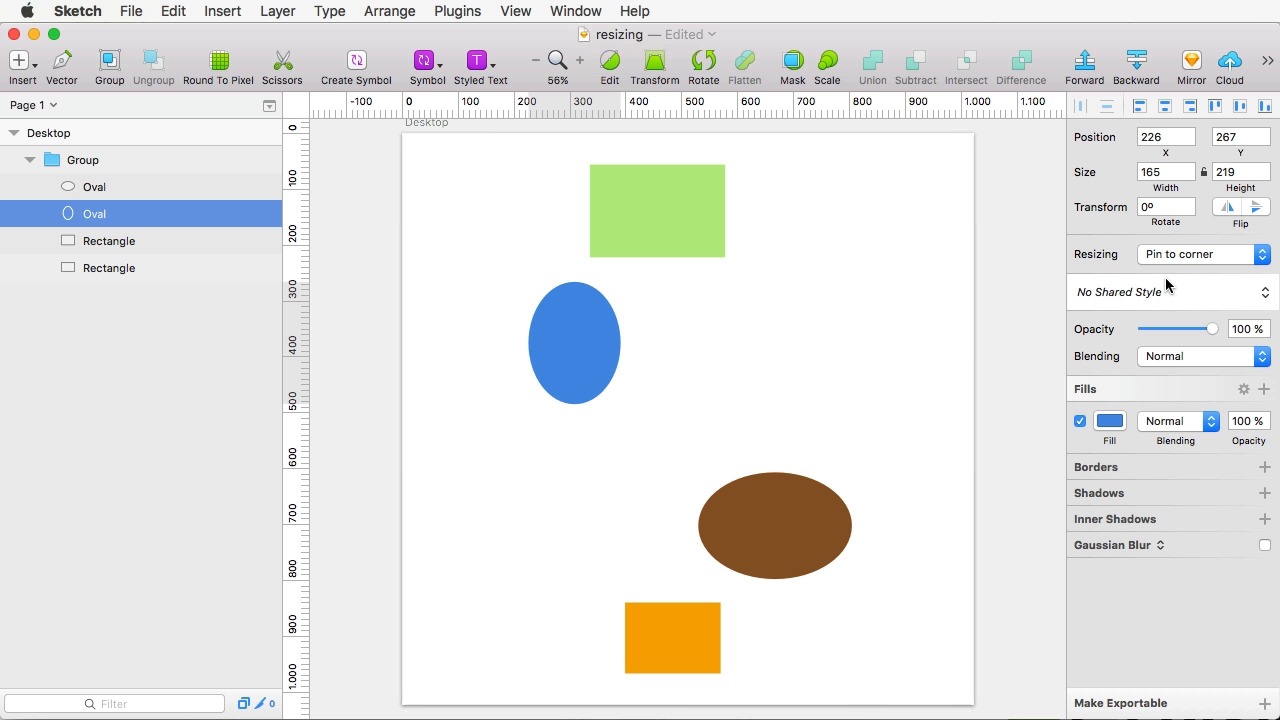 Pogledajte ovu grupu objekata, na primjer. Ovdje selektiramo grupu, spremnu da je razvučemo (stretch funkcija):
Zatim kada je razvučemo, svaki sloj unutar grupe jednako se mijenja:
Ipak, selektiranjem svakog objekta unutar grupe individualno, možemo upotrijebiti Resizing padajući izbornik da odredimo kako će se ponašati kada je Resizing primijenjen na grupu.
Četiri Resizing Opcije
Opcije su sljedeće:
Stretch: ovo je zadana vrijednost. Kada je grupi promijenjena veličina/omjer, objekti mijenjaju svoju veličinu i poziciju proporcionalno.
Pin to corner: ova opcija identificira kojem od četiri kuta grupe je objekt najbliže, zatim ga zakači na taj kut dok je grupi promijenjena veličina. Ne mijenja veličinu objekta, osim ako grupa postane manja od samog objekta, a u tom slučaju se smanjuje prema objektu.
Resize object: u ovoj situaciji, objekt mijenja veličinu, ali njegova pozicija ostaje nepromijenjena.
Float in place: posljednja od četiri opcije, pomiče poziciju objekta proporcionalno, ali omjer objekta ostavlja nepromijenjen.
Zaključak
Ove su opcije super-korisne, osobito ako radite responzivne verzije UI dizajna. Javite nam u komentarima kako ih vi koristite!
Photoshop, HTML, CSS? Yep, that's what I do best. Mix that with lots of head nodding from trance music and you've got me in a nutshell.
Looking for something to help kick start your next project?
Envato Market
has a range of items for sale to help get you started.