Read Time:
2 mins
Languages:
"Boolean operations" u Sketch-u omogućuju nam da izradimo složene putanje kombiniranjem postojećih oblika. Hajde da naučimo kako ih možemo na najbolji mogući način iskoristiti dizajnirajući ikonu u "screencast-u" ovog tutorijala.
Pogledajte "Screencast"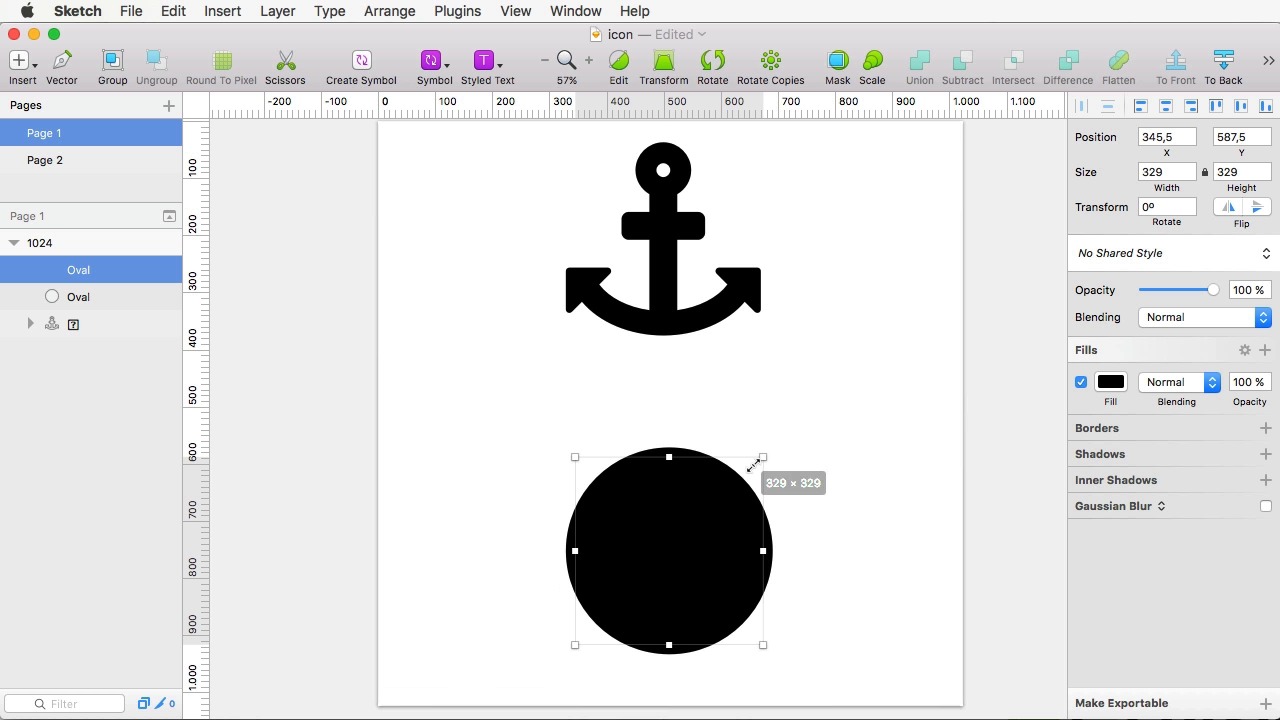 Što su Boolean Operacije?
"Boolean", u terminu kompjutorskom programiranja, predstavlja logički tip podataka koji može biti "istinit" ili "lažan". U terminu grafičkih aplikacija, kao što je Sketch, "boolean" koristimo kako bismo opisali kako su oblici kombinirani, za što koristimo vrijednosti poput "i", "ili", "ne", itd.
Ponekad ćete čuti da se "boolean" operacije odnose na "Pathfinder" alate, a dostupne opcije su:
Union: Rezultat je zbroj oba dijela putanja.
Subtract: Dio gornje putanje je uklonjen s onog dijela koji se nalazi ispod.
Intersect: Ostavlja dio gdje se originalni oblici preklapaju.
Difference: Efekt suprotan od "intersect", ostavljajući dijelove gdje se originalne putanje ne preklapaju.
Upotreba Boolean Operacija
Izrađivanje kompleksnih oblika je nešto na što ćete nesumnjivo naići kod dizajniranja ikona, pa pogledajmo kako nam boolean alati mogu pomoći.
Na primjer, u pokušaju da izradimo ovu ikonu sidra, možemo početi sa dva oblika kruga, a najgornji ćemo oduzeti (subtract) od donjeg.
Nakon još malo oduzimanja, dodati ćemo trokute krajevima baze sidra koristeći union operaciju da sklopimo sva tri oblika u jedan.
Editiranje
Možda ste čuli izraz "ne-destruktivan" dizajn, koji se odnosi na način rada u grafičkim aplikacijama koji tijekom rada ne uništava vitalne informacije. Ovdje, na primjer, biste mogli pomisliti kako bismo naišli na problem kada bi povećali trokute, ali zahvaljujući ne-destruktivnim tehnikama Sketch-a, ništa nije izgubljeno.
Svaki objekt unutar ovog Combined Shape oblika je još uvijek dostupan kao vlastiti sloj, stoga izoliranje i editiranje nijeproblem.
Kada su svi vaši oblici izrađeni, iskombinirani, oduzeti, preklopljeni, ili bio što drugo što želite učiniti, možete kliknuti Flatten da uklonite mogućnosti izoliranja. Veoma nalik Expand opciji Adobe Illustrator-a, to će vam ostaviti samo jednu kompleksnu putanju, koja bi mogla biti prikladnija za distribuiranje vaše ikone.
Zaključak
Četiri boolean operacije u Sketchu omogućuju nam da izgradimo kompleksne putanje kombinirajući oblike na različite načine. Kao što smo i demonstrirali, vrlo su korisne za dizajniranje ikona. Upotrijebite ih već danas!
Korisni Linkovi
Photoshop, HTML, CSS? Yep, that's what I do best. Mix that with lots of head nodding from trance music and you've got me in a nutshell.
Looking for something to help kick start your next project?
Envato Market
has a range of items for sale to help get you started.