Adi Purdila
Üdvözlünk egy újabb Envato Tuts+ screencast bemutatóban!  Ebben a videóban egy gyors bevezetést fogok adni a CSS függőleges kitörési pontok használatáról.
A kitörési pontok szinonimák a fogékony web tervezéssel; azok a pontok amiket kiválasztasz egy tervezés elrendezésének a megváltoztatásához. Például, a 768px egy gyakran használt nézőpont szélesség, mialatt talán a mobil eszközök elrendezéseidről akarsz gondoskodni, és felette amit gondolhatsz több feltétellel az asztalon.
Azonban, a kitörési pontok nem csak függőlegesen alkalmazhatóak, egy nézetablak szélességében, talán effektbe jönnek különböző okok miatt. Ebben a bemutatóban meg fogjuk nézni a függőleges kitörési pontokat, amik alkalmazva vannak a nézetablak magasságával kapcsolatban. A min-height és max-height tulajdonságokkal használjuk őket CSS média lekérdezéseken belül.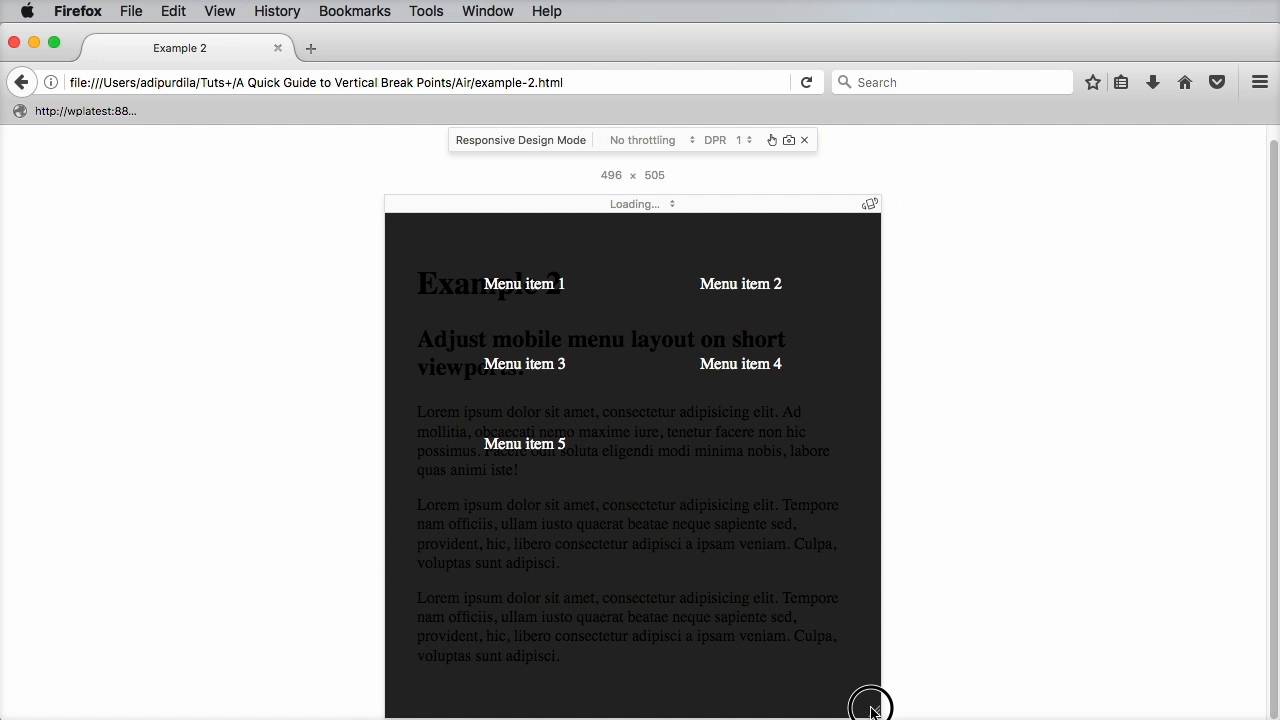 Ebben a videóban a következő forgatókönyveket nézzük meg:
Változtatás a térközben és a betűtípus méretben rövid nézetablakokon.
Mobil navigáció méret szabályozása rövid nézetablakokon.
Egy fix fejléc vagy lábjegyzet készítése, csak amikor elég hely van.
Teljes-képernyős szekciók szabályozása rövid nézetablakokon.
Bizonyosodj meg a forrás fájlok letöltéséről, hogy végigkövesd.
További olvasás
Want a weekly email summary?
Subscribe below and we'll send you a weekly email summary of all new Web Design tutorials. Never miss out on learning about the next big thing.
Sign up
Adi Purdila is a web design instructor for Tuts+. With over 100 courses and 200 tutorials published to date, Adi's goal is to help students become better web designers and developers by creating content that's easy to follow and offers great value. Being self-taught himself, Adi strongly believes that constant learning (academic or otherwise) is the only way to move forward and achieve your goals. When not typing away at his keyboard, he loves woodworking and caring for his ever-growing family of rescue pets. You can stay up to date with what he's doing by following him on social media or visiting his website at adipurdila.com.
Looking for something to help kick start your next project?
Envato Market
has a range of items for sale to help get you started.