Adi Purdila
Ha már kiválasztottál valaha objektumok csoportját Sketchben, és átméretezted az egész csoportot, észre kellett venned, hogy minden objektum ezen belül szétfeszített lett és arányosan lettek mozgatva. Most, a Sketch Átméretezés opcióval, pontosíthatjuk, hogyan akarjuk, hogy az objektumok viselkedjenek. Találjuk ki, hogyan, ebben a hatvan másodperces videóban!
Átméretezés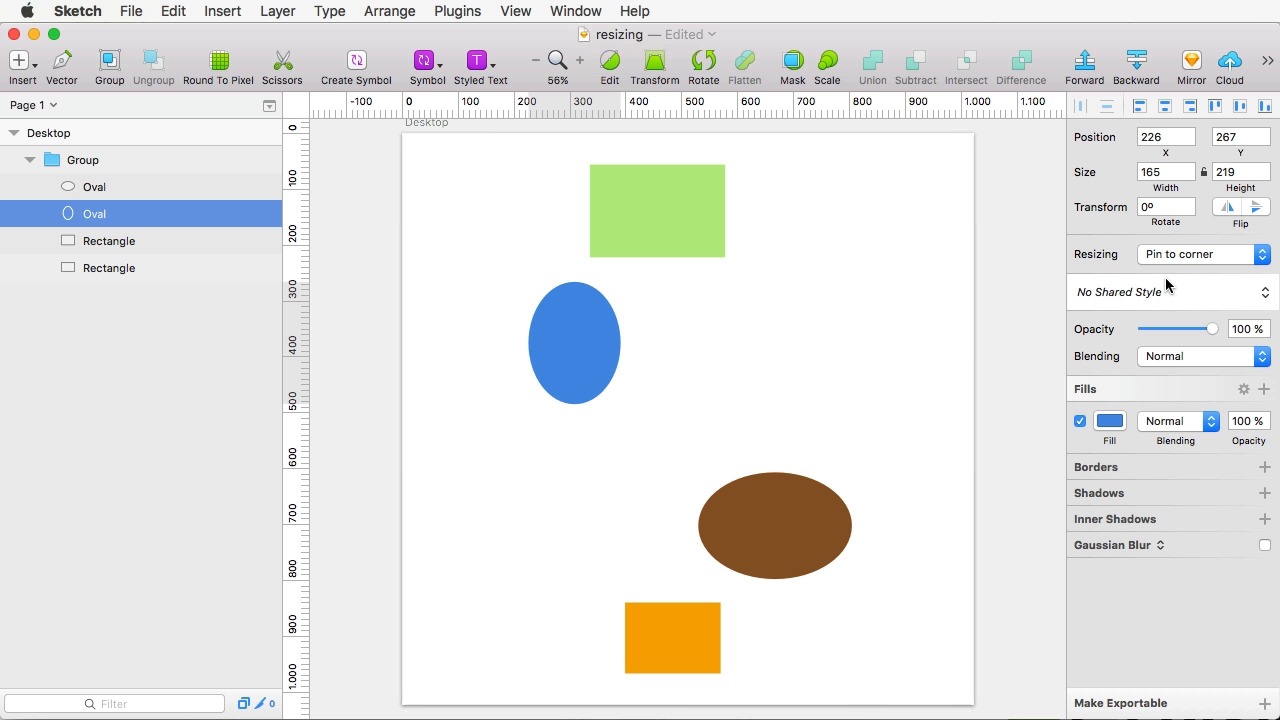 Nézd ezt a csoport objektumot, például. Itt kiválasztjuk a csoportot, készen a nyújtásra:
Aztán mikor nyújtunk, minden réteg a csoporton belül egyaránt torzul:
Azonban, a csoportban lévő minden objektum külön kiválasztásával, használhatjuk az Átméretezés legördülőt, hogy pontosítsuk, hogyan fognak viselkedni, ha a csoportot átméretezzük.
Négy átméretező opció
Az opciók a következők:
Széthúzás: ez az alapértelmezett érték. Mikor a csoport skálázva van, az objektum megváltoztatja a méretét és pozícióját arányosan.
Tű a sarokba: ez az opció azonosítja, a csoport négy sarka közül melyikhez van legközelebb az objektum, ezután beszúrja a sarokba, amíg a csoport átméreteződik. Ez nem változtatja meg az objektum méretét, ha a csoport nem változik kisebbé, mint az objektum maga, ebben az esetben összezsugorodik.
Objektum átméretezése: ebben a szituációban, az objektum átméreteződik, de a pozíciója változatlan marad.
Lebeg a helyén: a négy opció utolsója, ez arányosan mozgatja az objektum pozícióját, de a méretarányát változatlanul hagyja.
Következtetés
Ezek az opciók mind szuper hasznosak, különösen ha UI tervezések fogékony verzióit készíted. Tudasd velünk a kommenteknél, hogyan használod őket!
Adi Purdila is a web design instructor for Tuts+. With over 100 courses and 200 tutorials published to date, Adi's goal is to help students become better web designers and developers by creating content that's easy to follow and offers great value. Being self-taught himself, Adi strongly believes that constant learning (academic or otherwise) is the only way to move forward and achieve your goals. When not typing away at his keyboard, he loves woodworking and caring for his ever-growing family of rescue pets. You can stay up to date with what he's doing by following him on social media or visiting his website at adipurdila.com.
Looking for something to help kick start your next project?
Envato Market
has a range of items for sale to help get you started.