Ian Yates
Yah, itu adalah pada 2016- dan apa setahun sudah! Lupakan politik dunia sejenak, mari kita mengumpulkan kerumunan, berteriak dengan suara keras, dan melihat ke belakang pada apa yang dua belas bulan terakhir dimaksudkan untuk desain web.
Januari
Januari adalah bulan yang aneh, yang penuh dengan antisipasi seperti yang kita melepaskan cengkeraman kami pada tahun sebelumnya dan melangkah keluar ke yang baru. Jonathan Cutrell mengatakan kepada kita apa yang kita bisa harapkan dari web desain tahun 2016, menunjukkan kenaikan "pengalaman hidup", lebih Internet of Things banyak diskusi politik desain US, terus pentingnya JavaScript, tumbuh hype untuk Virtual Reality, Desain gerak , dan SVG. Saya akan mengatakan ia adalah cukup banyak tanda!
Chris Coyier dan teman-teman menendang hal-hal di grand style, dengan episode 200 The pembicaraan mengenai pekerjaan Show, dan konsol JavaScript mewah baru untuk CodePen.
Kami berbicara Cyan sendiri dengan The Sunrise tentang Envato di awal hari.
"Kerja terpencil dan hasil didorong lingkungan kerja yang dipanggang di [.] kanan dari awal."– Cyan Ta'eed berbicara pada The Sunrise AMA
Februari
Februari adalah bulan yang sibuk sebagai tahun mulai bersiap-siap. Adobe meluncurkan Animate CC (sebelumnya dikenal sebagai "Flash", yang sebagian dari Anda mungkin ingat), kemudian dengan agak puitis ironi, asli Envato unggulan activeden.net menutup pintu untuk terakhir kalinya.
Dalam berita yang lebih positif, envato.com yang diperbarui diluncurkan:
Daratan Cina berdering di "Tahun dari the api monyet", sehingga Kendra menulis sepotong itu bagi kita: Selamat tahun monyet! Mendekripsi tahun baru Cina simbolisme dalam desain UI.

Jon Gold tweeted komentar ini agak memecah-belah, tapi sangat resonan (apa yang Anda pikirkan?)
yang salah satu dari dua situs mungkin Anda sedang merancang? pic.twitter.com/ZD0uRGTqqm

-highlight pria 🤜💥🤛 (@jongold) 2 Februari 2016
Sarah Parmenter dipertanyakan jika desain web bekerja seperti yang kita tahu adalah drying up: The Elephant In The Room. Dan trumpdonald.org membantu semua orang menikmati trumping.
Bagaimana peningkatan web di bulan Februari? Kami menerbitkan panduan pemula (excellent) John Hartley untuk Web aksesibilitas, dan Google, dalam upaya mereka untuk web yang lebih baik, meluncurkan AMP listing di hasil pencarian mobile. AMP membaik hal? Apakah Google hanya menambah lapisan lain kompleksitas pekerjaan kita sebagai web designer? Kamu putuskan.
Maret
Membangun momentum dari tahun baru Cina Kendra bertanya (dan tahu) bagaimana Anda mengatakan Envato di Cina? Spoiler, itu adalah: 艺云台.

Dalam hal peluncuran baru, Adobe memberi kami preview Experience Design (kemudian menjadi XD). designfacts.org membuka pintunya, dimulai dengan nugget tentang Paul Rand dan logo UPS asli.
Dalam buku-buku, desain untuk kehidupan nyata memukul rak buku Apart, dan Val Head memberi kami ini (Terima kasih Val):
5SS adalah menutup, sehingga saya telah membuat saya CSS animasi Pocket Guide tersedia di sini (gratis): https://t.co/kCRA6uWspc pic.twitter.com/GT31a5j42N

-Val Head (@vlh) 30 Maret 2016
April

April adalah sebulan selama diskusi sekitar etika menggunakan iklan blockers pergi membuat takik; pengguna sakit dari situs-situs yang lambat dan gangguan, pencipta konten perlu mendapatkan uang untuk melakukan pekerjaan mereka. 5

Etsy meluncurkan Pattern, pembuat situs web untuk penjualnya, dan Tim Brown membuat Pocket Guide to Combining Typefaces-nya benar-benar gratis untuk diunduh (terima kasih Tim).

Di Tuts + kami menjalankan Tantangan CodePen # 6: Decorative Drop, Lalu Nicole dan saya menjelaskan cara kami membuat email baru kami yang berkilau.
Zach Leatherman memberi peringkat pada kandidat presiden AS berdasarkan strategi pemuatan font mereka.
Mungkin
Mei 2016 melihat Adobe meluncurkan Spark; app desain grafis untuk membuat grafik sosial, web cerita, dan video animasi. Netflix meluncurkan fast.com, boleh dibilang kecepatan web sederhana pengujian alat di web.
Bahagia 6 artikel ulang tahun @RWD! Man, yang itu mengubah beberapa hal ..

25 Mei 2016
Dan Kim memenangkan Webby karena melanggar internet:
"Nude selfies sampai aku mati" - Kim Kardashian West

Juni
Musim panas tiba, dan dengan itu Google mengundang kita untuk "mengetahui seberapa baik situs kami bekerja di perangkat mobile dan desktop" dengan peluncuran testmysite.thinkwithgoogle.com. Tim Google lain juga sibuk, font Google meluncurkan desir redesign baru:
Kami menerbitkan beberapa tutorial yang praktis, namun teknis:
Juli
Oak Studios diluncurkan salah satu paling inspiratif (tentu saja warna-bijaksana) situs-situs tahun-mereka sendiri:
Craig Campbell ditujukan kebutuhan mendesak dunia untuk belajar Desain gerak, di salah satu dari kami yang paling populer kursus proyek-proyek GreenSock tahun ini 3: praktis animasi dengan GSAP.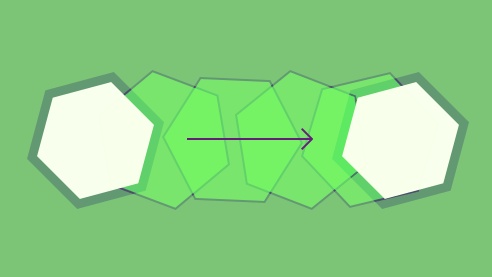 Agustus
Agustus! Kami merayakan ulang tahun kesepuluh Envato's, mendorong Collis untuk menjelaskan apa itu seperti merancang sebuah website sepuluh tahun yang lalu. Dia juga diwawancarai tentang perannya sebagai CEO:
"Tetapi saya juga hanya bekerja dengan banyak. Saya memiliki beban kerja yang cukup berat. Saya adalah orang yang nyaman bekerja banyak. "- Collis Ta'eed, tentang Manajemen. Terganggu.

Ulang tahun Envato adalah waktu yang pas untuk memperkenalkan sesuatu yang sedikit berbeda:
Envato Elements telah diluncurkan di Beta! 5.000+ aset terbaik yang tersedia sekarang seharga $ 19 / bulan: https://t.co/pBcIyexSIB pic.twitter.com/ikwFsfJRhS

— Envato elemen (@EnvatoElements) 1 Agustus 2016
Dalam tutorial, Kezz Bracey menjelaskan bagaimana men-setup tema Jekyll. Dan bagaimana web menjadi lebih baik? Google mengumumkan bahwa mereka akan mulai menghukum "mengganggu film" (pop-up untuk Anda dan saya).
September
Lebih banyak barang baru pada bulan September, termasuk OpenType variabel font yang telah disambut dengan sama bagian kegembiraan dan kebingungan. Gmail mengumumkan bahwa mereka akan mulai mendukung standar desain Web responsif (pertanyaan media dan squishiness). Marc Hemeon diluncurkan inkarnasi baru dari designinc.com, WordPress.tv meluncurkan saluran YouTube-nya, dan A Apart buku diterbitkan brilian JavaScript untuk Web Designer oleh Mat Marquis.
Kami meluncurkan seri tutorial pemahaman CSS Grid Layout kami, sementara Jen Simmons disediakan inspirasi dalam bentuk peluncuran grid berbasis laboratorium:
Stripe melakukan hal yang sama, memamerkan sebuah pukulan baru homepage. Melihat lebih banyak pekerjaan desain garis 's dengan mengikuti tim pada Dribbbble.
Dalam hal membuat web menjadi tempat yang lebih baik, Google melaporkan bagaimana latensi seluler memengaruhi pendapatan penayang, dan Christian Miller menyatakan bahwa dia menganggap teks body Anda terlalu kecil. Saya pikir dia benar.
Oktober
Sementara dunia terlibat dalam pemilihan Presiden AS, itu muncul bahwa Donald Trump telah mengabaikan untuk mendaftarkan domain tertentu (sangat penting). Ini trump.org kiri dan trump.tv, antara lain, di luar kendali kampanye nya.
Menempatkan enkripsi, integritas data, dan otentikasi di bagian atas daftar prioritas, Envato pasar pindah ke HTTPS.
Kevin tanda ditindaklanjuti pada apa Christian Miller menulis pada bulan September, memberikan kita Bagaimana Web menjadi terbaca.
Kerangka front-end tertentu berubah lima:
Selamat ulang tahun ke-5 @ZURBfoundation! Beberapa salam hangat dari @envato milik @adipurdila 🎂 🎉 https://t.co/c7OrsCYLVn

— Envato Tuts + Web (@wdtuts) 18 Oktober 2016
Akhirnya, Caniuse memperkenalkan "date relative mode" dalam rangka untuk menyoroti ketika versi browser yang dirilis dan karena itu ketika mereka mengadopsi teknologi.
November

Bergerak menuju akhir tahun, Tuts+ menerbitkan terjemahan ke-3.000, sementara @tutsplus_es melintasi 1.000 pengikut.

Ada sejumlah rilis; Sketch 41 memukul rak-rak, dengan penampilan baru yang segar, nested symbols, dan banyak lagi. iA penulis 4 dirilis, dan Brad Frost diterbitkan rancangannya atom lama ditunggu, buku. Di sisi lain, Fontdeck menutup pintu.
Perbaikan besar dilakukan untuk debugging web dengan alat web:
"Tujuan kami di Chrome Dev Tools adalah memaksimalkan produktivitas Anda sebagai pengembang." - Paul Irish, Chrome Dev Summit 2016
Kemudian Jason Levine melakukan hal itu di Adobe Max.
Tonggak penggunaan internet signifikan disilangkan:
StatCounter mengatakan bahwa penggunaan internet global mobile/tablet melampaui desktop/laptop bulan ini. / ht @TheRegister pic.twitter.com/DnfQW4a70M

-Peter Gasston (@stopsatgreen) 2 November 2016
Desember

Dua belas bulan dan beberapa hal yang diluncurkan untuk menandai akhir tahun: Tim Kadlec meluncurkan www.webworldwide.io, Ethan Marcotte meluncurkan desain ulang (responsif) situs web sendiri. WordPress 4,7 "Vaughan" (bersama dengan tema default baru dua puluh tujuh belas) dirilis.
Untuk mengakhiri bulan kami diberi desain inspirasi dan kuat sebagai theoutline.com diluncurkan:
"Apa yang membuat kami di sini, tidak akan membawa kami ke sana." - Matt Mullenweg, State of the Word 2016

Ini untuk 2017!
Wraps up tampilan cepat kami di desain web pada tahun 2016! Apa perasaan Anda adalah signifikan tahun ini? Bagaimana mengubah desain web, dan mana Apakah Anda pikir akan? Apa yang Anda cari maju untuk pada 2017?
Beberapa orang akan mengatakan keamanan web akan memainkan peran besar dalam apa yang kita lakukan tahun berikutnya. Orang lain akan melihat ke depan untuk rilis kerangka kerja baru. Mungkin UX akan prioritas kami? Atau internasionalisasi? Matt Mullenweg mungkin akan menyarankan Anda berkonsentrasi pada JavaScript. Purists mungkin memberitahu Anda bahwa sudah waktunya untuk dial sesuatu kembali sedikit dan dasar-dasar apa web harus ingat.
Aku akan meninggalkan Anda dengan ini:
"2017 adalah tahun Grid Layout." @jensimmons #AEASF

-Jeffrey Zeldman (@zeldman) 31 Oktober 2016
Want a weekly email summary?
Subscribe below and we'll send you a weekly email summary of all new Web Design tutorials. Never miss out on learning about the next big thing.
Sign up
Web Design editor at Envato Tuts+
My name's Ian; I'm the web design editor round these parts and I also run the
translation project
. Ask me anything you like about web design, in any language… I'll find someone who knows the answer! https://www.instagram.com/lycra_against_litter/
Looking for something to help kick start your next project?
Envato Market
has a range of items for sale to help get you started.