Adi Purdila
Bootstrap, salah satu kerangka front-end paling populer di kalangan web designer, baru-baru ini meluncurkan versi 4 yang sangat ditunggu-tunggu! Mari kita lihat apa baru, apa yang telah dihapus, dan apa yang dapat Anda lakukan dengan itu.
Kami tidak pernah berhenti percaya, dan berharap Anda juga tidak! Bootstrap 4.0.0 akhirnya mendarat! https://t.co/zFAOxpyhvD

— Bootstrap (@getbootstrap) 18 Januari 2018
Versi 4.0.0
Iterasi Bootstrap ini, menurut Mark Otto dan timnya, adalah "penulisan ulang utama keseluruhan proyek". Itu menjanjikan banyak perbaikan, dan juga menyarankan ada banyak masalah jika Anda berencana untuk memindahkan proyek yang ada ke versi baru ini. Tidak ada "perubahan yang melanggar", tapi ada banyak hal yang harus diperhatikan. Waktunya melompat masuk dan memeriksa fitur yang paling penting.
Bootstrap 4 Ada di sini!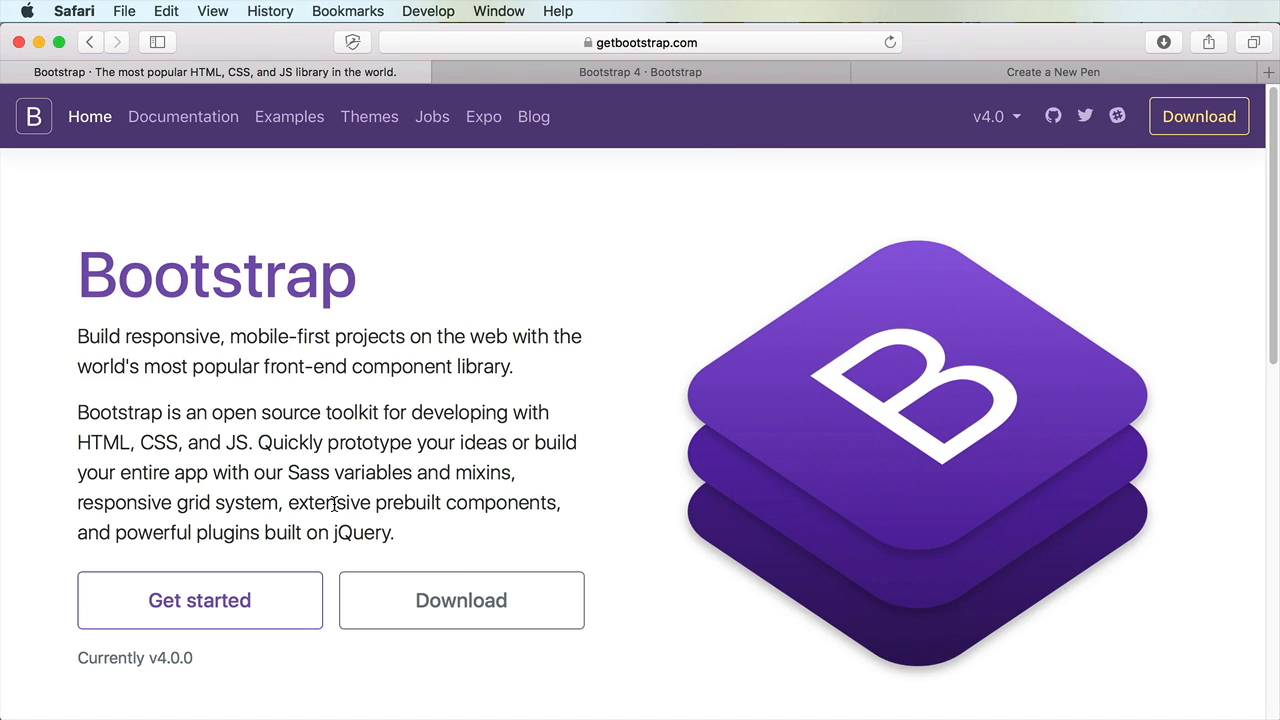 1. New:
Flexbox by Default
Tata letak Bootstrap secara tradisional telah didukung oleh gaya berbasis float. Pada versi terbaru alternatif flexbox tersedia, namun mengingat dukungan browser flexbox yang meluas sekarang merupakan master dari grid Bootstrap. Teknologi CSS di balik grid Bootstrap tidak membuat perbedaan besar, namun flexbox memang menawarkan fleksibilitas lebih banyak daripada floats, jadi grid berbasis flexbox memang hadir dengan beberapa opsi lagi. Misalnya, menggunakan flexbox berarti Anda bisa menentukan satu kolom dan memiliki saudaranya secara otomatis mengubah ukurannya di sekitarnya.
2. New: 
Focused Browser Support
Langkah menuju favoring flexbox benar-benar mendorong perubahan lain: dukungan browser. Bootstrap v4 secara resmi telah menjatuhkan dukungan untuk Internet Explorer 8, 9, dan iOS 6. Ini secara efektif berarti situs web Bootstrap Anda hanya akan mendukung IE10 + dan iOS 7+. Perlu dicatat.
3. New:
LESS to Sass
Penggemar Sass dengan senang hati akan mendengar bahwa Bootstrap sekarang secara resmi merupakan proyek Sass-pertama. Jika Anda mendownload sumber Bootstrap Anda akan menemukan sebuah folder bernama "Sass" di mana Anda akan melihat semua partial yang diperlukan. "_variables.scss" berisi semua variabel dan pengaturan yang Anda perlukan, lalu "bootstrap.scss" menampung semua arahan @import, yang memungkinkan Anda menyesuaikan pemasangan Bootstrap dengan menyertakan atau mengecualikan komponen mana pun yang Anda inginkan.
4. New:
REM
Di semua tempat selain media queries, Bootstrap v4 telah menjatuhkan piksel yang mendukung unit pengukuran relatif seperti rem. Hal ini membuat semuanya lebih terukur, jadi jika Anda belum terbiasa dengan unit rem sekarang akan menjadi saat yang tepat untuk melihat sumber daya ini:
5. New: Additional Breakpoint Tier
Selain langkah Bootstrap dari layout berbasis float, responsifnya sekarang juga hadir dengan tingkat ekstra. Mulai sekarang, Anda dapat menyesuaikan kelima default ini:
1

$

grid-breakpoints

:

 

(




2

    

xs

:

 

0

px

,




3

    

sm

:

 

576

px

,




4

    

md

:

 

768

px

,




5

    

lg

:

 

992

px

,




6

    

xl

:

 

1200

px




7

)

 

!

default

;



6. New:
Reboot
Perubahan penting berikutnya datang dalam bentuk file reset baru. "Reboot" mengambil Normalize's resets, yang hanya menggunakan penyisipan elemen, kemudian membangunnya dengan beberapa gaya reset berbasis kelas yang sesuai (Anda akan temukan .tabel dan .table-bordered tertimbun di sana dengan beberapa lainnya).
7. Dropped:
Custom Builder
Jika Anda pernah mendownload Bootstrap versi sebelumnya, Anda akan terbiasa dengan customiser online. Alat ini memungkinkan Anda untuk memeriksa dan menghapus centang berbagai aspek kerangka Bootstrap untuk membuat versi ideal Anda.
Nah, itu hilang.
Sebagai gantinya, Bootstrap sekarang berfokus pada struktur modularnya sendiri, yang memungkinkan Anda memanfaatkan Sass dari akhirmu, hanya memasukkan apa yang Anda butuhkan, dan mengumpulkan hasil akhir yang dapat Anda ambil.
8. Dropped:
Glyphicons
Bootstrap tidak lagi memasukkan Glyphicons. Sebagai gantinya, Anda disarankan untuk menemukan favorit Anda sendiri dan memasukkannya sesuai keinginan Anda. Tim Bootstrap sendiri lebih menyukai rangkaian berikut, yang sebaiknya Anda terapkan sebagai SVG daripada menggunakan font ikon web:
9. Dropped: Grunt
Versi Bootstrap sebelumnya termasuk dukungan Grunt untuk mengotomatisasi banyak tugas umum; itu sekarang hilang Sebagai gantinya, Bootstrap sekarang hadir dengan sejumlah skrip npm yang akan Anda temukan di file "package.json". Anda dapat menggunakan ini untuk melakukan hal-hal seperti watch file Sass Anda untuk perubahan, melakukan tes lint pada JavaScript Anda, atau gunakan saja run npm dist untuk melakukan semuanya dan mengkompilasi versi distribusi dari situs Anda yang telah selesai.
Untuk detail lebih lanjut tentang cara kerja Bootstrap dan Node.js lihat dokumentasi alat perancang, atau lihat tutorial berikut ini:
Kesimpulan
Seiring dengan perubahan besar ini, ada sejumlah perubahan kecil pada Bootstrap terbaru. Penggemar komponen seperti panel, thumbnail, dan wells akan kecewa mengetahui bahwa ini telah dihapus. Namun, mereka telah membuat jalan untuk komponen yang mencakup semua yang disebut "card", yang sebenarnya merupakan peningkatan besar. Anda dapat membaca semua tentang perubahan ini, dan banyak lagi, di halaman Migrasi.
Nantikan lebih banyak tutorial Bootstrap 4 dan kursus pada Tuts +, dan saya akan menemuimu lain kali!
Sumber Berguna
Want a weekly email summary?
Subscribe below and we'll send you a weekly email summary of all new Web Design tutorials. Never miss out on learning about the next big thing.
Sign up
Adi Purdila is a web design instructor for Tuts+. With over 100 courses and 200 tutorials published to date, Adi's goal is to help students become better web designers and developers by creating content that's easy to follow and offers great value. Being self-taught himself, Adi strongly believes that constant learning (academic or otherwise) is the only way to move forward and achieve your goals. When not typing away at his keyboard, he loves woodworking and caring for his ever-growing family of rescue pets. You can stay up to date with what he's doing by following him on social media or visiting his website at adipurdila.com.
Looking for something to help kick start your next project?
Envato Market
has a range of items for sale to help get you started.