Adi Purdila
Ketika Anda sedang berpikir tentang membuat slide presentasi, Anda mungkin berpikir tentang PowerPoint, Keynote, dan mungkin Google Slides, tetapi dalam tutorial ini saya akan menunjukkan kepada Anda cara untuk men-supercharge presentasi Anda dengan tool lainnya.
Ludus (sebuah aplikasi web) akan membuat presentasi statis ke tingkat yang lebih, memungkinkan Anda untuk menambahkan gerakan dan lebih dinamis ke presentasi apa pun yang Anda sajikan. Lihatlah screencast berikut untuk detail lengkapnya:
Cara Menggunakan Ludus untuk Presentasi yang Lebih Baik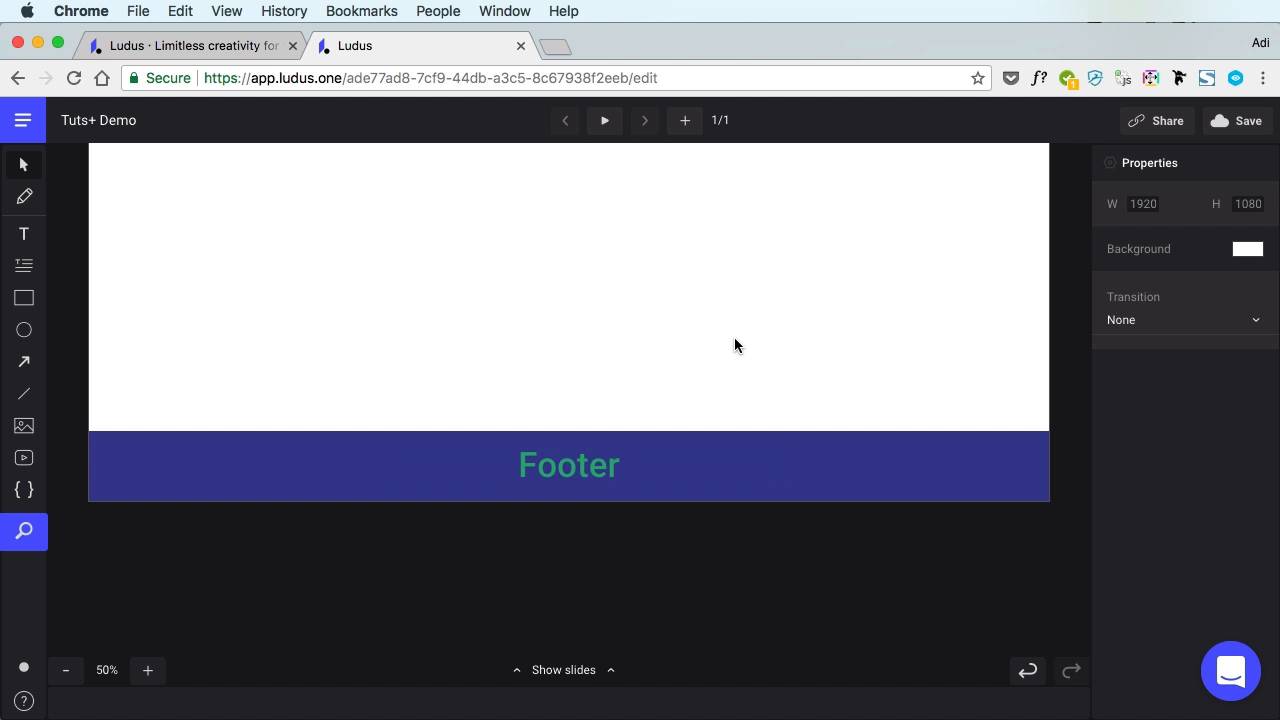 Memulai dengan Ludus
Kunjungi ludus.one dan tekan tombol Start untuk menyelesaikan semuanya.
Catatan: kami akan menggunakan versi gratis, yang membatasi kami untuk hanya satu pengguna, 1GB penyimpanan, dan 20 presentasi. Upgrade sebesar $99 per tahun akan memberi kita beberapa opsi lain dan lebih banyak fleksibilitas. Paket untuk tim juga tersedia.
Jadi, Anda akan diminta untuk membuat akun (masuk dengan Facebook jika Anda suka) dan Anda kemudian dapat mulai membuat presentasi.
Mulailah presentasi baru, atau pilih panduan pengguna sebagai titik awal, yang merupakan cara sempurna bagi Ludus untuk menunjukkan apa yang mungkin ia lakukan dan menyetujuinya.
Dengan menekan New Presentation akan memunculkan dialog di mana Anda dapat memasukkan ukuran awal (pilih dari preset yang ada jika Anda lebih suka) dan berikut dengan judul (title) dokumen tersebut.
Anda akan memasuki tampilan dokumen, mirip-mirip seperti kebanyakan aplikasi-aplikasi favorit Anda; dengan kontrol di bagian atas, toolbar di sebelah kiri, dan panel di sebelah kanan. Pada titik mana pun Anda dapat mengakses semua slide yang tersedia dengan mengubah panel di bagian bawah layar:
Ludus Tools
Toolbar memungkinkan Anda menambahkan sesuatu ke dalam slide. Hal-hal itu seperti:
Drawing mode, untuk pencil lines
Titles (headings)
Basic shapes, seperti rectangles dan circles
Bentuk dasar, seperti persegi dan lingkaran
Arrows
Lines
Images
Videos
Code blocks
Untuk mengontrol masing-masingnya, pengaturan tersedia di panel inspector di bagian kanan.
Kontrol yang tersedia juga cukup beragam dan serbaguna; position dan scale cukup standar, tetapi code blocks  memiliki syntax highlighter yang berbeda untuk dipilih, dari shape dan image dapat memiliki mode blending yang diterapkan, dan ada banyak lagi contoh di samping.
Smart Blocks
Di bagian bawah panel inspection Anda juga akan melihat tombol dengan + Add Smart Block. Tombol ini memungkinkan Anda untuk menambahkan elemen-elemen yang berperilaku mirip seperti simbol dalam aplikasi grafis.
Menambahkan smart block (seperti footer, atau grafik pada umumnya) ke beberapa slide akan memungkinkan Anda melakukan perubahan di satu tempat dan melihat perubahan tersebut diterapkan di keseluruhan dokumen tersebut.
Slide Transitions
Ketika slide Anda siap untuk ditampilkan, Anda dapat menentukan transisinya (bersama dengan durasinya) yang Anda inginkan di antara masing-masing transisinya.
Dengan menekan tombol play di bagian atas layar Anda akan melihatseperti apa transisi tersebut sekarang.
Tunjukkan dan Beritahu
Setelah menyimpan hasil presentasi, Anda sekarang perlu menunjukkannya kepada audience. Tekan Share untuk mengambil URL, atau ambil embed snippet-nya, atau bisa juga unduh versi HTML atau PDF untuk berjaga-jaga jika Anda memerlukan versi offline-nya.
Catatan: perlu diperhatikan bahwa beberapa efek dan aktivitas pada slide tersebut mungkin tidak berfungsi dengan sempurna pada versi yang telah di-dowload.
Kesimpulan
Ada banyak lagi yang bisa dijelajahi dari Ludus; lihatlah screencast di atas untuk lebih jelasnya dan cobalah dan lakukan sendiri!

Lebih Banyak untuk Presentasi yang Baik
Panduan Lengkap untuk Membuat Presentasi yang Bagus ebook gratis dari Tuts+
Want a weekly email summary?
Subscribe below and we'll send you a weekly email summary of all new Web Design tutorials. Never miss out on learning about the next big thing.
Sign up
Adi Purdila is a web design instructor for Tuts+. With over 100 courses and 200 tutorials published to date, Adi's goal is to help students become better web designers and developers by creating content that's easy to follow and offers great value. Being self-taught himself, Adi strongly believes that constant learning (academic or otherwise) is the only way to move forward and achieve your goals. When not typing away at his keyboard, he loves woodworking and caring for his ever-growing family of rescue pets. You can stay up to date with what he's doing by following him on social media or visiting his website at adipurdila.com.
Looking for something to help kick start your next project?
Envato Market
has a range of items for sale to help get you started.