Kezz Bracey
Dowiedzmy się jak wykonać stronę "Już wkrótce" za pomocą szablonu HTML Timex z Themeforest.
Uruchom zegar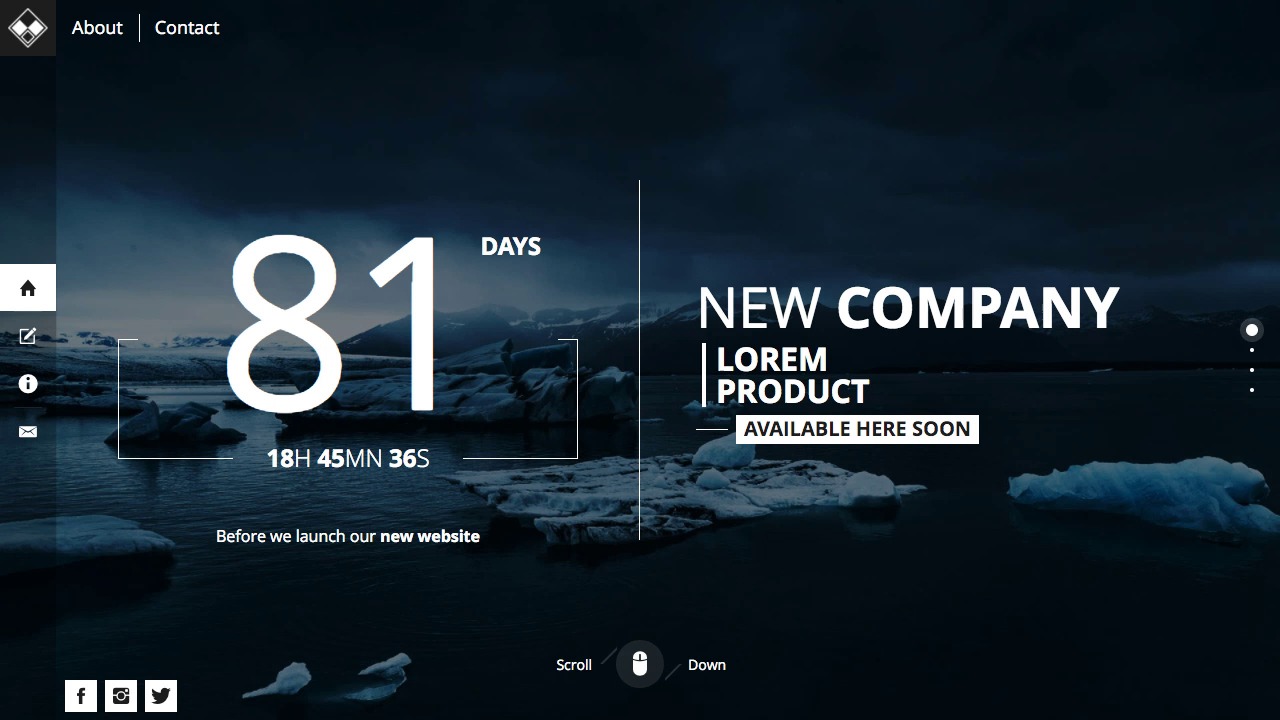 Oto co chcemy osiągnąć:
Najpierw, znajdź obraz tła na przykład na stronie unsplash.com, zmień jego rozmiar na 1920x1080, następnie wstaw własne logo w plikach "logo_only.png" i "logo_large.png" znajdujących się w folderze "img" szablonu.
Uwaga: logo powinno mieć przezroczyste tło.
Dodaj swoje trzy obrazy do folderu "img" szablonu zastępując stare.
Teraz otwórz plik index.html szablonu, aby zobaczyć nowe obrazy.
Edytuj plik index
W tej chwili musisz otworzyć plik index.html i edytować kod. Zamień wszystkie fragmenty tekstu opisami własnej firmy lub produktu. Pamiętaj, aby edytować dane kontaktowe, włącznie z adresem email, kodem pocztowym, numerem telefonu, adresem strony internetowej oraz profilów społecznościowych.
To data
Znajdź datę zegara odliczającego:
| | |
| --- | --- |
| 1 | data-date="12/30/2016 00:00:00" |
Zmień ją na dzień w przyszłości, następnie odśwież swoją stronę w przeglądarce, aby zobaczyć jak działa odliczanie i kompletna strona "już wkrótce".
To koniec!
Oto jak stworzyć stronę "już wkrótce w sześćdziesiąt sekund. Zachęcam do zapoznania się z najlepiej sprzedającymi się szablonami w budowie w Themeforest.
Want a weekly email summary?
Subscribe below and we'll send you a weekly email summary of all new Web Design tutorials. Never miss out on learning about the next big thing.
Sign up
Hi there. I'm a designer & coder who works in the areas of web design / development, game development and digital art. In the web space I'm a front end all rounder but I have a particular specialization in theme creation, no matter the platform. I also love finding the latest most efficient, user focused design and dev techniques of the day. In game development I'm addicted to playing with every different engine, toolset and framework I can find. In digital art I love everything from painting to vector work to pixel art to 3D modelling. In short, if it's creative and you can make it digitally, I love it.
Looking for something to help kick start your next project?
Envato Market
has a range of items for sale to help get you started.