Kezz Bracey
W tym poradniku stworzymy prototyp Low-Fi w sześćdziesiąt sekund za pomocą MadKit Sketch UI Kit z Themeforest!
Obejrzyj wideo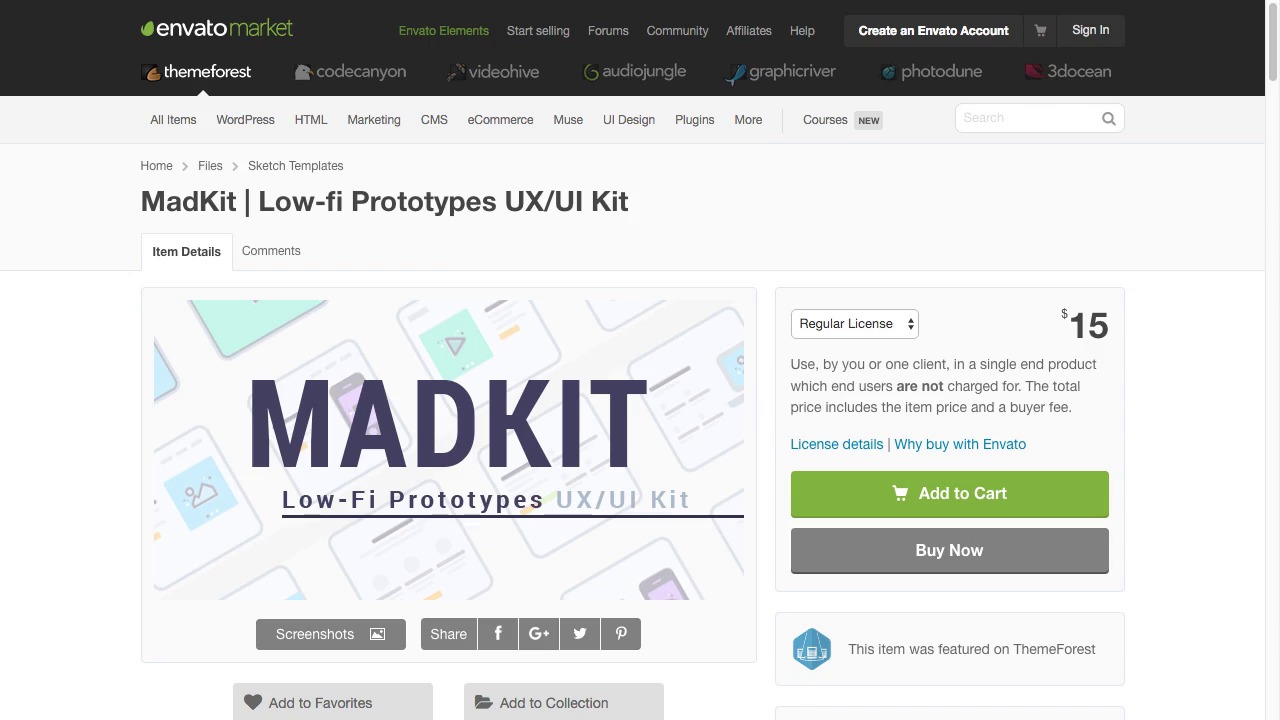 Jak to się robi
W duplikacie pliku MadKit Sketch (Low-Fi UI) utwórz nową stronę. Przejdź do Insert > Symbols > Base > Shapes > Window, aby dodać nowe okno dla interfejsu.
Również w menu Shapes wybierz browser-header i nadaj nazwę prototypowi.
Zawartość króluje
Teraz skompletujmy zawartość prototypu za pomocą symboli znajdujących się w menu Categories (zaczynając od wideo w tle Covers > Video BG). Następnie dodamy listę produktów (Products > list) oraz opinie (Testimonials > slider), po tym pokażemy posty z bloga (Blog > 2col-big), dodamy nieco informacji o osobach w firmie (People > 3-col), a na końcu umieścimy dane kontaktowe (Contact > map-left).
Rozciąganie
Rozciągnij obiekt okna, aby pasował do zawartości:
Wybierz wszystkie sześć fragmentów, kliknij prawym klawiszem myszy menu z warstwami po lewej stronie i wybierz Detach from Symbol. W obiekcie Video BG ukryj Base/Shapes/window i, a w Video Background ustaw Radius na 0.
Teraz ukryjmy kształty oknien (Base/Shapes/window) dla co drugiego fragmentu, a następnie w pozostałych ukryjmy Borders i ustawmy Radius na 0.
Na koniec, przeciągnijmy pozycje browser-header i window na samą górę listy.
Gotowe
Oto jak stworzyć prototyp Low-Fi UI w sześćdziesiąt sekund! Zachęcam do zapoznania się z innymi ofertami prototypów w programie Sketch na Themeforest.
Want a weekly email summary?
Subscribe below and we'll send you a weekly email summary of all new Web Design tutorials. Never miss out on learning about the next big thing.
Sign up
Hi there. I'm a designer & coder who works in the areas of web design / development, game development and digital art. In the web space I'm a front end all rounder but I have a particular specialization in theme creation, no matter the platform. I also love finding the latest most efficient, user focused design and dev techniques of the day. In game development I'm addicted to playing with every different engine, toolset and framework I can find. In digital art I love everything from painting to vector work to pixel art to 3D modelling. In short, if it's creative and you can make it digitally, I love it.
Looking for something to help kick start your next project?
Envato Market
has a range of items for sale to help get you started.