Adi Purdila
W tym wideo, wyjaśnię jak stworzyć za pomocą programu Sketch, okręgi aktywności, które możemy znaleźć w Apple Watch. To świetnych przykład pokazujący jak bardzo Sketch kocha matematykę; będziesz zaskoczony jak wiele Sketch potrafi obliczyć za ciebie. Przejdźmy do pracy!
Obejrzyj krótką wskazówkę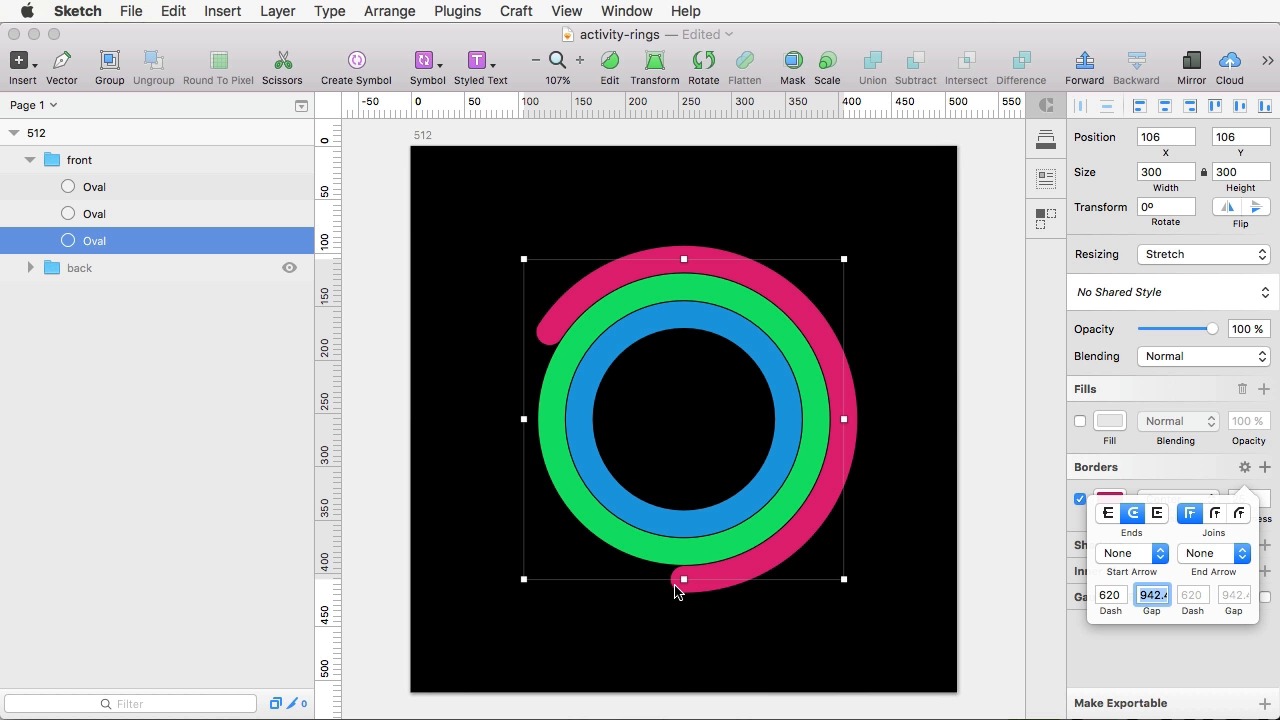 Okręgi aktywności
Zobaczmy co chcemy osiągnąć. Obraz został pobrany z www.apple.com i pokazuje okręgi na tarczy zegarka:
1. Obszar roboczy
Utwórz kwadrat o boku 512px: istnieje dla niego szablon:
Dodaj tło w kolorze czarnym (#000000), następnie dodaj koło o średnicy 300px. Koło nie będzie wypełnione, ale nadaj mu obrys o szerokości 25px.
2. Okręgi
Powiel pierwszy okrąg, następnie zmień jego rozmiar odejmując 52px od szerokości. Możesz to zrobić poprzez wpisanie 300-52 w polu rozmiaru, a Sketch automatycznie obliczy wartość.
Wyśrodkuj go tak jak pierwszy okrąg.
Zmień kolor i powtórz operację dla trzeciego okręgu.
Połącz trzy okręgi i nazwij grupę na przykład "tył". Powiel grupę i nazwij ją na przykład "przód". Będziemy teraz pracować nad grupą z przodu, więc możesz ukryć tę z tyłu.
3. Kreskujemy wszystko
Aby stworzyć efekt "paska postępu", wykorzystamy kreski. Sketch ma na to sztuczkę: zlecimy obliczenie dokładnego obwodu koła poprzez pomnożenie szerokości (300px) przez liczbę pi. Wpisz działanie 300*3.14159265359 w polu Gap okna Borders, a koło natychmiast zniknie. To dlatego, że luka między kreskami pokrywa się z całym obwodem koła. Zwiększając wartość w polu Dash, zobaczymy jak nasze koło zacznie pojawiać się ponownie.
Po wykonaniu tego, w komunikacie Borders, zaokrąglij końcówki kreski klikając środkową ikonę:
Na koniec, przejdź do Layer > Transform > Flip Vertical, aby odwrócić okrąg, który powinien zaczynać się od zera stopni.
4. Wracamy do tyłu
Po wykonaniu okręgów, odkryj grupę "tył" i naciśnij 1, aby zredukować jej widoczność do 10%.
5. Ikony
Na koniec pozostało nam dodać ikony na początkach kresek. Utwórz nowy obszar o boku 16px i wykonaj różne rodzaje ikon, których potrzebujesz. Ja zaprojektowałem proste strzałki, ale możesz pobrać odpowiednie ikony z GraphicRiver:
Gotowe!
Oto co stworzyliśmy:
Dziękuję za przeczytanie poradnika, mam nadzieję, że to krótkie ćwiczenie nauczyło cię kilku nowy sztuczek programu Sketch.
Podobne poradniki
Want a weekly email summary?
Subscribe below and we'll send you a weekly email summary of all new Web Design tutorials. Never miss out on learning about the next big thing.
Sign up
Adi Purdila is a web design instructor for Tuts+. With over 100 courses and 200 tutorials published to date, Adi's goal is to help students become better web designers and developers by creating content that's easy to follow and offers great value. Being self-taught himself, Adi strongly believes that constant learning (academic or otherwise) is the only way to move forward and achieve your goals. When not typing away at his keyboard, he loves woodworking and caring for his ever-growing family of rescue pets. You can stay up to date with what he's doing by following him on social media or visiting his website at adipurdila.com.
Looking for something to help kick start your next project?
Envato Market
has a range of items for sale to help get you started.