Adi Purdila
"Operacje logiczne" w programie Sketch umożliwiają stworzenie złożonych ścieżek poprzez połączenie istniejących kształtów. Dowiedzmy się jak najlepiej je wykorzystać projektując ikonę w poradniku poniżej.
Obejrzyj poradnik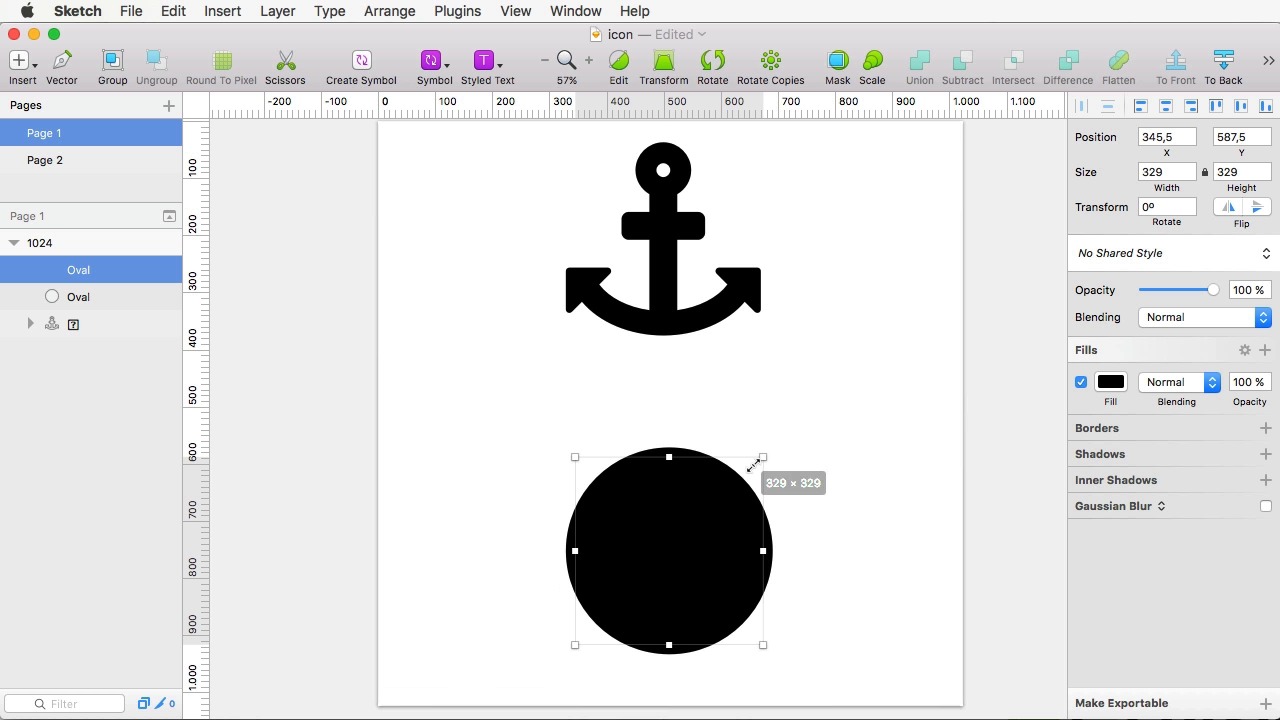 Czym są operacje logiczne?
"Logiczny", z punktu widzenia programowania, oznacza typ danych, który może być "prawdą" lub "fałszem". Jeśli chodzi o aplikacje graficzne, takie jak Sketch, używamy określenia "logiczny" do opisania sposobu połączenia kształtów za pomocą wartości, takich jak "koniunkcja", "alternatywa", "negacja" itp.
Niekiedy operacje logiczne są określane jako narzędzia "Pathfinder", wśród których dostępne są następujące opcje:
Suma: rezultat jest sumą obu kształtów.
Odejmowanie: obszar górnego kształtu jest usuwany z kształtu pod spodem.
Przecięcie: pozostaje obszar, gdzie oryginalne kształty pokrywają się.
Różnica: przeciwieństwo "przecięcia", pozostaje obszar, gdzie oryginalne kształty nie pokrywają się.
Korzystanie z operacji logicznych
Tworzenie złożonych kształtów jest czymś nieuniknionym podczas projektowania ikon, więc przyjrzyjmy się jak narzędzia logiczne mogą nam w tym pomóc.
Na przykład, próbując odtworzyć poniższą ikonę kotwicy, zaczniemy od dodania dwóch kół, a następnie odejmiemy kształt na wierzchu od tego pod spodem.
Po kilku kolejnych odejmowaniach, dodamy dwa trójkąty na końcu kotwicy za pomocą operacji sumy, aby połączyć wszystkie trzy kształty w jeden.
Edytowanie
Być może słyszałeś o pojęciu "niedestrukcyjne" projektowanie, odnoszące się do sposobu pracy w aplikacjach graficznych, w którym ważne informacje nie są niszczone. Tutaj na przykład, można pomyśleć, że mamy problem, jeśli chcemy powiększyć nasze trójkąty, ale dzięki niedestrukcyjnym technikom programu Sketch, nie utracimy tej możliwości.
Każdy obiekt wewnątrz połączonych kształtów jest nadal dostępny jako osobna warstwa, dlatego izolowanie i edytowanie trójkątów nie stanowi problemu:
Ostatecznie, gdy wszystkie kształty są stworzone, połączone, odjęte lub przecięte, można kliknąć Flatten, aby usunąć możliwości izolacyjne. Podobnie jak w opcji Expand programu Adobe Illustrator, otrzymamy jedną złożoną ścieżkę, która może być bardziej odpowiednia w przypadku gdy chcemy przesłać ikonę.
Podsumowanie
Cztery operacje logiczne programu Sketch umożliwiają nam stworzenie złożonych ścieżek poprzez połączenie kształtów na różne sposoby. Jak wykazano, są bardzo przydatne podczas projektowania ikon. Skorzystaj z nich!
Przydatne materiały
Adi Purdila is a web design instructor for Tuts+. With over 100 courses and 200 tutorials published to date, Adi's goal is to help students become better web designers and developers by creating content that's easy to follow and offers great value. Being self-taught himself, Adi strongly believes that constant learning (academic or otherwise) is the only way to move forward and achieve your goals. When not typing away at his keyboard, he loves woodworking and caring for his ever-growing family of rescue pets. You can stay up to date with what he's doing by following him on social media or visiting his website at adipurdila.com.
Looking for something to help kick start your next project?
Envato Market
has a range of items for sale to help get you started.