Adi Purdila
Nesse vídeo, mostraremos como criar gráficos de pizza usando Sketch. Podemos criá-los manualmente usando formas, máscaras e o bézier, contudo, mostraremos dois métodos que são bem mais rápidos e precisos.
Assista o Vídeo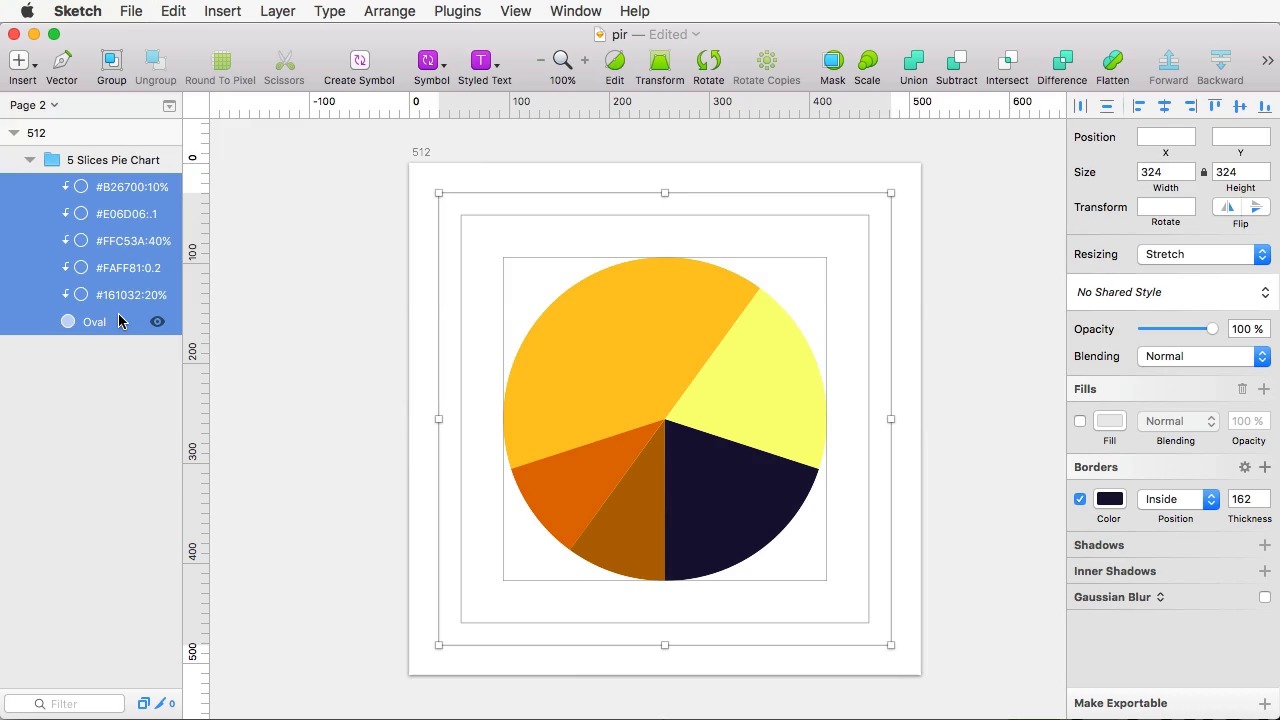 Método #1
Esse é o método mais rápido e involve o uso de um plugin. Sketchy Pies, criado por Aby Nimbalkar, criar gráficos de pizza a partir de camadas de círculo.

Criemos um círculo e selecionemo-no. Vamos em Plugins > Sketchy Pies > Convert to Pie Chart. Uma janela para colocar uma lista de cores, separada por vírcula, no formato #XXYYZZ. Adicionemos quanto quisermos depois apertemos OK!
Essas seções de pizza são construidas usando bordas. Podemos editá-las ao selecioná-las e alterando as propriedades da borda. A corda da borda mudará a cor da seção e podemos alterar o valor do traço para alterar o tamanho dela.
Também podemos especificar os tamanhos da seção ao criar o gráfico. Isso é feito adicionando um valor em percentual a cada cor, assim: #444444:20%,#555555:80%. Ou com decimais: #444444:.2,#555555:.8.
Método #2
Criar gráficos de pizza com gradientes angulares é um pouco mais difícil mas é o que faremos agora! Criemos um objeto círculo, e vamos em Angular Fill nas propriedades. Adicionemos duas cores de paradas para cada seção que precisarmos:
Podemos posicionar as cores de parada pelo gradiente, com precisão, usando as teclas numéricas do teclado. Apertando 2 quando uma cor está selecionada posicionará exatamente a 20% do gradiente. O começo de cada seção deve ser posicionda exatamente onde a anterior termina.
Nota: A versão usada aqui é a Sketch 41.2. Percebam que onde há uma união de seções há uma linha irregular. Não foi sempre assim, logo deve ser um bug no Sketch. Se usar uma versão diferente, comente se o resultado for melhor!
Want a weekly email summary?
Subscribe below and we'll send you a weekly email summary of all new Web Design tutorials. Never miss out on learning about the next big thing.
Sign up
Adi Purdila is a web design instructor for Tuts+. With over 100 courses and 200 tutorials published to date, Adi's goal is to help students become better web designers and developers by creating content that's easy to follow and offers great value. Being self-taught himself, Adi strongly believes that constant learning (academic or otherwise) is the only way to move forward and achieve your goals. When not typing away at his keyboard, he loves woodworking and caring for his ever-growing family of rescue pets. You can stay up to date with what he's doing by following him on social media or visiting his website at adipurdila.com.
Looking for something to help kick start your next project?
Envato Market
has a range of items for sale to help get you started.