Adi Purdila
Nesse vídeo, recriaremos, usando Sketch, os anéis de atividade que encontramos no Apple Watch. Esse é um exercício perfeito para mostrar o quanto Sketch ama matemática. Surpreenderemo-nos com o quanto Sketch pode calcular por nós. Comecemos!
Assista a Dica Rápida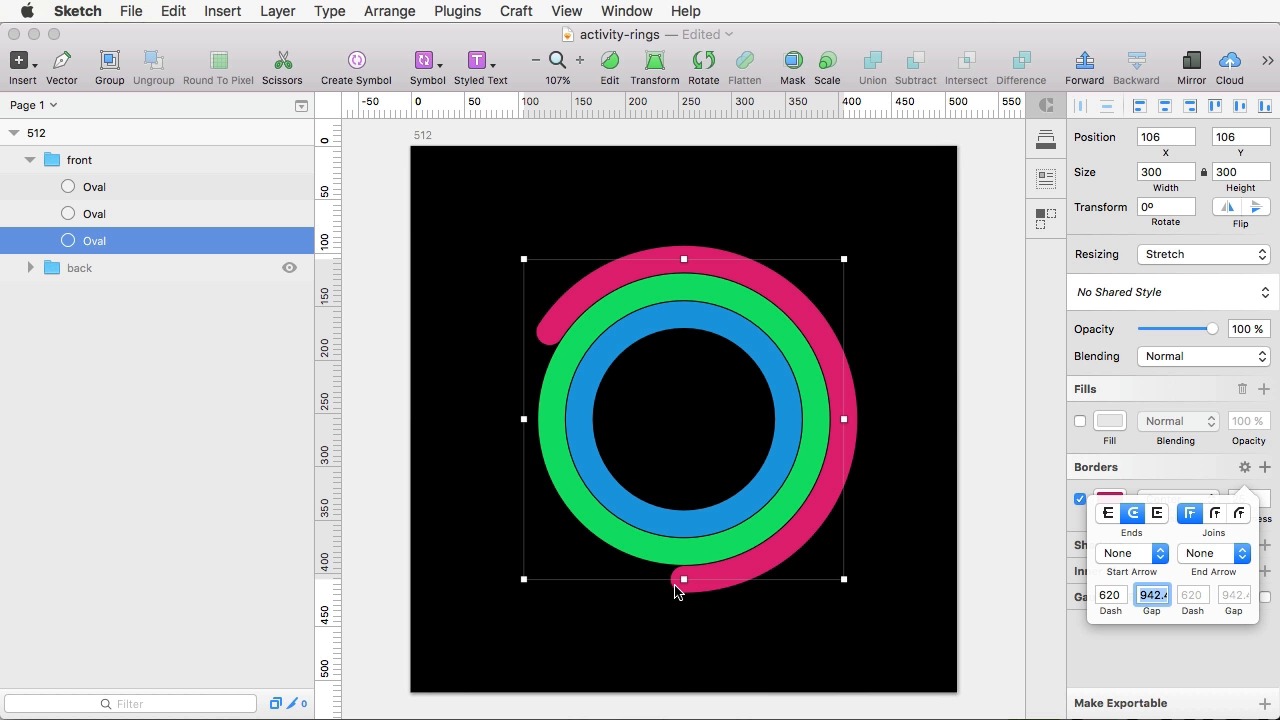 Anéis de Atividade
Vejamos o que queremos fazer. Essa imagem foi obtida em www.apple.com e mostra os aneis em contexto:
1. Prancheta
Criemos prancheta de 512x512px. Existe um ajuste para isso.
Adicionemos plano de fundo preto puro (#000000) e um objeto círculo de 300px ao centro. Esse círculo não terá preenchimento, mas terá borda colorida de 25px.
2. Anéis
Dupliquemos o primeiro anel e redimensionemo-no subtraindo 52px da sua largura. Podemos fazê-lo, literalmente, digitando 300-52 no campo de tamanho e o Sketch calculará por nós.
Alinhemo-no centralmente em relação ao primeiro anel.
Recoloramo-no e repitamos o processo com um terceiro anel.
Agrupemos os três anéis e nomeemos o grupo como "fundo". Dupliquemos o grupo e nomeemo-no de "frente". Trabalhremos no grupo frente, agora, então escondamos o fundo.
3. Traceje tudo
Para criar o efeito de "barra de progressão" aos anéis, usaremos um traçados. Há um truque no Sketch: calcularemos o diametro exato de um círculo, mutlitplicando a largura (300px) por pi π. Digite o cálculo 300*3.14159265359 no campo Gap da janela Borders e o círculo desaparecerá. Isso é porque a distância entre os traços cobrirá o diâmetro inteiro do círculo. Chanfrando a medida do traçado, veremos o círculo reaparecendo.
Isso feito, de volta à janela Borders, arredonde as pontas do traço.
Por último, vá em Layer > Transform > Flip Vertical para girar o anel, para que comece no ângulo zero.
4. Traga o Fundo de Volta
Com os círculos feitos, faça o grupo "fundo" ser vísivel novamente e aperte 1 para reduzir sua opacidade a 10%.
5. Ícones
O que falta a ser feito é adicionar ícones às pontas dos traços. Crie uma nova prancheta de 16x16px e criemos quaisquer tipos de ícones que precisarmos. Criamos alguns ícones de seta simples, mas poderíamos pegar alguns ícones do GraphicRiver:
Terminamos!
Eis o que criamos:
Obrigado por acompanhar o tutorial, espero que esse rápido exercício de UI tenha ensinado alguns truques do Sketch.
Tutoriais Similares
Want a weekly email summary?
Subscribe below and we'll send you a weekly email summary of all new Web Design tutorials. Never miss out on learning about the next big thing.
Sign up
Adi Purdila is a web design instructor for Tuts+. With over 100 courses and 200 tutorials published to date, Adi's goal is to help students become better web designers and developers by creating content that's easy to follow and offers great value. Being self-taught himself, Adi strongly believes that constant learning (academic or otherwise) is the only way to move forward and achieve your goals. When not typing away at his keyboard, he loves woodworking and caring for his ever-growing family of rescue pets. You can stay up to date with what he's doing by following him on social media or visiting his website at adipurdila.com.
Looking for something to help kick start your next project?
Envato Market
has a range of items for sale to help get you started.