Read Time:
2 mins
Languages:
Nesse vídeo, recriaremos, usando Sketch, os anéis de atividade que encontramos no Apple Watch. Esse é um exercício perfeito para mostrar o quanto Sketch ama matemática. Surpreenderemo-nos com o quanto Sketch pode calcular por nós. Comecemos!
Assista a Dica Rápida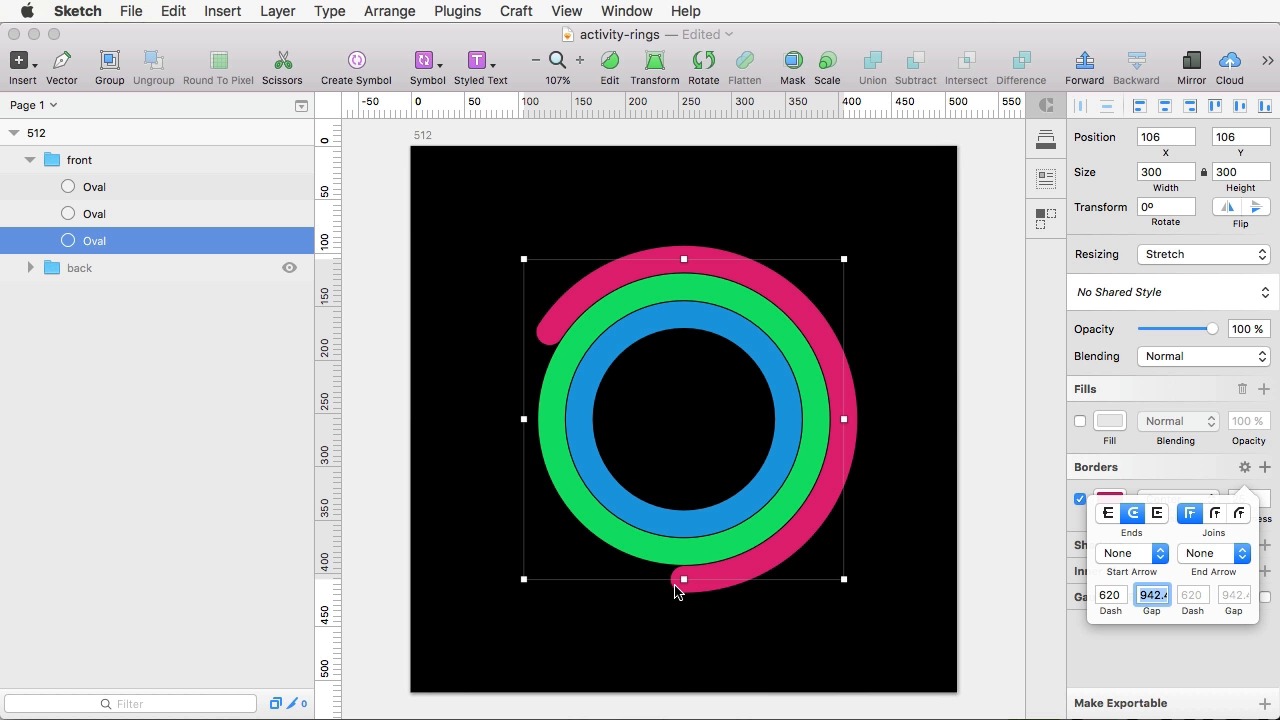 Anéis de Atividade
Vejamos o que queremos fazer. Essa imagem foi obtida em www.apple.com e mostra os aneis em contexto:
1. Prancheta
Criemos prancheta de 512x512px. Existe um ajuste para isso.
Adicionemos plano de fundo preto puro (#000000) e um objeto círculo de 300px ao centro. Esse círculo não terá preenchimento, mas terá borda colorida de 25px.
2. Anéis
Dupliquemos o primeiro anel e redimensionemo-no subtraindo 52px da sua largura. Podemos fazê-lo, literalmente, digitando 300-52 no campo de tamanho e o Sketch calculará por nós.
Alinhemo-no centralmente em relação ao primeiro anel.
Recoloramo-no e repitamos o processo com um terceiro anel.
Agrupemos os três anéis e nomeemos o grupo como "fundo". Dupliquemos o grupo e nomeemo-no de "frente". Trabalhremos no grupo frente, agora, então escondamos o fundo.
3. Traceje tudo
Para criar o efeito de "barra de progressão" aos anéis, usaremos um traçados. Há um truque no Sketch: calcularemos o diametro exato de um círculo, mutlitplicando a largura (300px) por pi π. Digite o cálculo 300*3.14159265359 no campo Gap da janela Borders e o círculo desaparecerá. Isso é porque a distância entre os traços cobrirá o diâmetro inteiro do círculo. Chanfrando a medida do traçado, veremos o círculo reaparecendo.
Isso feito, de volta à janela Borders, arredonde as pontas do traço.
Por último, vá em Layer > Transform > Flip Vertical para girar o anel, para que comece no ângulo zero.
4. Traga o Fundo de Volta
Com os círculos feitos, faça o grupo "fundo" ser vísivel novamente e aperte 1 para reduzir sua opacidade a 10%.
5. Ícones
O que falta a ser feito é adicionar ícones às pontas dos traços. Crie uma nova prancheta de 16x16px e criemos quaisquer tipos de ícones que precisarmos. Criamos alguns ícones de seta simples, mas poderíamos pegar alguns ícones do GraphicRiver:
Terminamos!
Eis o que criamos:
Obrigado por acompanhar o tutorial, espero que esse rápido exercício de UI tenha ensinado alguns truques do Sketch.
Tutoriais Similares
Looking for something to help kick start your next project?
Envato Market
has a range of items for sale to help get you started.