Adi Purdila
When you think about creating a slide presentation, you probably think of PowerPoint, Keynote, perhaps Google Slides, but in this tutorial I'm going to show you a way to supercharge your presentations with another tool.
Ludus (a web app) will take static presentations to another level, allowing you to add movement and more dynamism to whatever you're presenting. Take a look at the screencast for full details:
How to Use Ludus for Better Presentations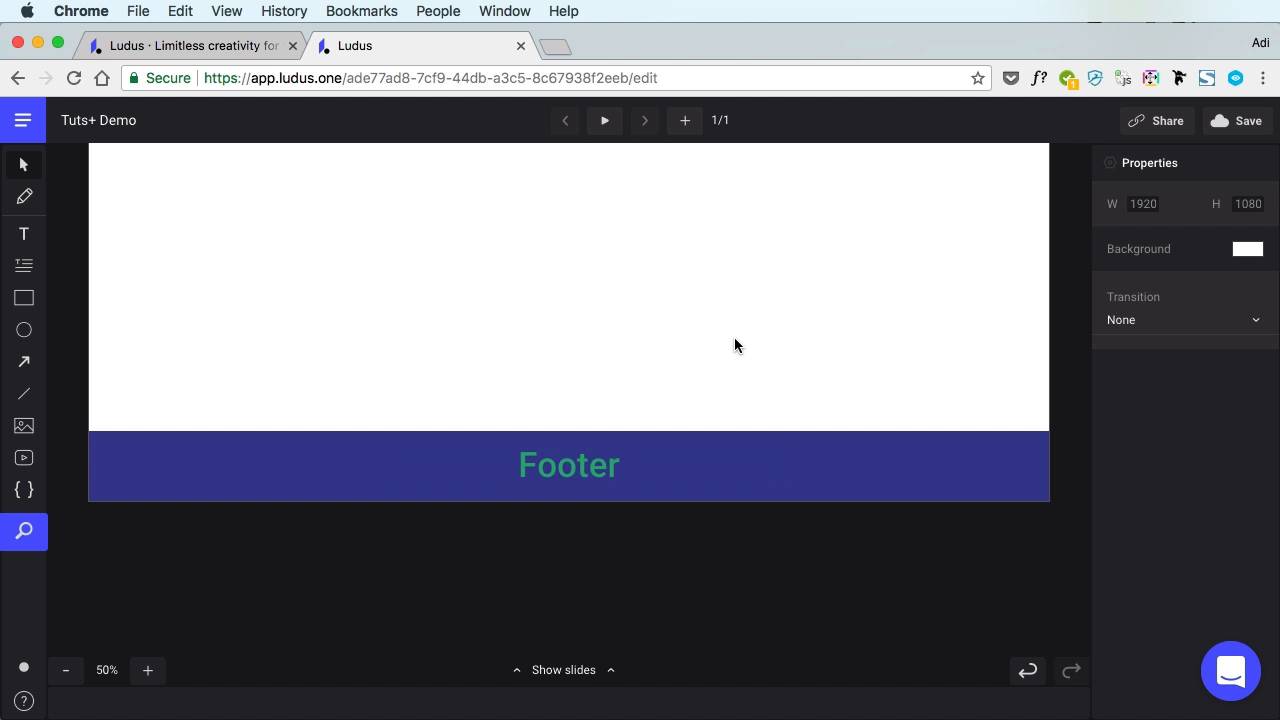 Getting Started With Ludus
Visit ludus.one and hit the Start button to get things underway. 
Note: we'll be using the free version, which limits us to a single user, 1Gb of storage, and 20 presentations. Upgrading for $99 per year will give us several other options and more flexibility. A teams package is also available.
So, you'll be asked to create an account (sign in with Facebook if you like) and you can then begin building presentations. 
Either start a new presentation, or opt for the user guide as a starting point, which is the perfect way for Ludus to demonstrate what's possible and get you onboard.
Hitting New Presentation will bring up a dialogue where you can enter the initial dimensions (choose from presets if you prefer) and the document title.
You'll enter a document screen, similar in many ways to all your favourite applications; with controls along the top, a toolbar to the left, and panels on the right. At any point you can access all available slides by toggling the pane at the bottom of the screen:
Ludus Tools
The toolbar allows you to add things to the slides. Things like: 
Drawing mode, for pencil lines
Titles (headings)
Paragraphs
Basic shapes, like rectangles and circles
Arrows
Lines
Images
Videos
Code blocks
To control each one, settings are available in the inspector panels to the right.
The controls available are quite varied and versatile too; position and scale are fairly standard, but the code blocks have different syntax highlighters to choose from, shapes and images can have blending modes applied, and there are many more examples besides. 
Smart Blocks
At the bottom of the inspection panels you'll also see a button with + Add Smart Block. This allows you to add elements which behave a little bit like symbols in graphics applications.
Adding a smart block (such as a common footer, or graphic) to multiple slides will allow you to make a change in one place and see those changes take effect throughout the document.
Slide Transitions
Once your slides are ready for presenting to the world, you can define the transitions (along with the durations) you want between each one. 
Pressing the play button at the top of the screen will reveal to you what the transition now looks like.
Show and Tell
Having saved your finished presentation you now need to show it to an audience. Hit Share to grab a URL, or take the embed snippet, or even download an HTML or PDF version just in case you need a version offline. 
Note: be aware that some of the effects and interactivity won't necessarily work perfectly in the dowloaded versions.
Conclusion
There's much more to explore in Ludus; take a look at the screencast for more details and go and have a play yourself!

More Presentation Goodness
The Complete Guide to Making Great Presentations free ebook from Tuts+
Want a weekly email summary?
Subscribe below and we'll send you a weekly email summary of all new Web Design tutorials. Never miss out on learning about the next big thing.
Sign up
Adi Purdila is a web design instructor for Tuts+. With over 100 courses and 200 tutorials published to date, Adi's goal is to help students become better web designers and developers by creating content that's easy to follow and offers great value. Being self-taught himself, Adi strongly believes that constant learning (academic or otherwise) is the only way to move forward and achieve your goals. When not typing away at his keyboard, he loves woodworking and caring for his ever-growing family of rescue pets. You can stay up to date with what he's doing by following him on social media or visiting his website at adipurdila.com.
Scroll to top
Looking for something to help kick start your next project?
Envato Market
has a range of items for sale to help get you started.