Read Time:
1 min
Languages:
Hãy xem cách tạo một trang "Coming Soon" sử dụng template HTML Timex từ Themeforest.
Khởi động chiếc Đồng hồ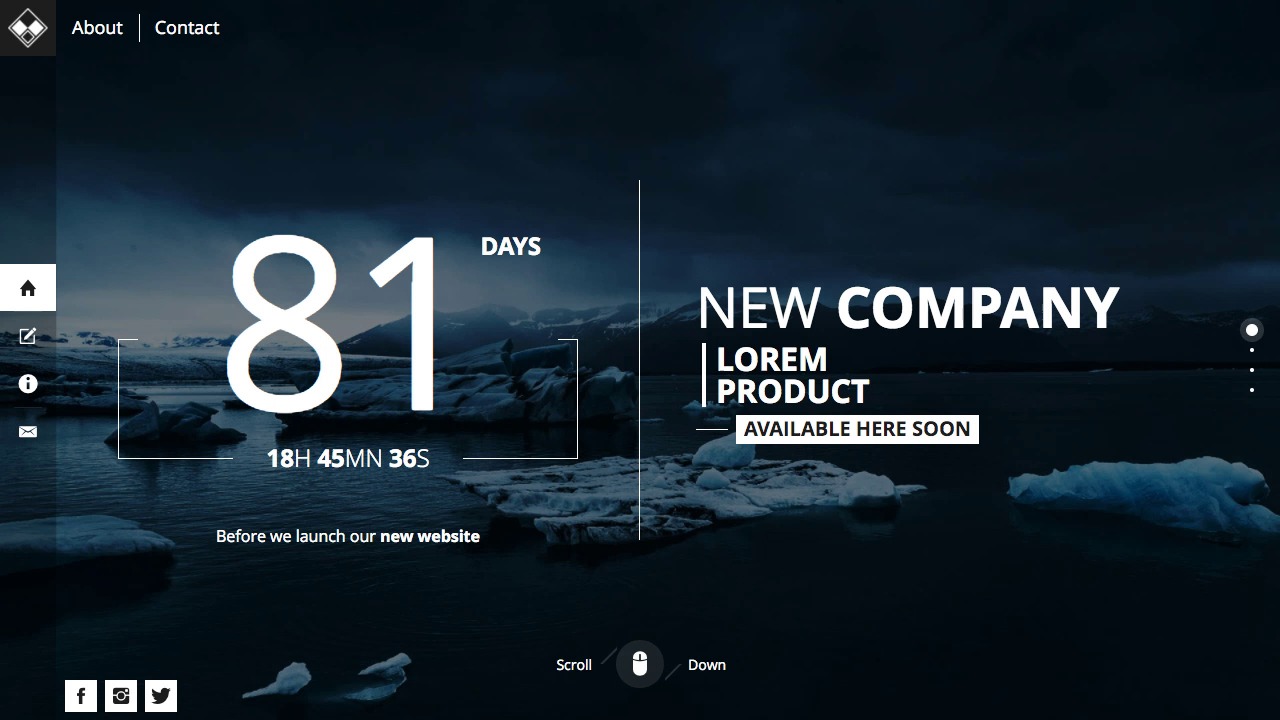 Dưới đây là những gì mà chúng ta đang hướng tới:
Đầu tiên, tìm một hình nền mà bạn thích trên một trang web như unsplash.com, chỉnh kích thước xuống thành 1920x1080, khi bạn đã xong hãy thay thế các tập tin "logo_only.png" và "logo_large.png" được tìm thấy trong thư mục "img".
Lưu ý: cả hai sẽ có nền trong suốt.
Thêm ba hình ảnh mới của bạn vào thư mục "img" của template để thay thế những cái cũ.
Bây giờ xem lại tập tin index.html của template và bạn sẽ thấy những hình ảnh mới tại đó.
Chỉnh sửa tập tin Index
Bây giờ chúng ta cần mở tập tin index.html và chỉnh sửa mã của nó. Thay thế các đoạn văn bản mô tả mà bạn tìm thấy bằng các mô tả về công việc hoặc sản phẩm của riêng bạn. Hãy chắc chắn là bạn cũng sửa các chi tiết liên lạc, bao gồm địa chỉ email, địa chỉ bưu chính của bạn, số điện thoại, địa chỉ trang web và bất kỳ liên kết mạng xã hội nào.
Đó là một Niên hạn
Đặt đồng hồ đếm ngược:
data-date="12/30/2016 00:00:00"
Thay đổi nó thành một ngày trong tương lai, sau đó làm mới trang web của bạn trong trình duyệt để xem đồng hồ đếm ngược và toàn bộ trang web "coming soon" đã hoàn thành.
Tổng kết!
Đó là cách bạn tạo một trang "coming soon" trong 60 giây. Hãy xem qua một số template Under Construction (Trang web đang được xây dựng) bán chạy nhất trên Themeforest:
Hi there. I'm a designer & coder who works in the areas of web design / development, game development and digital art. In the web space I'm a front end all rounder but I have a particular specialization in theme creation, no matter the platform. I also love finding the latest most efficient, user focused design and dev techniques of the day. In game development I'm addicted to playing with every different engine, toolset and framework I can find. In digital art I love everything from painting to vector work to pixel art to 3D modelling. In short, if it's creative and you can make it digitally, I love it.
Weekly email summary
Subscribe below and we'll send you a weekly email summary of all new Web Design tutorials. Never miss out on learning about the next big thing.
Update me weekly
Looking for something to help kick start your next project?
Envato Market
has a range of items for sale to help get you started.