Adi Purdila
The very first thing you'll see when you open the WordPress back-end—also known as "the admin panel"—is the dashboard. This is the starting place for the majority of tasks you'll be performing in WordPress. In this tutorial, you'll learn how to use the dashboard, and also how to customize it to fit your preferences and workflow. 
Let's begin!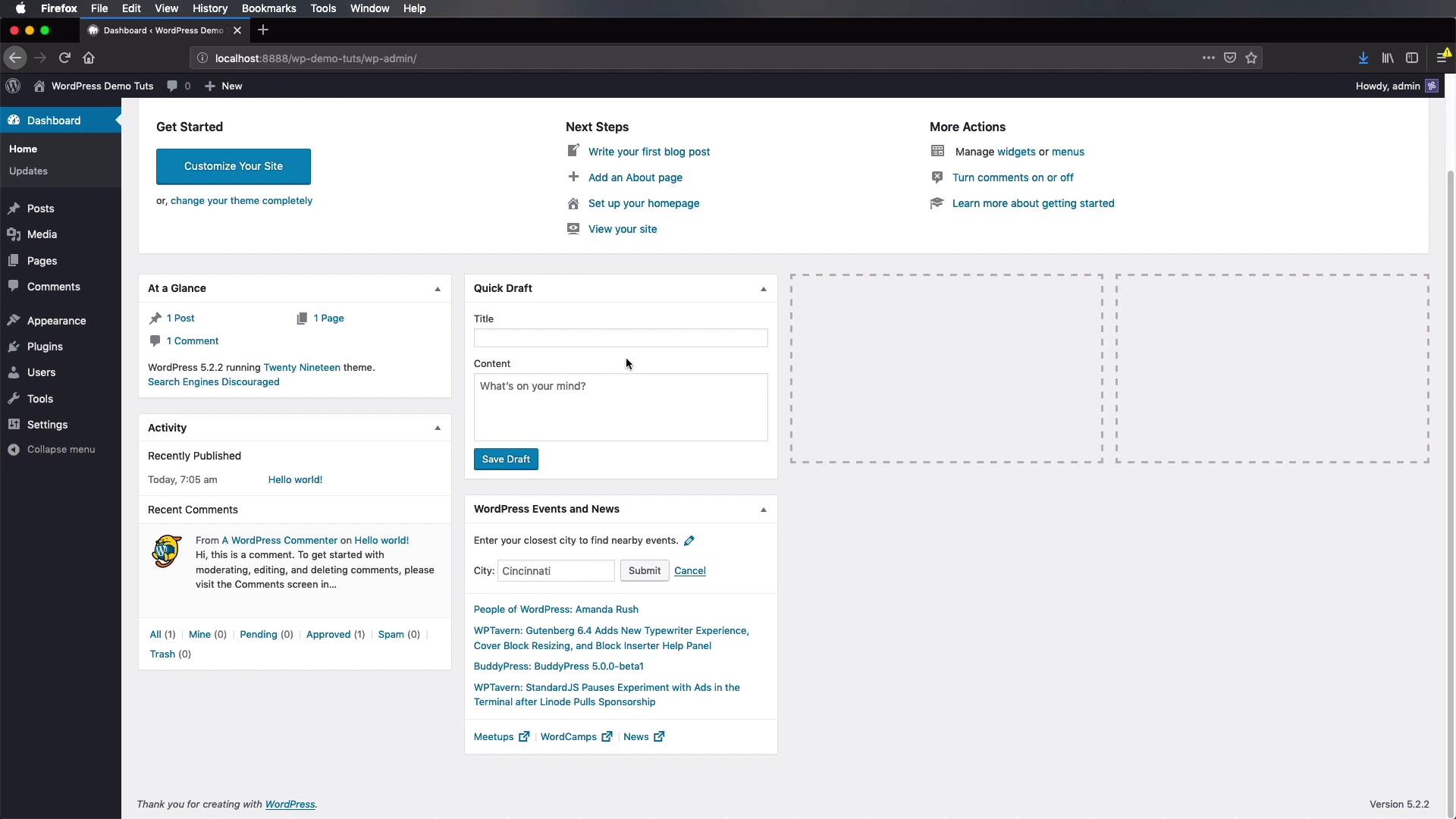 This video is part of my course A Beginner's Guide to WordPress. You can watch the entire course for free here on Envato Tuts+.
Accessing the Dashboard
In this example, I'm working on a local server. To view the site, I open a web browser and enter the appropriate URL—also known as a web address—where I go to wp-demo-tuts/.

To view the WordPress admin panel, I'll add wp-admin to the web address. Once logged in, you'll see the WordPress admin dashboard.
Getting to Know the WordPress Admin Dashboard
The very first thing you'll see when you open the WordPress back end, or the admin panel, is the dashboard. This is the starting point for the majority of tasks you'll perform in WordPress. 

In this tutorial, I'll show you the dashboard and how to customise it to fit your preferences and workflow.
The WordPress Dashboard
The dashboard is made up of a few different cards that will give you information, statistics, and quick links to the most common actions, such as writing a blog post, adding a page, viewing the site, customising the site, and so on. 
The Panels
Welcome to WordPress
The first panel is Welcome to WordPress; these are just some links to help you get started. 

From here, you may customise the site, change the theme, manage widgets, manage menus, turn on comments (or turn them off), and so on. 
The At a Glance Panel
At a Glance gives you statistics, the number of posts made, the number of pages, and the number of comments received. It also tells you the version of WordPress and the theme that you're currently using. 
The Activity Panel
The Activity panel shows you which posts were recently published and which comments were recently added. From here, you also have options to un-approve, reply, or edit comments.
The Quick Draft Panel
Quick Draft is one of the more useful cards. You can just give it a title and a bit of content, and then save a draft. 
A draft is a version of a post or a page that's not yet published, but it's still saved in the database. Think of it as a work in progress, where you start to work on a draft that you might complete in one sitting or return to on occasion to update.
When you finish the draft, you'll publish it. With this function, you may create new pages quickly.
WordPress Events and News
The WordPress Events and News panel contains news about meetups and events. The great thing about the WordPress admin dashboard is that you may customise it. For example, you may hide a panel and leave the ones you want. 
If you're not interested in a particular panel, you may collapse it or go to Screen Options, where you may choose which panels or which boxes to show.
For example, if you wish to hide WordPress Events, just tick that. If you wish to bring back the welcome screen, you may do that here—no problem. 
You may also move these around to rearrange the panels. There's a little bit of customisation you can do. 
Installing WordPress Updates
Another part of the dashboard is the Updates. You'll find it in the menu on the left. 
This gives you a status indicating whether or not you have the latest version of WordPress installed and if the plugins and themes are all up to date. 
Summary
That's the dashboard, and that covers the basics of working with the WordPress admin page. 
Now that you're a little more familiar with what WordPress is all about, you can browse our tutorials to learn more.
The Best WordPress Themes and Plugins on Envato Market
Explore thousands of the best WordPress themes ever created on ThemeForest and leading WordPress plugins on CodeCanyon. Purchase these high-quality WordPress themes and plugins and improve your website experience for you and your visitors. 
Here are a few of the best-selling and up-and-coming WordPress themes and plugins available for 2020.
Want a weekly email summary?
Subscribe below and we'll send you a weekly email summary of all new Web Design tutorials. Never miss out on learning about the next big thing.
Sign up
Adi Purdila is a web design instructor for Tuts+. With over 100 courses and 200 tutorials published to date, Adi's goal is to help students become better web designers and developers by creating content that's easy to follow and offers great value. Being self-taught himself, Adi strongly believes that constant learning (academic or otherwise) is the only way to move forward and achieve your goals. When not typing away at his keyboard, he loves woodworking and caring for his ever-growing family of rescue pets. You can stay up to date with what he's doing by following him on social media or visiting his website at adipurdila.com.
Looking for something to help kick start your next project?
Envato Market
has a range of items for sale to help get you started.