Adi Purdila
In diesem Tutorial zeige ich Ihnen, wie Sie ein Versionskontrollsystem für Ihre Sketch-Dateien einrichten können.
Wenn Sie schon einmal mit Git gearbeitet haben oder zumindest wissen, worum es sich dabei handelt, werden Sie mit dem Konzept der Versionskontrolle" vertraut sein. Wenn Sie das nicht sind, machen Sie sich keine Sorgen, es ist eine einfache Idee. Die Versionskontrolle ermöglicht es Ihnen, alle an Ihren Dateien vorgenommenen Änderungen zu verfolgen und eine Kopie jeder Iteration zu speichern.
Typischerweise befasst sich Git mit Codedateien; es ist kein System, das jemals wirklich für (meist größere) Entwurfsdateien verwendet wurde.
Abstraktes einführen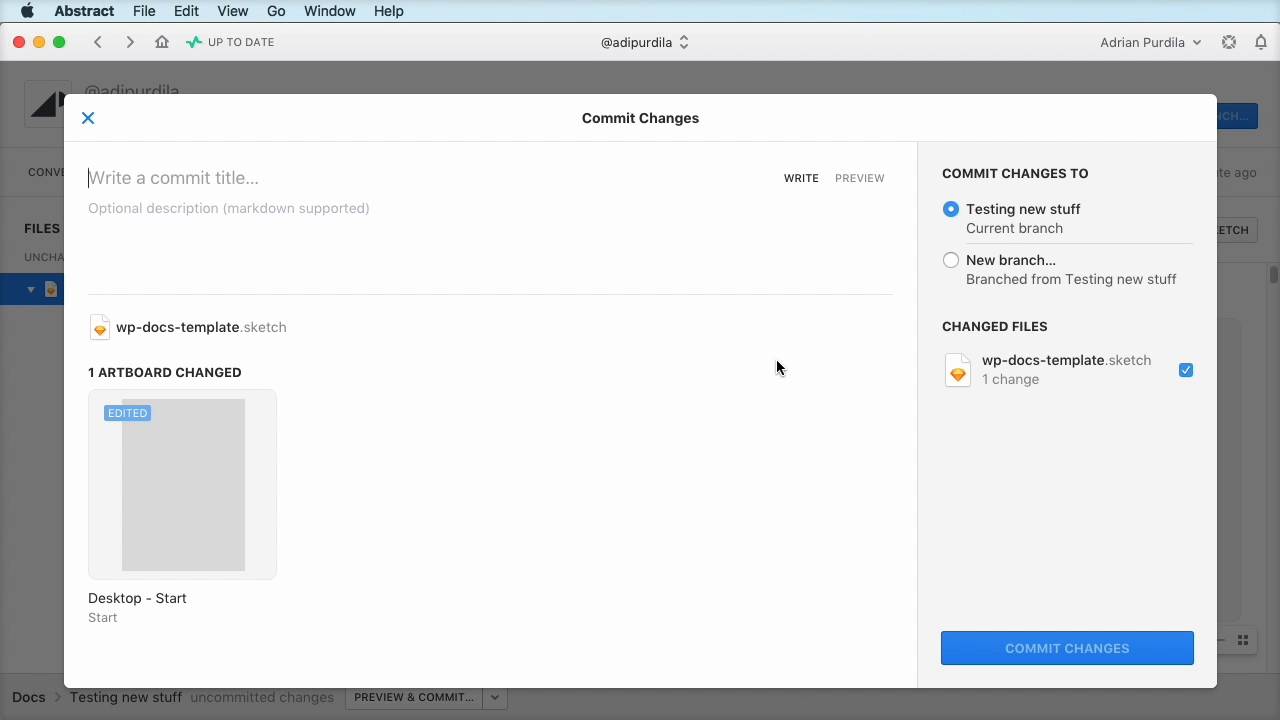 Jetzt gibt es ein neues Kind auf dem Block. Abstract ist eine herunterladbare App, die die Versionskontrolle für Sketch-Dateien übernimmt (weitere Formate sind für die Zukunft geplant). Es funktioniert mit Projekten, also fangen Sie damit an, ein neues hinzuzufügen:
Importieren Sie dann entweder eine vorhandene Sketch-Datei oder erstellen Sie eine neue Datei. In diesem Beispiel habe ich ein bestehendes Dokument importiert, woraufhin Vorschauen in Abstract erstellt werden und eine Kopie der Sketch-Datei in die Cloud, in den "Master-Zweig", übertragen wird.
Um Änderungen an unserem Dokument verfolgen zu können, müssen wir unsere Sketch-Dateien in Abstract öffnen. Klicken Sie also auf die Schaltfläche "In Skizze bearbeiten" von Abstract, um das Dokument zu öffnen.
Sie haben dann die Wahl, ob Sie Ihre Änderungen nachverfolgen wollen (in diesem Fall müssen Sie einen neuen "Zweig" erstellen) oder ob Sie die Änderungen nicht nachverfolgen wollen (in diesem Fall müssen Sie sie nicht nachverfolgen).
Sobald wir einige Änderungen in Sketch vorgenommen haben, haben wir die Möglichkeit, diese Änderungen in der Vorschau anzuzeigen und an den Zweig, an dem wir arbeiten, zu übertragen. Wir müssen der Übergabe einen Titel und optional eine Beschreibung zuweisen.
Von Abstract aus haben wir Zugriff auf alle Sketch-Zeichenflächen in unserem Dokument, und wir können sehen, welche Zeichenflächen geändert wurden. Wir können dann einen vollständigen Verlauf aller Änderungen und Übertragungen sehen, die wir vorgenommen haben, so dass wir diese Änderungen mit dem Master-Zweig zusammenführen oder zu früheren Versionen zurückkehren können.
Es gibt noch viele weitere Funktionen und Aspekte von Abstract, die besonders nützlich sind, wenn Sie in einem Team arbeiten. Schauen Sie sich das Video für weitere Details an!
Useful Links
Want a weekly email summary?
Subscribe below and we'll send you a weekly email summary of all new Web Design tutorials. Never miss out on learning about the next big thing.
Sign up
Adi Purdila is a web design instructor for Tuts+. With over 100 courses and 200 tutorials published to date, Adi's goal is to help students become better web designers and developers by creating content that's easy to follow and offers great value. Being self-taught himself, Adi strongly believes that constant learning (academic or otherwise) is the only way to move forward and achieve your goals. When not typing away at his keyboard, he loves woodworking and caring for his ever-growing family of rescue pets. You can stay up to date with what he's doing by following him on social media or visiting his website at adipurdila.com.
Looking for something to help kick start your next project?
Envato Market
has a range of items for sale to help get you started.