Read Time:
3 mins
Languages:
Grid adalah fitur yang berguna dalam software desain apapun. Dalam video ini dari materi saya tentang Cepat Memulai Affinity Desainer, Anda akan belajar bagaimana membuat grid di Affinity Desainer. Saya akan menunjukkan kepada Anda bagaimana menggunakan fitur kunci dari grid standar dan grid isometrik.
Cara Mengatur Grid pada Affinity Designer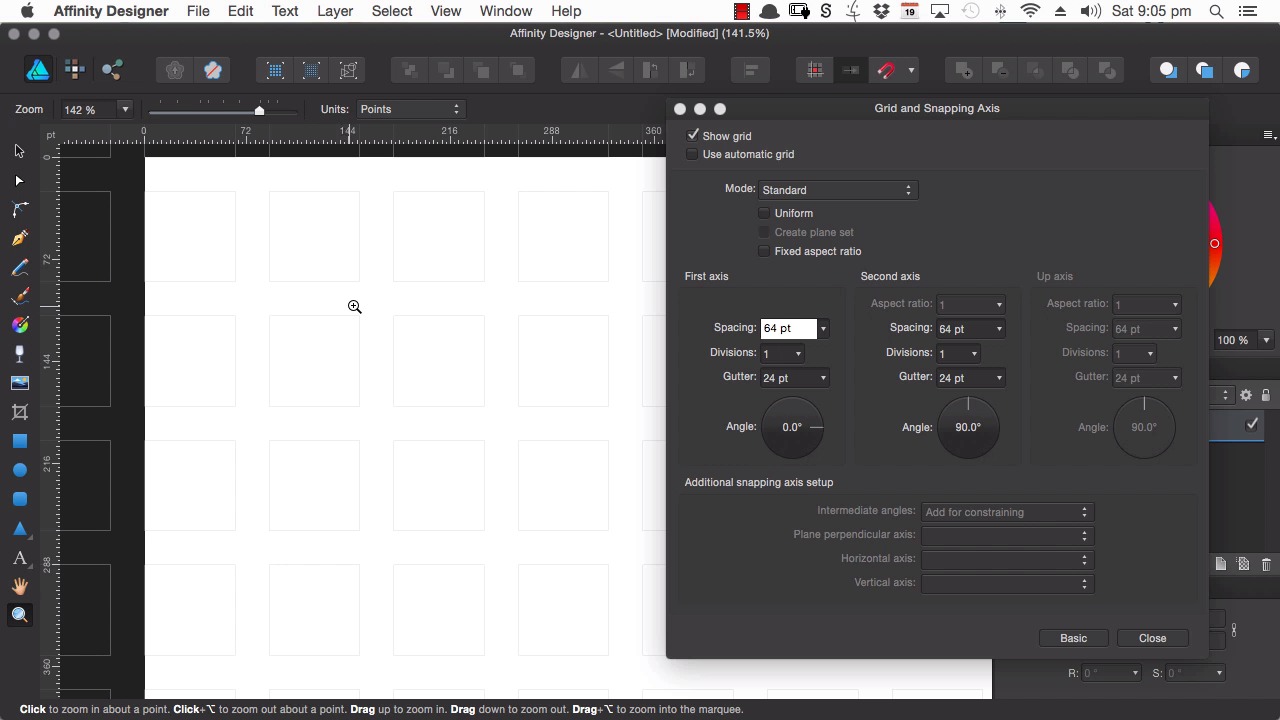 Pengaturan Dasar Grid
Affinity Designer memiliki sistem grid yang fleksibel dengan beberapa alat yang benar-benar baik untuk hal-hal seperti ikon Desain, dan juga memiliki isometrik grid untuk melakukan grafis untuk game.
Kita akan mulai dengan menunjukkan grid. Jadi perhatikan ke menu View, kemudian centang submenu Show Grid. Yang memunculkan default grid.
Sekarang, untuk mengubah cara kotak ini diletakkan keluar, kembali ke menu View dan kemudian turun ke Grid dan Axis Manager.
Secara default, Penggunaan grid otomatis akan dicentang. Jadi jika Anda ingin mengubah hal-hal di sekitar, Anda hanya perlu centang kotak centang yang ada.
Cara Mengatur sebuah Grid untuk Membuat Ikon
Mari kita lihat bagaimana Anda dapat mengatur grid untuk membuat ikon.
Ukuran yang cukup umum untuk ikon adalah 64 piksel banding 64 piksel. Sehingga dalam Grid dan Axis Manager yang sama, Anda dapat pergi ke Axis pertama dan mengatur Spasi untuk 64 pt. Lalu kemudian di bawah axis kedua, kita juga dapat mengatur Spasi untuk 64 pt. Jadi sekarang masing-masing kotak kita adalah ukuran yang tepat untuk sebuah ikon serta pas di dalamnya.
Apa yang kita juga dapat lakukan adalah meningkatkan jumlah ruang antara masing-masing dari sel-sel grid. Jadi meningkatkan Gutter ke 24 pt untuk kedua sumbu. Dan sekarang kita bisa masuk tepat satu ikon ke setiap salah satu kotak grid kecil ini.
Dan kita juga dapat mengambil bahkan lebih membantu kita bekerja dengan tata letak dengan meningkatkan jumlah Divisi. Jadi kita dapat membuat grid lebih kecil di dalam grid kita.
Jadi mari kita katakan bahwa kita mengatur setiap Divisi untuk 32. Dan sekarang jika kita zoom in, kita dapat melihat bahwa kita memiliki beberapa baris yang melewati masing-masing dari sel-sel grid kita lebih jauh. Jadi ketika kita sedang berusaha untuk menyelaraskan semua node yang berbeda dan poin di ikon kita, kita dapat menyelaraskan untuk setiap satu dari garis-garis ini. Dan kita dapat melakukan hal yang sama secara horizontal, sehingga kita memiliki beberapa grid tersendiri yang sangat bagus untuk masing-masing ikon yang kita hasilkan.
Cara Mengatur Grid Isometrik
Layout ikon grid hanya menggunakan modo standar grid. Tapi Anda juga memiliki beberapa jenis lainnya yang telah ditetapkan dari grid yang Anda dapat bekerja dengannya.
Misalnya, Anda mungkin akan bekerja pada grafis untuk isometrik video game. Jadi Anda dapat mengatur sampai Mode dan memilih Isometrik dari menu dropdown.
Dan sekarang grid Anda akan dikonversi menjadi lapisan isometrik. Jadi mari kita cukup meletakkan Gutter kembali ke 0, dan kita akan membuat grid Divisi kita.
Dan sekarang kita punya kerangka yang benar-benar baik yang bisa kita gunakan untuk mulai merencanakan keluar grafis isometrik, tanpa harus khawatir bahwa sudut dan perspektif yang kita coba untuk layout ada yang salah dengan cara apapun. Inilah penutup yang menampilkan Divisi-divisi:
Tonton Kursus Lengkapnya
Dalam kursus lengkap, Mudah Memulai Afinitas Desain, Anda akan mendapatkan 34 lebih video seperti ini, akan melalui setiap aspek perangkat lunak serbaguna desain ini. Anda akan belajar dalam detail tentang berbagai alat vektor, interaksi antara bentuk, menggunakan tipografi, dan banyak lainnya.
Anda dapat mengambil kursus ini langsung dengan berlangganan ke elemen Envato. Untuk satu biaya bulanan murah, Anda mendapatkan akses tidak hanya untuk kursus ini, tetapi juga untuk perpustakaan kami yang berkembang lebih dari 1.000 video kursus dan eBooks industri terkemuka pada Envato Tuts+.
Ditambah Anda sekarang mendapatkan unlimited download dari perpustakaan elemen Envato besar 300.000 + foto dan aset 34.000 + desain dan template. Membuat dengan font unik, foto, grafis dan template, dan menghasilkan proyek-proyek yang lebih baik dan lebih cepat.
Looking for something to help kick start your next project?
Envato Market
has a range of items for sale to help get you started.