Daniel Strongin
Generating traffic to your website and successfully marketing to this website traffic should be the number one concern for a website owner. 
Without this traffic and without a mechanism to get these website visitors to take action, you will have an incredibly difficult time building your business. 
One unexpected but effective way to draw in an audience and market to them is to create quizzes for your audience to take on your website. 
Buzzfeed, National Geographic, Vogue, Uber, and many other companies create quizzes for their audience because they know that this can open the door for a great marketing opportunity.

In this article I am going to show you how to create a Trivia Quiz with Viral Quiz for WordPress, so you can market to your audience. 
Determine What Questions to Ask

Before you can begin to create your trivia quiz, you need to know what questions you are going to ask your audience and how many you should ask them. 
While taking trivia quizzes can be a fun and exciting activity for your audience, they aren't going to want to spend all day taking the quiz. So keep the quiz short and sweet but long enough to entertain.
I would recommend keeping your quiz between five and twelve questions long.
The type of trivia questions that you ask your audience will depend on your specific audience. Trivia questions that work well for older audiences won't necessarily work well with a younger audience and vice versa. 
Also, you could create questions that are aligned with your business. If you are selling some type of food on your website, then you could include trivia questions about that particular food or about food in general. 
Keeping the questions contextual and age-specific will yield the best results for your marketing campaigns.
Adding Questions and Answers
Once you have come up with a list of five to twelve questions, you can start to add them to your quiz. 
Once you install the Viral Quiz plugin, you'll find the Viral Quiz menu item on the sidebar of your WordPress dashboard. 
From there, click the Trivia Quizzes option and click Create New Quiz at the top of the page.
Then click Questions / Answers > Add Question >  A new question.
It is also important to note that you can add in a new question by using the raw HTML content option. This can be helpful if you want to style the text of your question and add in images or videos through HTML. 

We will be taking the less technical route and be selecting the A new question option. 
Once you click the A new question option, you will then be taken to the question and answer builder where you can add a picture for each question and the content or actual question.
Right below the image and content section you can add the answer. You will be given an area to write in the answer to the question as well as insert another image.
In addition to adding the answer to the question, you can give an explanation to your answer by checking the Give an explanation when people answer? box. 
This can be helpful if you want to give more context to your answers to your audience. 
To add a new another question an answer to your trivia quiz, simply click the blue rectangle with a plus sign on it and other question and an answer builder will appear. 
To see what it looks like to add questions and answers to your quiz, watch the video below.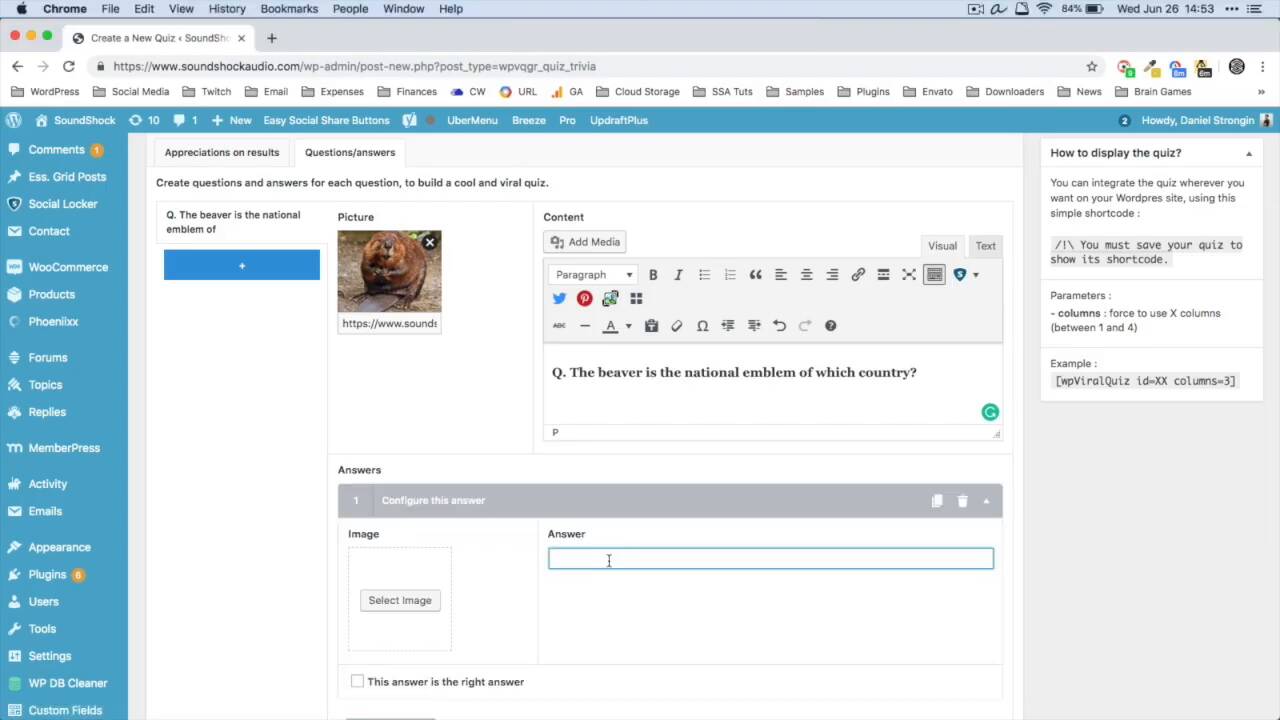 Appreciations—Showing Results for the Quiz 

Once you have added five to twelve questions in the quiz creator, it is now time to add in the results messages—"appreciations" as they are termed by this plugin. 
The Appreciations on results option is something that you write to the person taking the quiz depending on what score they receive on the quiz. 
For example, if someone who took the quiz scored a ten out of ten, you can have a message saying, Great job! You are a genius! 
If they did poorly on the quiz, you can write them a message encouraging them to try again, or not give up. 
I would recommend creating 4 different results messages.
for a perfect score
for a very high, but not perfect score
for an average score
for a low score 
To add these messages to your quiz, click on the Appreciations on results tab.
From there you will be given an option to set what score receives the appropriate appreciation, to insert an image, and to add text.

Another handy feature at the bottom of the appreciation menu is the redirect URL. If you would like to send whoever took the quiz to another web page based on their specific score instead of displaying a message, you can add in the redirect URL here. 
As mentioned, you will want to create four different appreciations. To add the next appreciation, click on the + button (a blue rectangle with a plus sign). 

To see what it looks like to add appreciations to your quiz, watch the video below.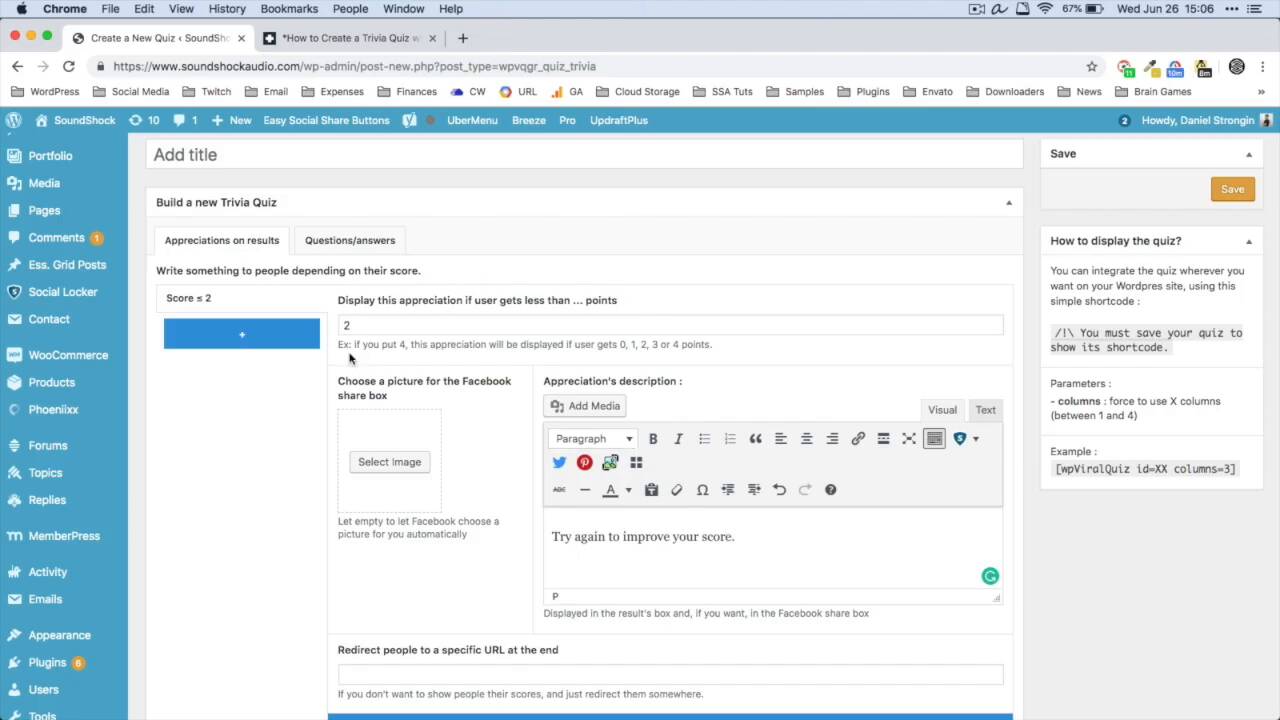 Marketing to Your Quiz Audience
As mentioned, creating quizzes to add for your website is a great way to market to your audience. 
Underneath the quiz builder, there is a separate tab called Settings. In the settings, there is a dedicated tab called Marketing which will allow you to collect information from whoever took the quiz. 
You have the option to collect the quiz takers name, email, phone number, or any text that they type in. 
There is also an option to sync the user with a 3rd party service such as Mailchimp and Aweber so you can seamlessly collect the user's email address and add them to your email list.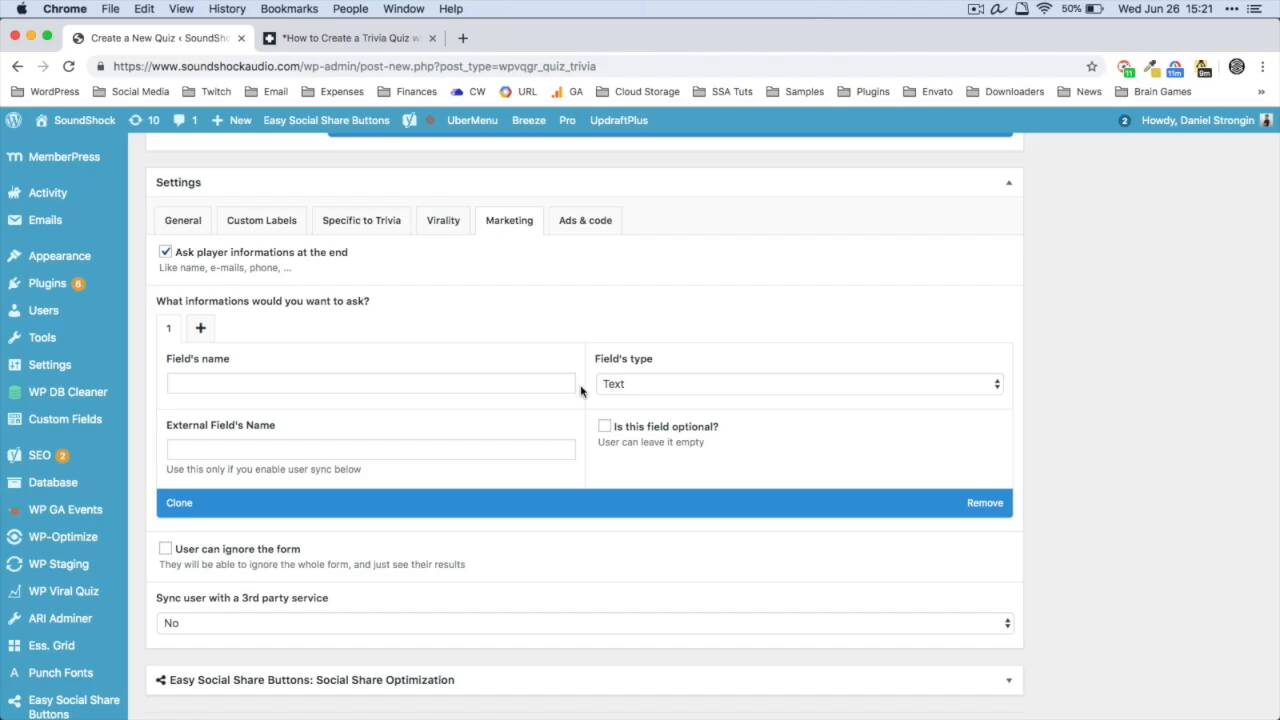 Adding the Quiz To Your Site

Not that you have the question and answers and your appreciations set up, it is time to add the quiz to your site. The Viral Quiz plugin uses shortcodes to add the quiz to your site. 
To receive the specific shortcode for the quiz you created, you must first save the quiz. 
You can do this by clicking the Save button at the top right-hand corner of the WordPress dashboard. Once you do so, a shortcode will pop up below the save button.
From there, copy the shortcode to your clipboard and head on over to the WordPress page or post that you want the quiz on. Then insert the shortcode into the text area of your website. 
That is it! You have added the quiz to your website and are now ready to have your audience take the quiz. 
View how to add the quiz to your website in the video below.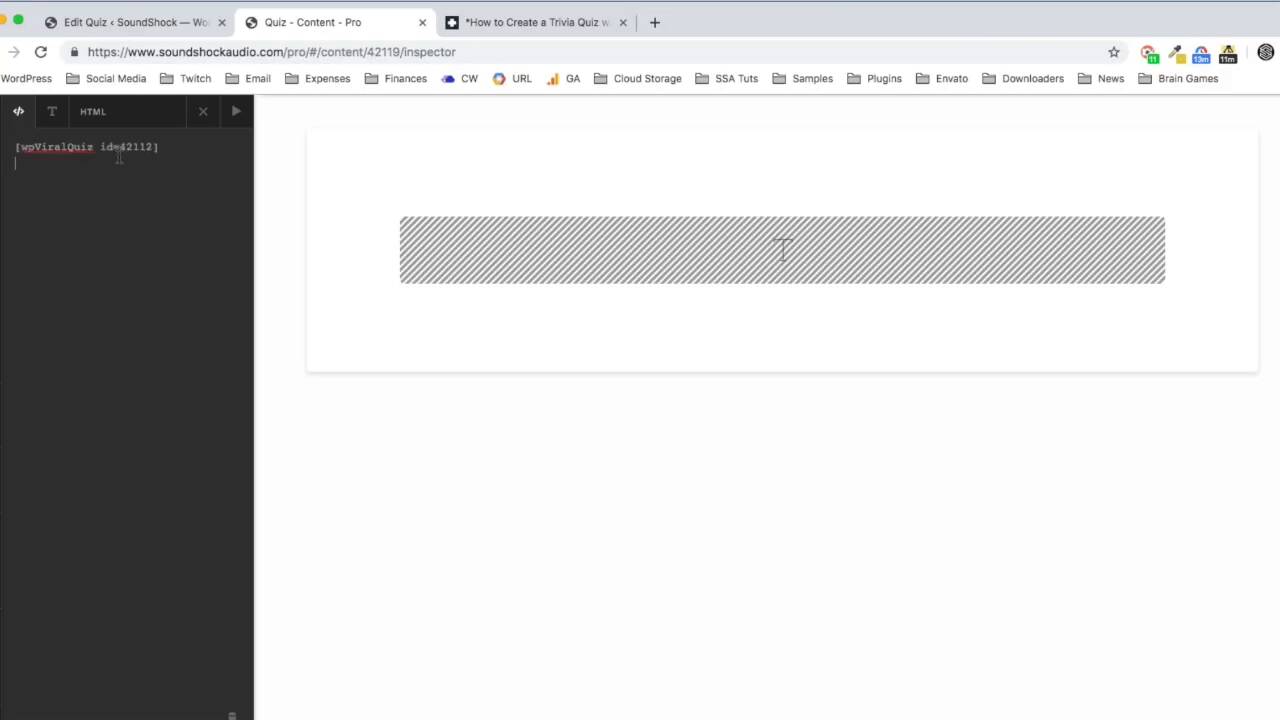 Conclusion 
Creating trivia quizzes for your websites target audience is an incredibly powerful way to draw in more traffic and market to this traffic. 
The Viral Quiz WordPress plugin allows you to easily create trivia quizzes within minutes and gives you the option to collect important marketing information from your audience.
To download this plugin, you can head on over to CodeCanyon and make your purchase of the Viral Quiz plugin there. Or, you can try it online with a free live demo!
If you want to use custom plugins but you're not comfortable tinkering with servers and prefer to have someone do it all for you, consider managed WordPress hosting. Thanks to Envato's partnership with SiteGround, you can get up to 60% off managed WordPress hosting.
Want a weekly email summary?
Subscribe below and we'll send you a weekly email summary of all new Web Design tutorials. Never miss out on learning about the next big thing.
Sign up
Sacramento, CA
Daniel has been writing content for Envato Tuts + for the past 4 years for the Code, Music, & Business sections. He is also an avid electronic music producer and founder of UpstreamSquad, an online store dedicated to melodic electronic music producers. In his spare time, he loves to learn about finance and productivity and is crazy about fitness.
Looking for something to help kick start your next project?
Envato Market
has a range of items for sale to help get you started.